#Sweatworking at AIR Aerial Fitness Goes Inverted
We've had a lot of fun hosting #Sweatworking for the past two years. We've keep at it for this long for two reasons: it gives busy people in Chicago a way to network that isn't in a bar or in a restaurant and attendees can bank on the fact that if they're new to the workout, they're in great company with more than half of the group. We knew it was only fitting to give everyone another chance to take on #Sweatworking at AIR Aerial Fitness.
Air Aerial Fitness takes the fun that was mostly reserved for yoga – the magic of aerial hammocks – and creates a full fitness experience. The class fuses of so many elements of fitness including bursts of high-intensity exercises like burpees, to strength exercises like push-ups, to deep stretches, to barre exercises all the way to things that can only be described as acrobatic.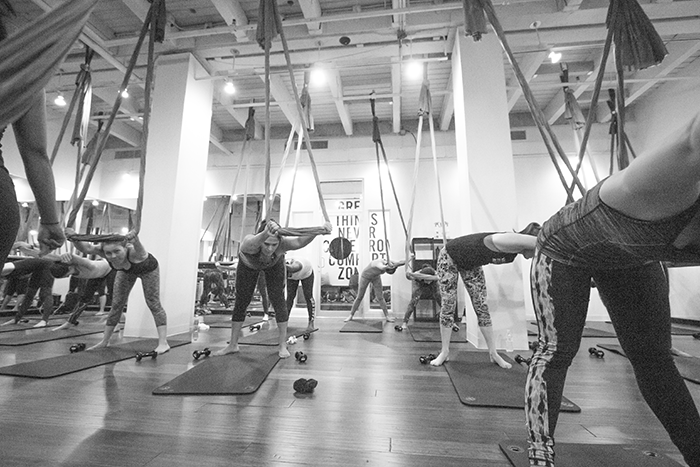 We filled the room with eager fitness enthusiasts who saw the signature AIR hammocks in brilliant blue and immediately started to think about the ways that they would turn the world upside down.
Thankfully, with guidance from AIR instructor Alexis, the group worked their way up to all of the beautiful inversions their hearts desired.
First she made them work. They took on some challenging, but scalable moves including high-knees, push-ups, planks and these rows: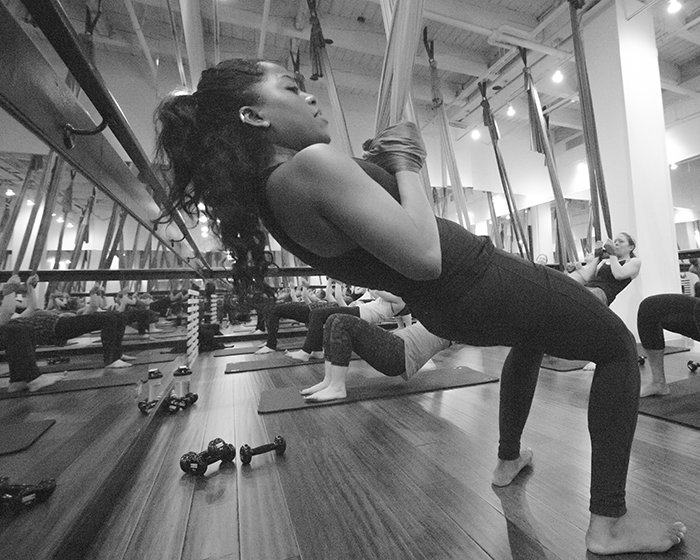 Then the off-the-ground fun started.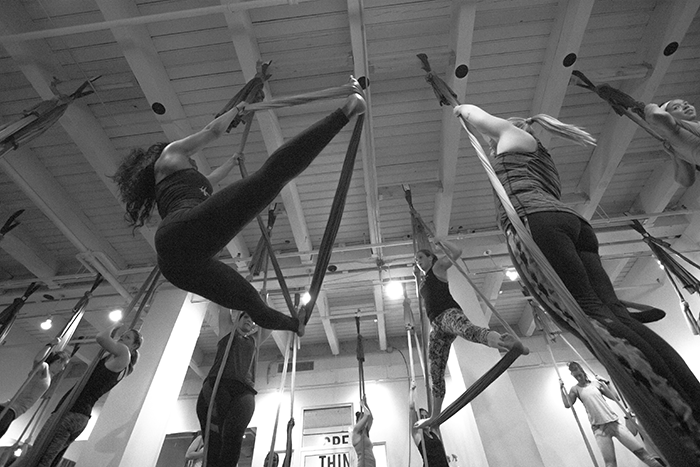 At some points, Alexis, showed a new inversion and you could see the look of, "You want us to do … that?" come across their faces.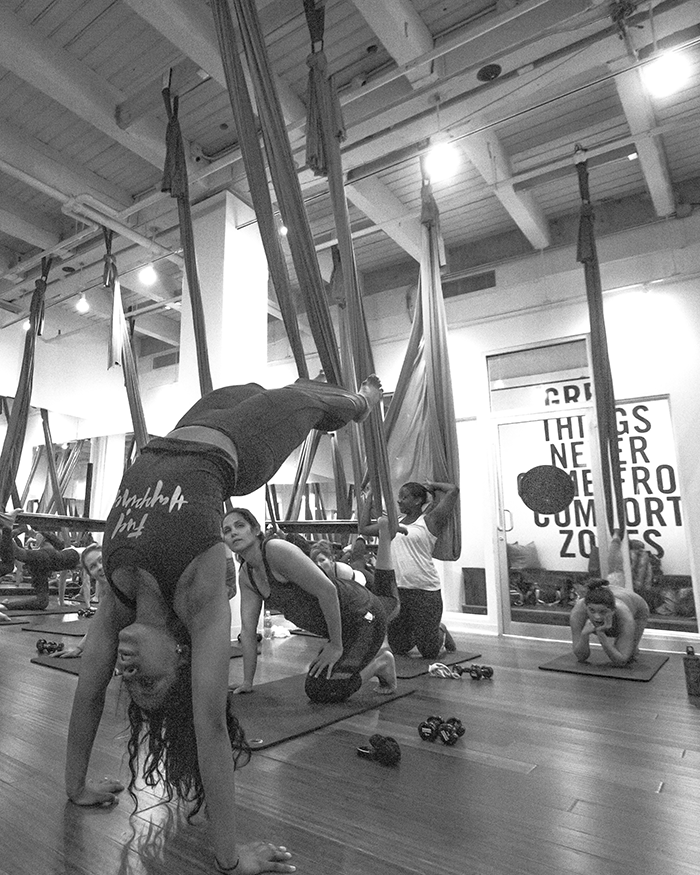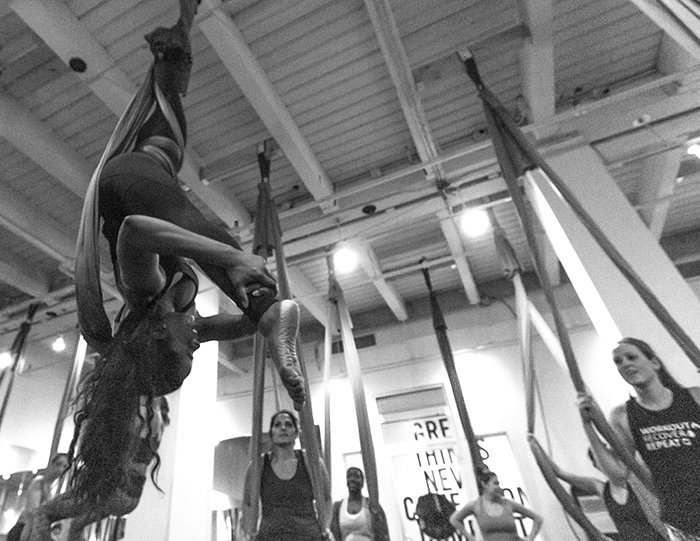 But those champs followed along, gathered their courage and got inverted.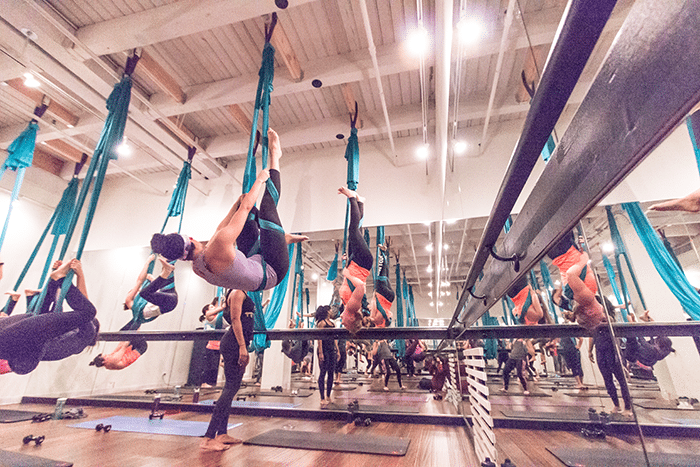 To wind down, class did my favorite thing: the took savasana in the hammocks. I could nap there all day. And more importantly, it looks like a room full of beautiful, blue cocoons.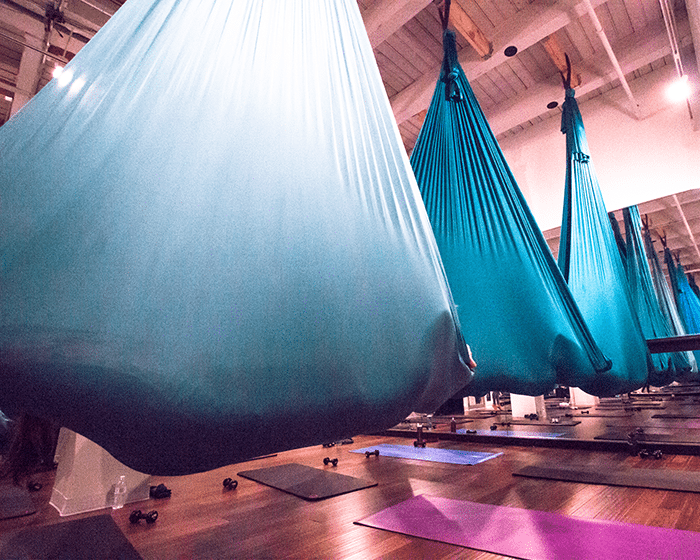 After the class concluded, some stayed around to play, testing out their new skills and taking some great Instagram photos in the process. Two members of team aSweatLife – Dani and Maggie – bonded over their fearless bendiness.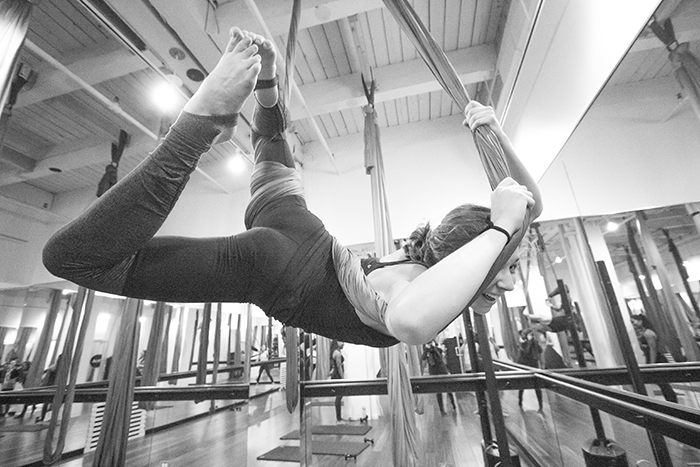 Get it.
Before we grabbed our snacks and hit the road, we took our obligatory (and super necessary) group pic.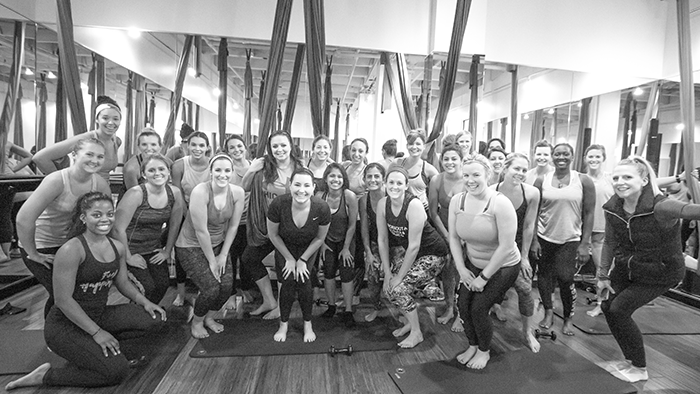 We also had to create a Boomerang out of it. Because … boomerang.
Fun Fact: AIR is the brain-child of entrepreneur and boss-lady, Shama. Shama also opened MUD Facial Bar in the same space and was there during the event to give everyone MUD mini masks to self-treat at home.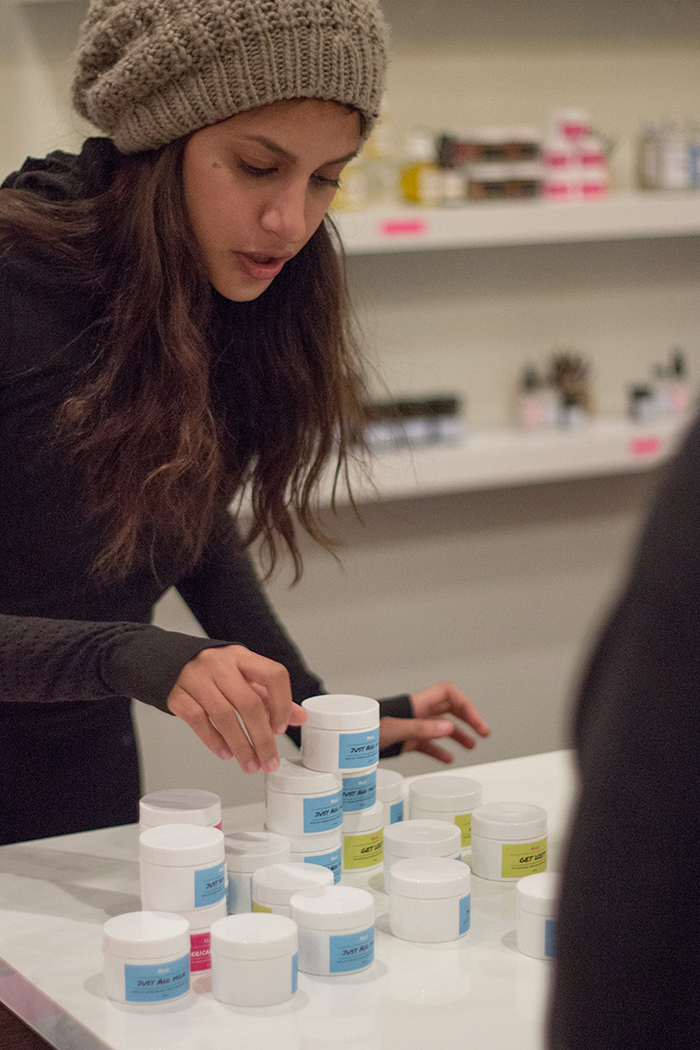 And if you're as obsessed with the empire Shama's building as I am, you'll be excited to know that the River North location that houses AIR and MUD will also be home to her newest wellness creation, Floor Lab, in February.
Before hitting the road, everyone grabbed goody bags from LUNA Bar with some seasonal bars – chocolate peanut butter and chocolate peppermint stick. Holy delicious. We also had Mamma Chia ready with chia seed treats post-workout.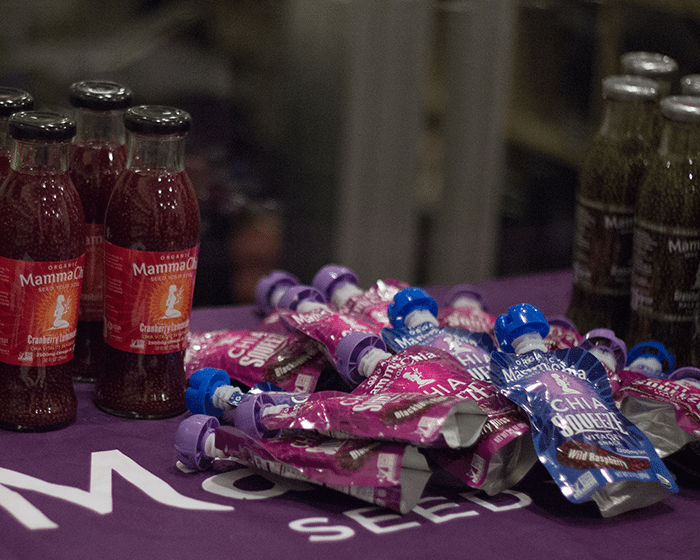 Delos Wellness was in the house providing complementary pain relief treatment – great for those "ugh my _____ hurts" days. I usually fill in the blank with foot, neck or knee and walk out of Delos feeling sweet relief.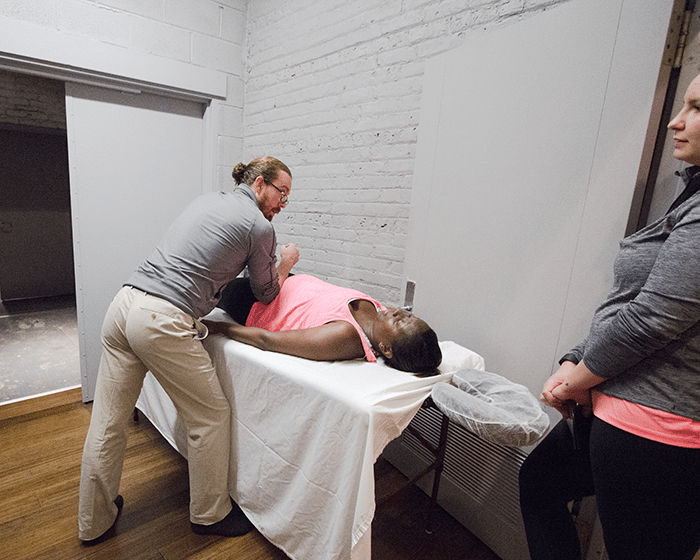 Goody bags were also filled with favorites like Vita Coco, Propel Electrolyte water, Skinny Pop and Lifeway Kefir.
Wish you could have been a part of #Sweatworking at AIR Aerial Fitness? Want to join us for the next one? We'll be at Equinox Gold Coast Saturday 1/23 taking on a Dry Triathlon. The event is full, but you can add yourself to the waitlist and hope for a spot to open!
Let us know!
Did this post help you get closer to achieving one of your goals?