Fit City: Atlanta, Georgia
When I moved to the South, I was expecting a lifestyle filled with Sweet Tea, smooth accents and fried chicken. Though all of those staples are a major part of the culture, I was pleasantly surprised to find that there are a lot of people who are also health-conscience. I found fitness opportunities most often during my frequent visits up to peachy-keen city of Atlanta.
I know, I know, Atlanta certainly does not stir up images of fitness and healthy living. I can attest that there are places to get milkshakes on just about every corner and all of the "must eat" places have menus filled with fried indulgences (The Varsity is a classic restaurant with a menu you would imagine Sandy and Danny Zuko chowing down on). However, there is still ample opportunity to have your cake and work out too.
Check out some of my favorite go-to spots of this deceptively fit city:
Piedmont Park – Everyone knows that Central Park in NYC in amazing, and as a Chicagoan I can never pass up an opportunity to take a walk around Millennium Park, but Piedmont is definitely in the running for best city green spaces. I personally loved going on long runs through the nature-filled paths and on the old-school track, but what makes Piedmont Park a wellness hot-spot are the outdoor fitness classes offered on a regular basis. There is a killer boot-camp style class that meets at 5:45am – perfect to get your workout in then still have time to congratulate yourself with a mimosa (or two or three!) at brunch. This fitness class is also an ideal way to meet people who live in the neighborhood to hear their insight on secret local spots.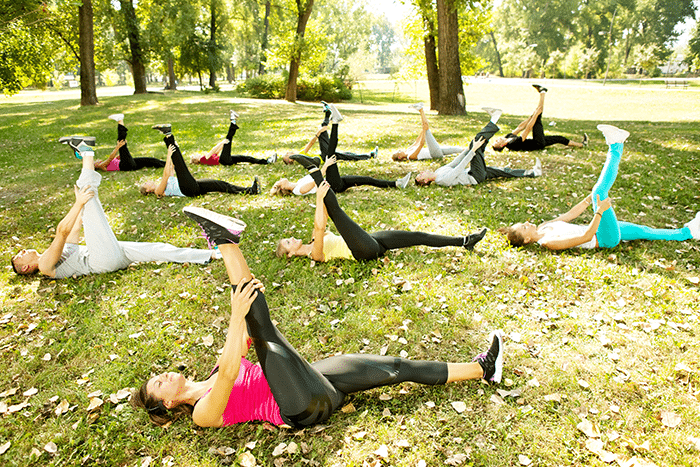 Beltline – The Beltline was brand new when I first started visiting Atlanta and I was so happy when I found out it existed. Atlanta is surprisingly hilly, so as girl from the Midwest I was riding the struggle-bus hard when I first tried to go on a jog to tour the neighborhood. The Beltline is the perfect relief as it smoothly meanders around the edge of the city – also providing Insta worthy mid-run pictures of the skyline.
Stone Mountain – Though not technically in the city-area of Atlanta, Stone Mountain is entirely worth the short 25-minute drive. There is a scenic and slightly steep hike up to the top of the mountain. I found myself breaking a small sweat while climbing, but then was rewarded with a refreshing breeze at the top (make sure to bring a light layer to throw on!). Not only does Stone Mountain have the main climb, but also so many beautiful hiking trails along the base. Stone Mountain is the perfect way to spend a day being active without even realizing you're doing so!
Sacred Thread Yoga – I came across this studio during my attempt to mix-up my usual workout regimen, and I was so happy I tried it. The staff at Sacred Thread are so friendly and relaxing; I immediately felt comfortable upon entering. The studio has tons of natural light pouring through its wall of windows, making for a soothing, laid-back vibe that I wish all gyms would embrace. Another additional plus: Sacred Thread participates in ClassPass, making it both easy to sign-up for and establishing a welcoming environment to all new attendees.
The moral of Atlanta's story is that you should never write-off a city based on its reputation. There are always opportunities to be active no matter where you visit!