A New Holiday Classic: Italian Lentil Salad Recipe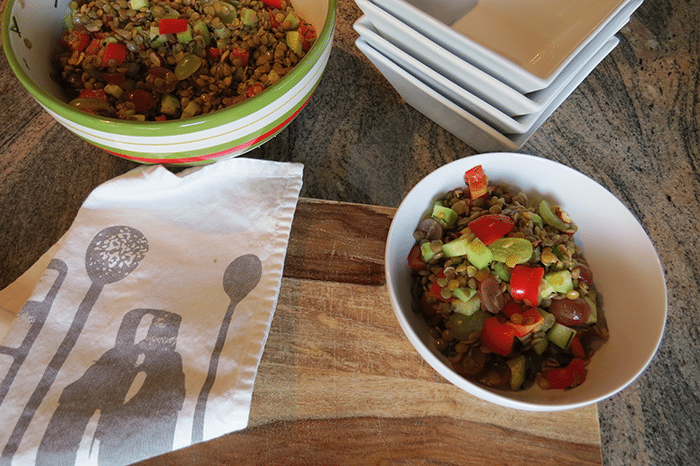 At our recent Healthy Eating for the holidays event at Mariano's, Registered Dietitian Allison Parker made a simple lentil salad recipe that isn't just healthy and delicious for the holidays. It's perfect for every day eating. It's easy enough and delicious enough that you'll want to pull this recipe out of your pocket for family gatherings this holiday season as well as whip it up for your weekly meal prep.
This recipe is fresh,chocked full of veggies  and packed with fiber that will fill you up at a mid-day meal. And, as Allison pointed out at the event at Mariano's, you can't go wrong with a red and green colored salad during the holiday season.
Outside of my favorite lentil soup recipe from the Skinny Bitch in the Kitch cookbook, this was one of the only times I've used raw lentils rather than canned. Cooking these lentils was easier than preparing quinoa and totally worth the effort. And when I say effort, I mean the nonexistent boil-plop-drain effort that would make any real chef scoff.
Ingredients (for the salad)
1 pound green lentils
2 scallions, chopped
1 cup halved seedless green grapes
1 cup halved seedless red grapes
1 cucumber, peeled, seeded and diced
1 red bell pepper, seeded and diced
1/2 cup coarsely chopped skinned and toasted hazelnuts
2 teaspoons lemon zest (from about 2 lemons)
Vinaigrette:
1/3 cup fresh lemon juice (from 1 to 2 lemons)
1/3 cup extra-virgin olive oil
1/2 teaspoon kosher salt
1/4 teaspoon freshly ground black pepper
Directions:
Bring a large pot of salted water to a boil over high heat. Add the lentils and cook until tender, stirring occasionally, about 18 to 20 minutes. Drain and let cool for 5 minutes.
Place lentils and remaining salad ingredients in a large salad bowl.
Place the lemon juice in a small bowl. Slowly add the oil, whisking constantly, until combined. Season with salt and pepper, to taste.
Pour the vinaigrette over the salad and toss well.
Happy holiday entertaining!