#Sweatworking takes on Shred415 and Yoga Six
Every time we take #sweatworking on the road to a new location, there's always a test of strength or endurance. This month's workout took us to Shred415 in the South Loop during the season's first snowstorm and it tested our determination to workout together.
We packed the house for a workout with Kara – our will to sweat beat the weather.
If you've never taken a class at Shred415, the format pushes athletes through an hour of intervals on the treadmills and on the floor. On the treadmills, instructors show runners what they're made of with hills, sprints and everything in between. On the floor, instructors work you out with decks (reebok steps), weights, bands, mats, body bars, TRX and other props.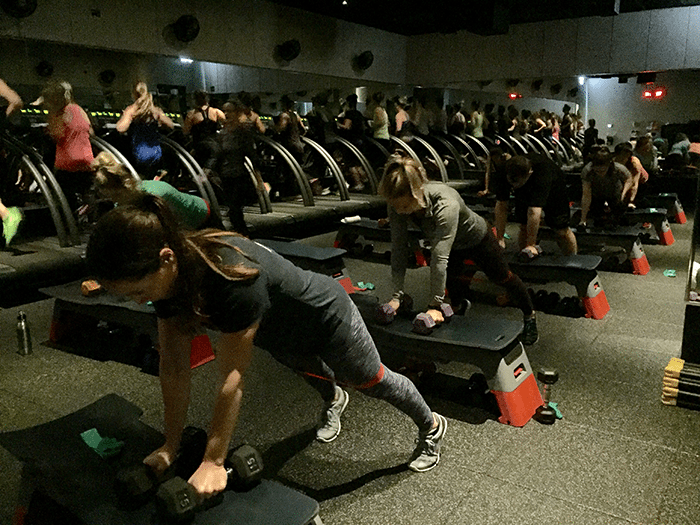 (All photos in this post at by Christiana Basso)
In full classes like ours, the group is split between the treadmills and the floor. Kara pushed both groups separately, reminding each to stay strong.
On the floor, we spent a lot of our first set working with a band. We used the band to crush our lower body – working through moves like the clam shell (wowza) and some other barre class favorites mixed in with some high-intensity mainstays, like burpees. I loved the combo of moves – it truly showcased Kara's unique style.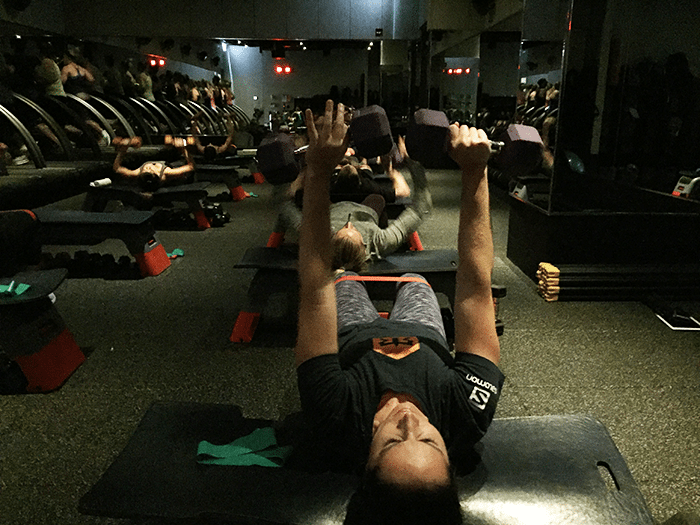 Our second set on the treadmills was a fun challenge, we worked through a walk, jog, run and sprint. Every time we went through those paces, we changed the incline on the treadmill.
On the floor, our second set worked a lot of upper body using the deck and some weights. Kara threw in some lower body and some high-intensity moves, like jumping up and over the deck, but my arms and shoulders worked the hardest on that second set.
We did a third round – a finisher at each station. On the treadmills, we had three minutes to run .25 miles. We were able to use the remaining time for a recovery. On the floor, those last few minutes were devoted to the core.
After this serious (and seriously fun) workout, we gathered together to snap a pic before heading down the hall in the Roosevelt Collection to Yoga Six.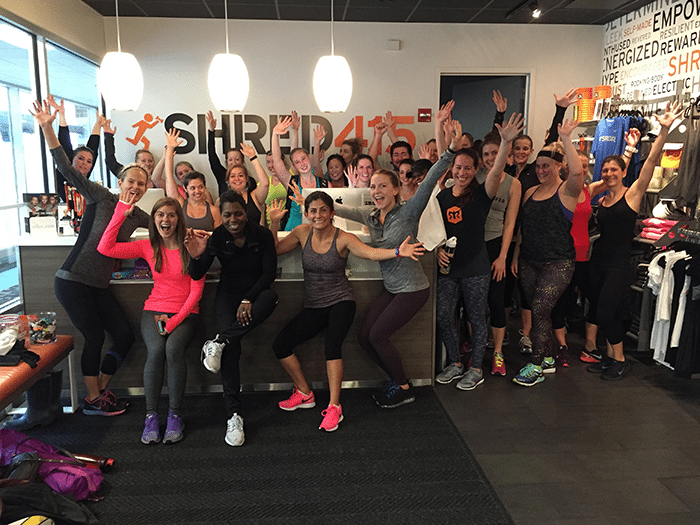 Here's what was amazing about hosting the stretch at Yoga Six: we didn't even have to go outside. After wandering down the hall, we got situated at Yoga Six where Kari led the group in an active stretch.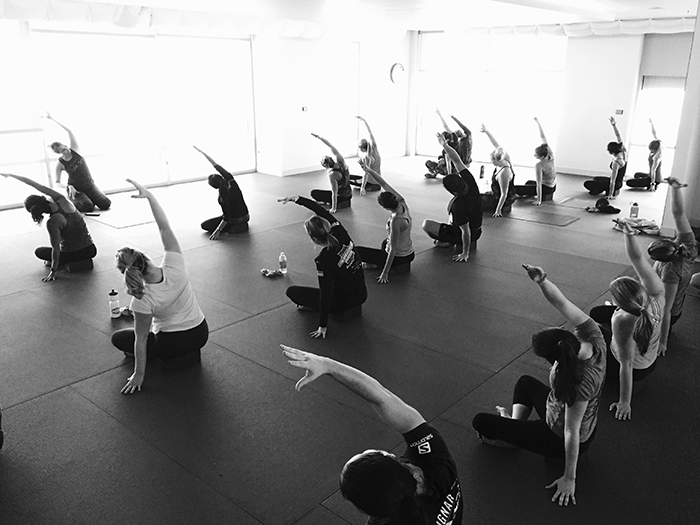 Outside the studio windows, snow continued to fall. After a great sweat session, it's hard to think about the snow as anything but beautiful. We could think about the whole getting home thing later.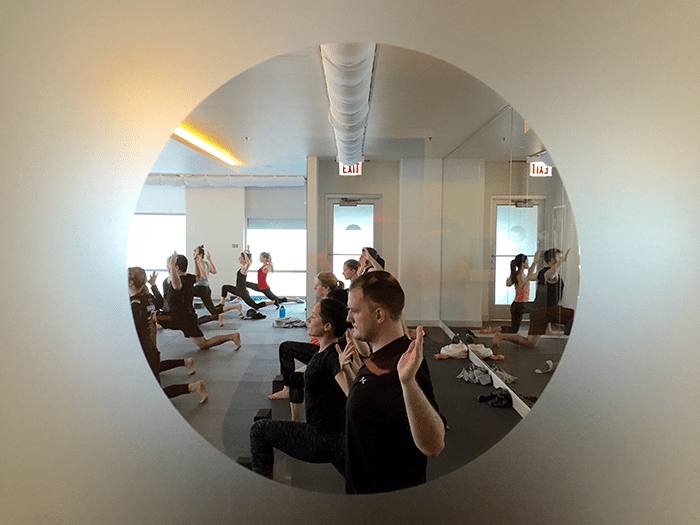 Afterwards, we gathered for delicious and adorable mini smoothies from KitchFix.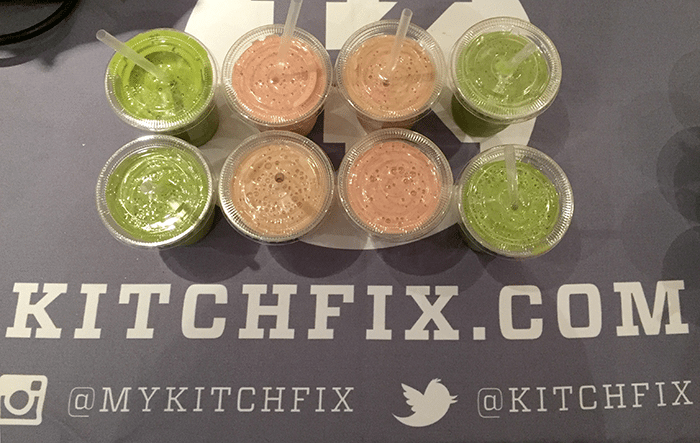 Delos Therapy was also in the house, delivering some complimentary treatments – basically a deep tissue massage meant to break up knots in the fascia.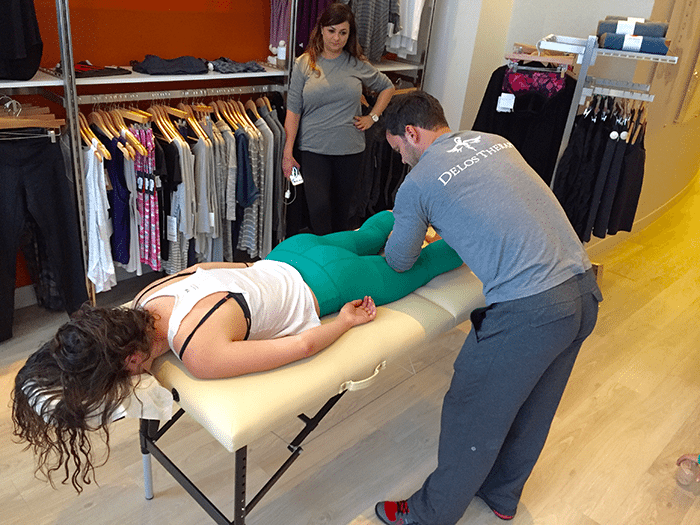 As we packed up to go, everyone grabbed a tote full of goodies sponsored by Propel Electrolyte water. In those canvas totes (one of my favorite things to happen to #sweatworking), everyone got a Propel Electrolyte water, a free first treatment at Delos, an offer for a free meal at KitchFix, a free class at YogaSix, Skinny Pop, Luna Bars, Mamma Chia Chia squeezes and Vita Coco. So basically all of the snacks.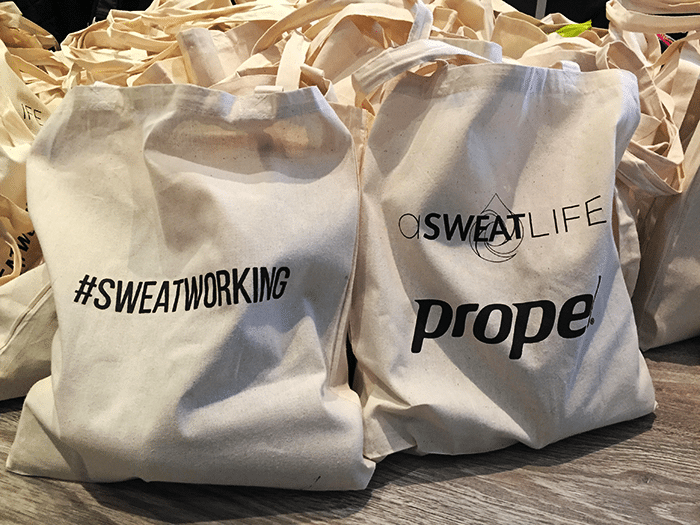 Want to learn more about #Sweatworking? Stay tuned for details about December's event!
Let us know!
Did this post help you get closer to achieving one of your goals?