Putting the "Fun" Back in Fun Runs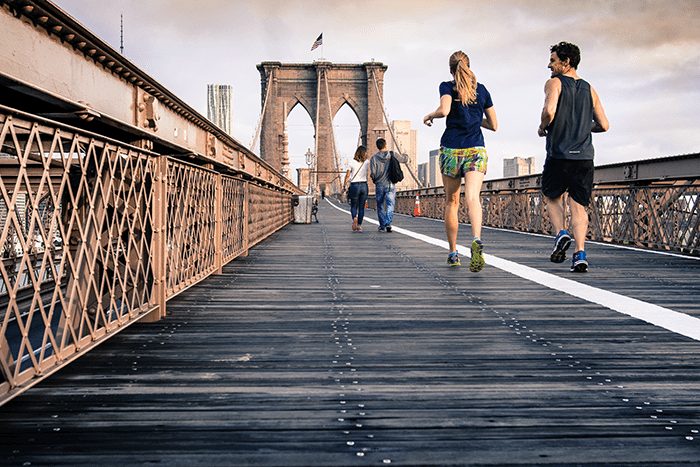 Recently, Cass Gunderson posted a great read about being ok with the fact that you can run a race without getting a PR.
As a former cross country runner and a competitive, crazy person, it's hard to fight off the feeling that all of this training I'm doing is to prepare for the obvious goal: to win (to PR, be top of the age group, rule the world, whatever). However, considering my dwindling percentages of wins, running has become a whole lot more than just that. There is always a small feeling of accomplishment with simply getting off the couch and running that day, but what I've found even more fulfilling is the time spent with the people running with me.
Some of the best conversations I've ever had take place on slow, long runs – somehow between the huffing and puffing, a lot of personal information can pour out. This is no surprise, though. I met the weirdest and best people on my cross country and track teams, and they're the friends with whom I will always share a special bond.
A more significant realization in the last few years is appreciating the fun of running races or a fun runs with friends. This may not sound like such a big deal, but even though I have always been able to enjoy a casual jog on the lakefront with a friend, my competitive spirit keeps me from slowing down when I run race that publishes my time.
The key to really enjoying the race and not just smiling as you secretly curse your friend's pace is running with a friend you really, really like – dare I say, love. I hate emotions, let's move on.
Have a friend who is a really great person and won't judge you when you eat the second donut? Dedicate yourself to staying with them no matter what. Do your best to either keep up with them or slow down for them. The surprisingly rewarding part of running side by side with a friend is the unconditional support you share.
I can relate to how it can be hard to literally slow down and enjoy your surroundings; but, the comradery more than makes up for any change of pace. It is a different, but no less rewarding sense of accomplishment to say you helped someone reach a PR, or even just finish the race.
I'm not telling you to eliminate competitive races from your line-up – these are great to track your progress and motivate you to keep pushing hard. I am telling you to mix in races that are true "fun runs." This will help you from burning out and will remind you of how running makes you part of a community that doesn't only depend on your race pace. And if nothing else, it makes for a great Instagram post.