Plantar Fasciitis and Your Aching Feet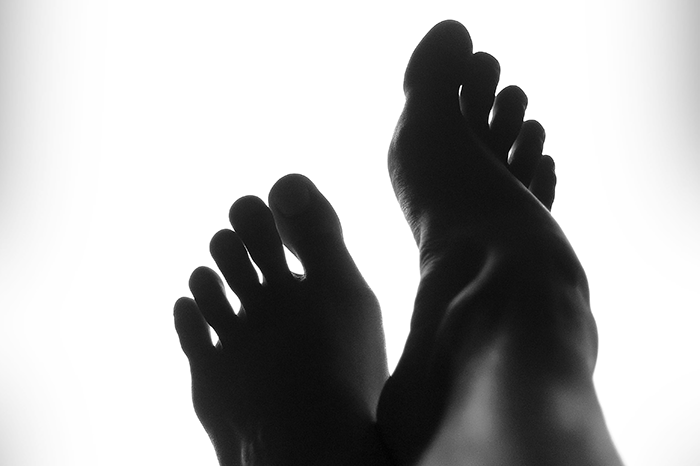 "I don't want to get out of bed."
This thought rolls through my head every morning and has for the past few weeks. Not because I don't want to take on the day, but because I don't want to put my feet on the floor.
My first few steps are excruciating each morning, but I know I just have to get through those first few; after that, it gets less painful.
It's time to admit something to myself after extensive googling and an exact word-for-word description of my symptoms from reputable sources: I have plantar fasciitis.
The Mayo Clinic describes the feeling of it as a "stabbing pain that usually occurs with your very first steps in the morning. Once your foot limbers up, the pain of plantar fasciitis normally decreases, but it may return after long periods of standing or after getting up from a seated position."
Sounds like my morning.
But where did it come from? I've been an every-day athlete for all of my adulthood and I'd never experienced sharp pains in my feet like this.
Causes of plantar fasciitis
Many runners experience this pain in the heel caused by what the Mayo Clinic says is an "inflammation of a thick band of tissue, called the plantar fascia, that runs across the bottom of your foot and connects your heel bone to your toes."
Runner's World blames Plantar fasciitis in runners overtraining, neglecting to stretch calf muscles, or overdoing hill work and speed work.
That can't be it, though, although I run – I spend most of my training time indoors, picking up heavy stuff, working out on equipment or doing my beloved bodyweight workouts. I run fewer than five miles if I do venture out.
The importance of Footwear
Active.com places some of the blame on "wearing inflexible or worn out shoes" and according to Competitor.com, transitioning into minimalist footwear too quickly is a common cause for plantar fascial injuries in runners.
What you put on your feet is immensely important for the rest of your body, when it comes to plantar fasciitis and everything else. When something is out of whack at the base of the body, it travels up the kinetic chain and starts to impact how the rest of your body feels. Feet problems turn into knee problems. Knee problems turn into hip problems and hip problems turn into back issues.
When I altered what I did for my day-to-day, I went from sitting at a desk to standing, pacing or demonstrating a workout for a minimum of 15 hours each week. And when I changed my schedule, I had an old, favorite pair of training shoes that I kept on life-support even though their time with me had sadly come to an end.
I know better than that. Any athlete who ran sprints in the spring and cross-country in the fall knows that different shoes are necessary for different disciplines. Athletic footwear is designed support different needs, from distance running to sprinting to cross-training to weightlifting. My favorite shoes were minimalist and most appropriate for weight-lifting, but really, for standing and walking, I should have worn a more cushioned shoe.
Face palm.
Treatment of plantar fasciitis
Fortunately, most plantar fasciitis can be self-treated. Runner's World recommends rolling a golf ball under your foot and applying ice – my favorite is a lacrosse ball. While you're recovering, the magazine also recommends only wearing footwear with arch support. In Chicago, places like Delos Therapy can help speed this recovery.
The American Orthopedic Foot and Ankle Society says that "often a doctor will prescribe a nonsteroidal anti-inflammatory medication such as ibuprofen or naproxen."
But if you put off dealing with the problem for too long, you'll need to seek the help of a professional. How long should you try to self-treat before giving up? Runner's World recommends waiting no longer than three weeks – after that, "see a sports podiatrist. Treatments such as orthotics, foot taping, cortisone injections, night splints, and anti-inflammatories decrease symptoms significantly in about 95 percent of sufferers within six weeks."
If you're feeling similar foot pain and it's not going away, go get yourself checked out.  You shouldn't hate getting up in the morning.