Chicago Trainer Profile: Bea Rodriguez, Candidate for Master of Kettlebell Sport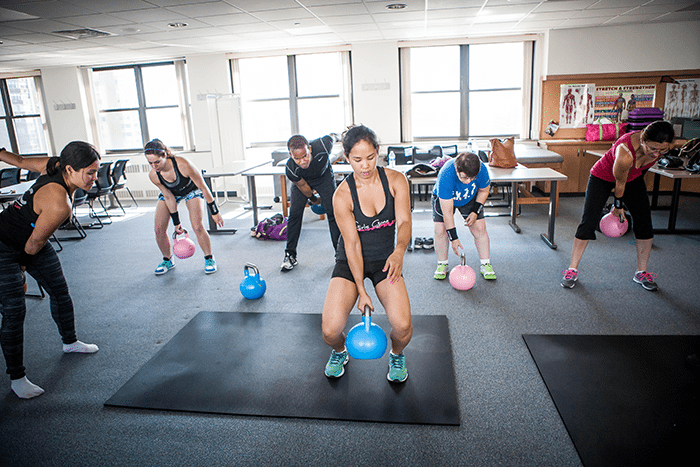 Eminem blared in the background. Judges sat at long, white tables, fingertips lingering near bright neon signs with the words "warning" and "disqualified." Bea Rodriguez stood ready on a black platform in a hotel ballroom in Novi, Michigan; when the announcer yelled "start," she picked up her 12-kilogram kettebell (that's 26 pounds, nearly one-fourth the 5'2" athlete's body weight).
Rodriguez had traveled to the International Kettlebell and Fitness Federation (IKFF) World Championships on Nov. 7 with a goal of completing 140 reps of a move called the snatch in 10 minutes. She swung the bell down between her legs, hoisted it overhead, and held it there briefly before starting all over again. By the time the clock ran out, she'd done this 158 times — crushing her goal and earning first place in the process.
"For me, it's not just about the numbers, it's also showing good form," she says. "People who understand what it takes to snatch can tell — the smoother it looks, they know that the more time you have put into training the technique." Rodriguez's hours of practice and mastery of the mechanics earned her compliments and Rank 1 level, the highest ranking in this particular event.
The drive from Chicago to Novi takes less than five hours. But Rodriguez's journey to this point— competitor, coach, founder and president of the Chicago Kettlebell Club — started years earlier. Her mother passed away in 2006, her brother in 2009; devastated, Rodriguez sought comfort in food and a sedentary lifestyle.
By May 2011, overweight and unhappy, she knew something had to change. She signed up for personal training, lost weight and found both her physical and psychological strength returning. Her trainer introduced Rodriguez to kettlebell swings and moves like the Turkish get-up; she fell in love with the way the bells combined strength and cardio into one workout, and kept using them as she transitioned to working out in group kettlebell classes, and on her own.
On a weeklong trip home to the Philippines in 2012, Rodriguez searched for a gym where she could train on the road. None, however, had the same type of cast-iron or "hardstyle" kettlebells she'd used at gyms in the United States — black, multisized balls with handles that curve out and get thicker as the weight of the bell increases.
In Manila, the kettlebell gyms she found had only steel competition kettlebells—multicolored, straight-handled weights in a standard size. With these competition-style bells, athletes trained for what's called girevoy or kettlebell sport. Lifters compete in four main 10-minute events, aiming to rack up as many accurate reps as possible — besides the snatch, there's the jerk, in which lifters move the bell only from the chest to overhead; the long cycle, or clean and jerk; and the biathlon, which combines the scores of the jerk and snatch.
Rodriguez, encouraged by the trainers she met in the Philippines, began training to compete when she returned to Chicago. In December 2012, she earned her certification as a teacher through the IKFF. In March 2013, she went to her first competition and placed first in her weight division in the long cycle event.
She's since climbed the ranks in that event to qualify for Candidate for Master in Sport (CMS)—she describes Master of Sport (MS) as a common ultimate goal, similar to a black belt in martial arts. To get to CMS level, she's lifted a 20-kg (44-pound) bell from the ground to her chest, and then up overhead, 77 times in 10 minutes. She is the first Filipina in the world to earn this rank.
In August of 2013, Rodriguez founded the Chicago Kettlebell Club, a group of athletes and coaches that includes her boyfriend, exercise physiologist and Loyola University instructor Jeremy Fransen, Ph.D. She coaches some online and some in small groups or one-on-one at Phenomenal Fitness, 1450 S. Michigan Ave.
Because it involves lifting (relatively) lighter weights for an extended period of time, kettlebell sport is considered a strength/power endurance event. Depending on their goals and competition schedules — most advanced athletes compete only a few times per year — training programs typically run in five stages, from an easier ramp-up to an intense month-long heavy preparation phase. Rodriguez's athletes usually do three kettlebell workouts a week, along with joint mobility, general strength and conditioning, grip training and cardio.
Two weeks before competition, athletes back off in both the number and difficulty of weekly workouts to prepare. And afterward, they take time off to rest and rebuild. "Recovery is key and they're not allowed to touch kettlebells at least for a week," Rodriguez says.
Six CKC team members also competed in Novi, and almost all won first place in their events. Though Rodriguez beams with pride at their performances, she says the best part was how much fun they all had — plus an unsolicited comment from a fellow competitor.
"He told me, 'You know, it's really cool to see the camaraderie of your team,'" she says. "That's what I've been trying really hard to build — a family of people who love this sport, and a community where people can support each other in their respective journeys."
Rodriguez says she herself was "saved by the kettlebell" and hopes to continue spreading the word about this fast-growing sport to other aspiring athletes. Along with aiming to grow the CKC and her own personal coaching business, Rodriguez plans to offer more kettlebell workshops in various locations throughout Chicago in the year ahead. Interested in learning more about kettlebell sport? Sign up for semi-private training series on Dabble: check out the CKC website, or contact Rodriguez at [email protected]
Let us know!
Did this post help you get closer to achieving one of your goals?