Nike and WNBA MVP Elena Delle Donne Challenge You to Get Out Here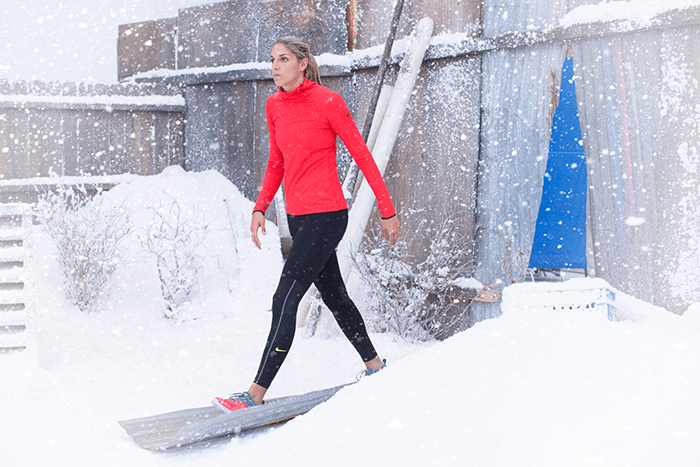 Thursday night, a big matchup took over the primetime airwaves. Not the game that ended in a 36-7 victory for the Patriots over the Dolphins. This face-off took place during one of the game's commercial breaks.
In its anthemic TV spot titled "Snow Day," Nike brought together 20 accomplished, professional athletes who were pitted against each other in one giant, snowy football game to remind everyday athletes across the country that training doesn't end when the temperature drops.
The Chicago Sky's Elena Delle Donne, the WNBA league MVP with the best free throw record of anyone in basketball – male or female, is one of the stars in the spot along with Rob "Gronk" Gronkowski and Ndamukong Suh.
Delle Donne knows how real winter – the kind that turns the hood on a parka into a necessity rather than a thing hanging around your neck – feels. She's knows that the shorter days and the dropping temperatures can only mean one thing – Chicago winter is about to slap the city in the face.
But she's not looking at winter as something to hide from this year.
"It's not that terrible," Delle Donne said of winter in the city. "Don't be soft. Get through it. Chicagoans definitely aren't soft at all."
Her sentiment is felt through Nike as a company. One of its founders, elite track coach Bill Bowerman, was a believer in staying tough and braving the elements. He's famously quoted as saying, "there is no such thing as bad weather, only soft people."
And Delle Donne wasn't just playing a tough guy for the cameras in this cold-weather spot. She practices what she preaches and recently challenged her own trainer to take her workouts – or at least some of them – outdoors during her off-season this winter.
"When you're running outside, you get that cold burn and there's nothing better," Delle Donne said. "Outside training really helps elevate you inside."
As Nike works to help consumers train in all conditions – especially the 'bad weather" conditions – the brand is challenging athletes across the country to participate in its #getouthere challenge.
Starting November 3, Chicagoans will have two chances each week to test themselves with complimentary outdoors training. The un-soft can sign up for sessions Tuesdays and Thursdays. Registration opens at 2 pm Sundays at Nike.com/Chicago.
Because a workout didn't really happen if it isn't on Instagram, Nike is empowering the rest of the nation to defy the elements on social media. Forty-eight people who post the most weather-defying training photos and stories on Twitter, Facebook and Instagram with the hashtags #GetOutHere and #Contest will earn a trip to the main event in the Get Out Here Challenge, taking place December 12 in Chicago. What exactly that "main event" will be is a mystery, but you can imagine it will have a frosty overtone.