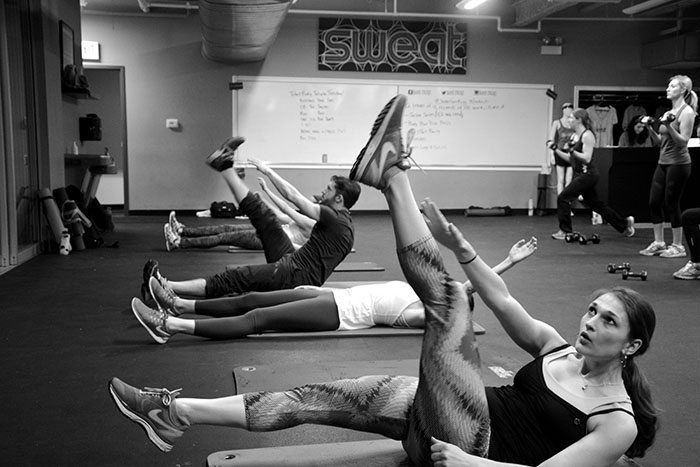 When I first got involved in sports in high school, I played soccer and swam on the swim team. I have a naturally athletic build and those sports utilized that. What I did not excel in was running. I dreaded the running portion of practice because no matter how well I did on the soccer field or in the pool, I was always behind my teammates during those runs.
Flash forward some years and my workouts were almost exclusively running. I coveted the runner's long and lean physique and I set out to prove to myself that I could succeed at running (I know nothing of this word 'stubborn' you use). I learned to find peace and meditation in those long runs and I felt that I could finally call myself a runner. (Sidenote: to me, anyone who laces up their shoes and runs is a runner, but I was a little hard on myself in the past).
The problem was that my body didn't particularly enjoy running. I did eventually wind up with a more lean appearance, but it came at the expense of the muscles I was born with and had worked hard to improve and define. Simply put, I didn't look right. My body began to protest with small injuries and I started to miss going to the gym for a workout.
A couple years ago I discovered high-intensity interval training and it was love at first…jump? sweat? gasp for air? This is what my body was missing and craving. I found a workout that my body responded to well and I was excited to do, but I struggled between owning that fact and holding on to an ideal.
I tried to force myself to do both even though I knew where my heart was. I thought because I had talked so much about running that I had to maintain it for everyone else. Note to self: no one cares if I run or jump around on boxes with weights like a crazy person.
Today I still enjoy running and have completed a number of half marathons (my favorite distance), but I no longer strive to be something that I'm not. I no longer have the internal struggle of whether or not I should run a full marathon since that's "just what runners do." I have accepted that I want nothing to do with 26.2 miles, but I fully support anyone who does. Running got me through a lot of tough times and I know it's always there for me when I need it, but it's ok to let it take a backseat.
There are many different types of workouts and it may take some trial and error to find which one(s) work best for you and will excite you enough to have you coming back again and again. Make sure to find what inspires you to do more and if you are having trouble getting started, refer to aSweatLife's Try A Workout page for suggestions!
Are you trying to live up to an unrealistic fitness ideal? Take some time to think about what you really love to do and own your workout!