Benoit Samuelson Takes on Chicago Marathon 30 Years Post-Record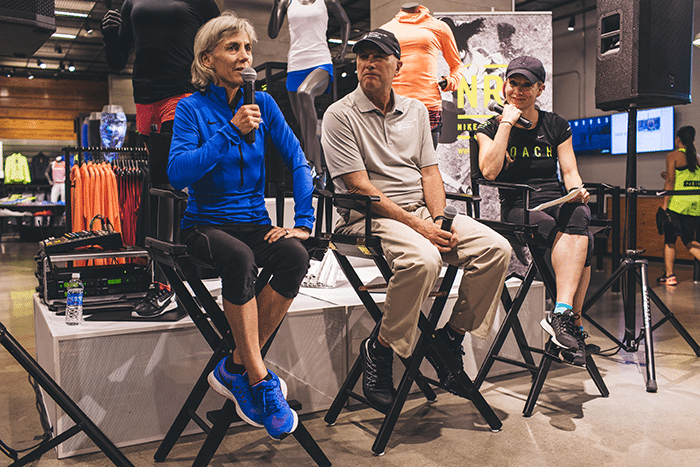 Today, as you scan the finish line at marathons across the country, an average of 43 percent of those to hang a medal around their necks are female. It's hard to imagine a time when women weren't allowed to compete in the 26.2-mile race on the largest sports stage, but before the 1984 Olympics, there was no medal for women in the marathon.
But as Joan Benoit – now Joan Benoit Samuelson – ran into the Olympic stadium to thousands of cheering fans in Los Angeles – she welcomed an era of women who would learn terms like "taper," "tempo run" and "fartlek." Benoit Samuelson finished in 2:24:52 for gold at those Olympic games and now carries the legacy of being first.
In 1985, on the tail of that, she ran the Chicago Marathon, winning it in 2:21:21 and holding the American Record for 18 years until that was broken by Deena Kastor.
Thirty years after setting the American Record on the Chicago Marathon course, Joan Benoit Samuelson is back to take on the race again in her 50s.
"The story I've come up with – I try to tell a story to motivate myself – is to try to run within 30 minutes of my time 30 years ago," she said.
That's a 2:51 time, which would have placed her in the top 60 female finishers in the 2014 Chicago Marathon.
At the Boston Marathon, Benoit Samuelson said that she thought that she was in 2:50 shape, but, like many, she was slowed by the race's conditions this year and ran a 2:54 time.
On a flat course where so many find their PR, she's hopeful, but phrases her hopes in a way that manages her own expectations.
"It's going to have to be a good day and I'm going to have to get rid of this piriformis issue," she said. "I'll be happy to go under three hours. I'd love to tell the story of 30, but we'll see."
Benoit Samuelson logged a lot of miles over the years – more than 100 miles each week when she took on The Chicago Marathon in 1985, she said. Many marathoners don't make it past their second or third training season, let alone more than three decades like Benoit Samuelson. After all of that training, Benoit Samuelson worked through her share of injuries, and, she said that she's dealing with issues related to her excessive exposure to the sun.
She's not running 100 miles each week these days; she's scaled back to around 80 miles weekly at 58-years-old. It's not always easy to keep up with that self-inflicted training schedule – she's self-coached – but the roads and trails where she logs her miles call to her, even on her worst day.
"I was really tired when I woke up this morning and I said, "You know … why are you doing this? That doesn't last long, though. I looked out and it was a beautiful day and I said, 'I need to be out there.' I just like to be out," she said.
If you're running your first marathon and trying to inspire yourself to have your best day, Benoit Samuelson has a piece of advice that has served her throughout the years.
"You have to run your own race – you can't run anybody else's," she said.
And according to an excerpt from Olympic Marathon by Charlie Lovett, that's exactly what she told herself as she pulled ahead to win the gold medal in 1984.
"I did not want to take the lead," said Benoit afterward, "but I promised myself I'd run my race and nobody else's and that's exactly what I did. I didn't have any second thoughts."
After she's done running her own race at the 2015 Bank of America Chicago Marathon, will Benoit Samuelson continue this grueling training schedule?
I keep saying, 'what am I going to do with my life when I stop going around in circles?'" she said. "I never quite complete everything I set out to do. That keeps me going … there is no finish line."
Don't expect to stop seeing her chugging along on the track any time soon.