Four Benefits of Group Fitness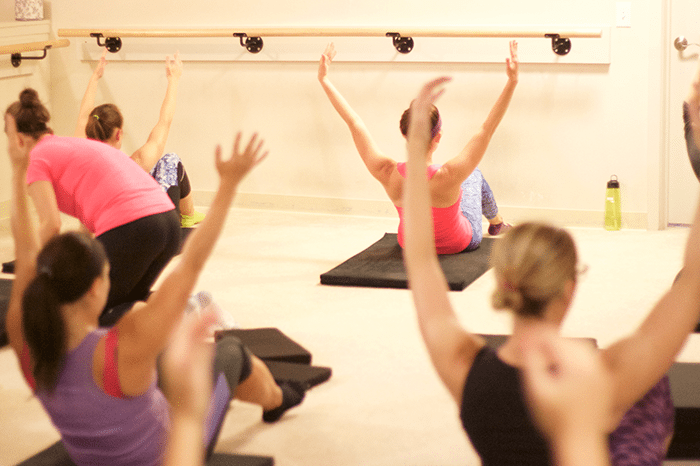 Growing up, playing on sports teams was a normal part of many of our lives. The friends we made playing volleyball, soccer, running track or dancing were some of the people we became closest to, and were also those who motivated us to give our best physical performance.
In adulthood, exercise often isn't characterized by the same fun, social environment. Solo trips to the gym can often feel isolating and even boring; but they don't have to. There are significant benefits — physical and emotional — of incorporating a social element into your workout.
1. Exercising with others keeps you motivated. Exercising with others is a sure way to push you to your physical limits. Whether you are running outside with a friend or taking a group fitness class, you're likely to work out harder than you would on your own, and much less likely to quit. Furthermore, if you exercise with people who are faster or stronger than you, you will probably get into even better shape.
For individuals whose goal is to lose weight, aerobic-based fitness classes can be extremely effective. How many people can ride fast on a stationary bike for an hour by themselves? Try it in a room with thirty other people and a high-energy spinning instructor and it's a completely different experience. Kickboxing, step aerobics and high intensity interval training classes are also effective.
Group fitness instructors offer direction and encouragement, which helps individuals meet their goals while keeping the energy high among the group at the same time. A class setting also keeps you accountable to show up. If you prepay for a group class, you won't want your money to go to waste.
2. It's more fun. For many people working full-time, exercising is a sacred time during the day when you can clear your mind, breathe deep and work toward a different kind of goal. While solo workouts can be a great source of "me" time, working out with others is a great way to incorporate more fun into the day. 
Most exercise studios sell themselves on the strong, tight-knit communities they build with their clientele. Repeat customers return weekly not only for the workout, but to see and have fun with their friends. What better way to meet people than spraying the person next to you with your sweat?
3. Strengthens bonds. Exercising with others is proven to strengthen bonds. Studies have found couples that work out together report feeling more satisfied with their relationships and more in love with their partners, according to Psychology Today. This is because when you exercise with your partner, you create a context in which you can coordinate your actions. Synchronizing your actions, such as in lifting weights, matching your pace running or tossing a medicine ball back and forth creates nonverbal mimicry, which helps people feel emotionally attuned to one another, according to Psychology today.
4. Makes you happier. Those who participate in group exercise have been found to release higher amounts of endorphins — hormones secreted during exercise that improve your mood — than those who exercise alone, according to Reader's Digest. Indeed, According to a survey of 3,000 members of a YMCA in Australia, 85 percent of respondents reported they felt happy or elated after exercising, and group fitness activities made people the happiest. Females ages 35 to 39 most enjoyed exercising in a group and were more likely to feel part of a community, the survey found.
"It's no surprise to me that people doing group fitness were the happiest," said Sarah Page, a Macleod Recreation and Fitness Centre group fitness instructor. "The energy in the room is always amazing and we have a lot of fun. As an instructor it is important to create an environment that people can enjoy while getting fit."
The physical and emotional benefits of group fitness are hard to match on an individual basis. That's why professional sports teams train together — as a team they develop a bond that exceeds any individualism. When exercising with others during group fitness classes, runs or any other type of group workout, the same kind of bonds can develop.