Orangetheory Fitness Challenges Chicago to Find the Orange Zone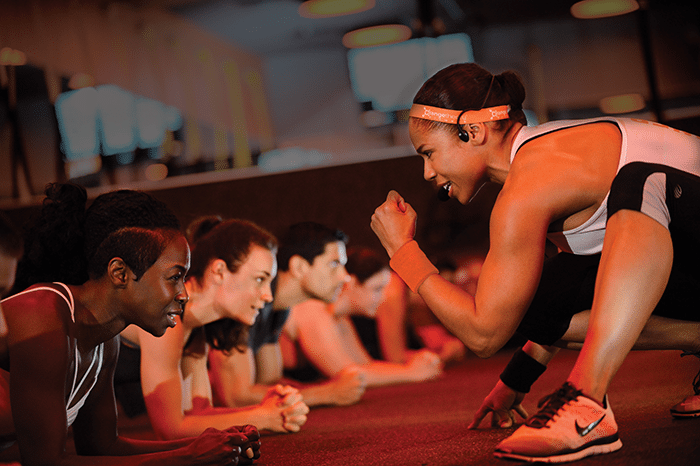 Orangetheory Fitness, a franchised fitness studio company, is blanketing the city with new places to sweat, opening studios in the Wrigleyville, Bucktown, Old Town and Edgewater neighborhoods. But its not just the promise of a good sweat that's leading to Orangetheory's expansion. The gym and its franchise model are giving those who want to open a gym the opportunity to do so.
In fact, across the United States, Canada and the United Kingdom, the chain has more than 200 studios, with plans to expand to 700 studios by 2017. That's what some may call explosive growth.
With all of that expansion, Orangetheory does a few key things to keep consistency in the experience from location to location. All locations have the same look and feel. The layout, color scheme and branding are all the same. The workouts are also created in the corporate headquarters, which translates into doing the exact same workout no matter where you go from the UK to California. Instructors show and correct form and act as motivators, but aren't responsible for creating the classes that you'll do.
The workouts use traditional zone training, called Orange 60 at Orangetheory. To track effort, heart rate monitors are used to establish how long each participant spends in the color-coded five-zone system. Orangetheory says that it seeks to push participants to do 12 to 20 minutes of training at 84 percent or higher of one's maximum heart rate.
The reason that Orangetheory says that this 12 to 20 minute timeline is important is that it increases what's called the excess post-exercise oxygen consumption (EPOC), which is the increased metabolism that happens after any bought of sustained exercise according to ACE.
Class participants monitor their heart rates and their zone on a monitor in class that displays data from the heart rate monitors each participant wears (about $70 to purchase, but I was able to borrow one for my first class).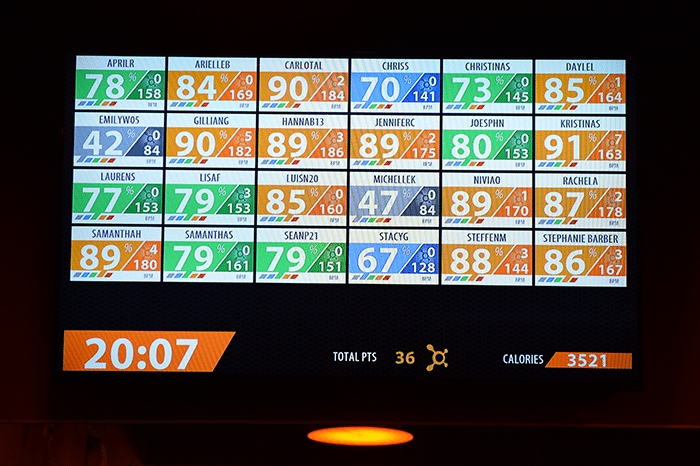 These zones and perceived effort are used to clue clients into how hard they should be working throughout classes. During the treadmill portion of class, paces are described as "base," "push" and "all out." Those perceived paces are taken at a variety of different incline levels.
In the class that I tried at Orangetheory the group was divided into a treadmill section and a resistance section that used water rowers, weights, BOSU Trainers, steps and TRXs. Our trainer Fabian told us that this particular class was designed to build endurance.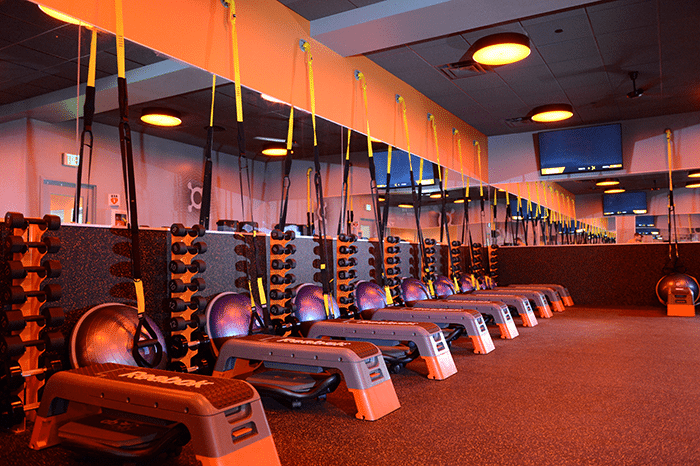 We spent the first half of the class on treadmill, just shy of 30 minutes – again endurance – and the second half of the class on the floor.
On the treadmills we worked through a variety of inclines, starting low and working our way up. What stuck out to me was the length of time we spend on the treadmill – in every tread-and-shred format class I've taken, I've never been on a treadmill for that much time.
By the time we moved to the floor, we'd run a little more than two miles, but this format may never be repeated – no two classes are the same at Orangetheory.
On the floor, we spent the first few minutes on the water rowers before moving onto two different AMRAP (as many reps/rounds as possible) sets, which were challenging, fun and moved quickly, engaging the entire body with moves like plank rows, snatches and TRX squat rows. Fabian was really attentive throughout and ensured that we were all safe and challenged for the duration of our time on the floor.
You can check out an Orangetheory class with this offer at any Chicago location. Learn more about locations outside of Chicago.
Old Town – 1513 N. Wells Street
Wrigleyville – 3738 N Halsted, Unit #2
Bucktown – 1634 W North Ave
Edgewater – 1126 W Granville Ave