The Green Flash Blazes Through Chicago
Lionel Sanders doesn't swim that well — at least, not for an elite long-distance triathlete. He typically comes out of the water about four minutes after the race leaders. But just wait till the run portion of the swim-bike-run event — about 10K in, he'll catch up.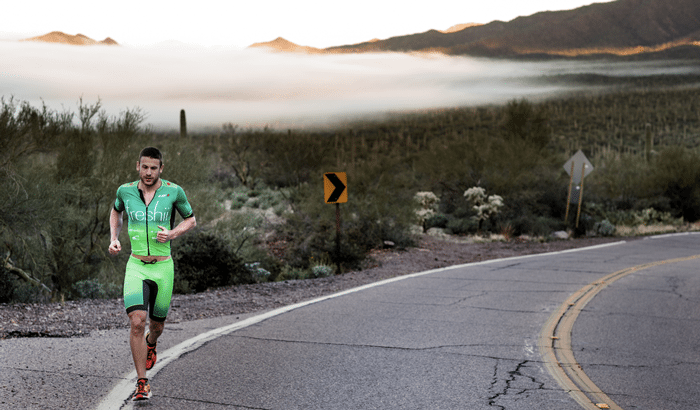 That come-from-behind strategy has served him well, making the 27-year-old Canadian — who visited Chicago on Monday — the youngest top-10 Ironman in the world. This year alone, he's won four out of his six half or full Ironman races and has his sights set on the Ironman World Championship in Kona in October.
Though he's competed as a pro for only three years, the role of comeback kid feels familiar to Sanders. Before he ever climbed onto a podium—even before he entered his first Ironman as an amateur five years ago—Sanders lived an entirely different reality. He struggled with a drug addiction so severe he hallucinated about aliens invading his body; when he ran out of money for cocaine, he boiled down NyQuil pills for a cheap high.
A post-rehab return to running, a sport he'd done well at in high school, helped him stay clean. Sometime in mid-2009, the idea of completing an Ironman popped into his head. At the time, he didn't even know what the event entailed. When he looked it up, a 2.4-mile swim, 112-mile bike ride, and full 26.2-mile marathon run seemed like just the challenge he needed to change his life for good. He begged his mom for her credit card number and signed up for Ironman Louisville, in August 2010. "It truly did as I hoped it would, teaching me motivation and discipline," he says. He trained as hard as he could and placed 48th, after coming out of the swim somewhere around 750th. "When I finished that race I felt like I could do anything, and that's what I set out about doing."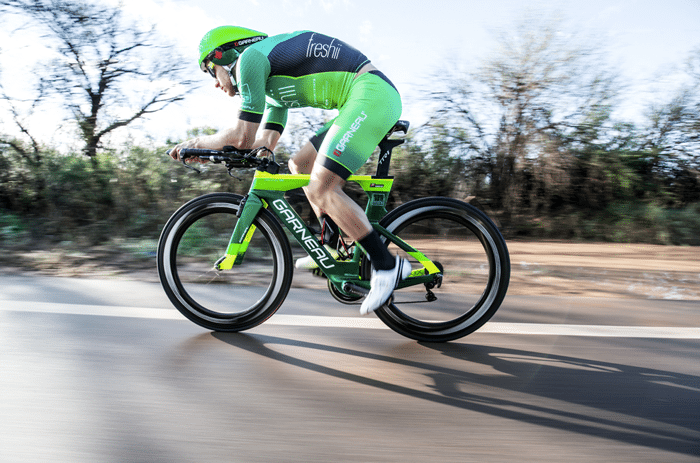 So, how exactly does one go from rock bottom to world domination in just a few years? The day after winning Ironman 70.3 Racine, Sanders dropped by 1871 for a conversation moderated by Matthew Corrin, CEO of Freshii (a healthy restaurant chain and one of Sanders' sponsors). Over a lunch of quinoa salad, green juice, and appropriately named Kona tuna wraps, he explained.
1. Surround yourself with support.
In addition to the self-control he cultivated through diligent training, Sanders credits the triathlon community with keeping him on the straight and narrow. "The biggest thing, I'd say—I got a new social network and had an excuse not to party," he says. "I met new people and that gave me a new identity."
2. Embrace pain.
"Ironman racing is so long, so grueling. It's generally the guy who can suffer the most who wins," he says. Sanders approaches pain by labeling it as a sensation like any other — say, joy or fatigue — and even attempting to feel grateful for it. "It's a privilege to be able to suffer, to push yourself to your limits," he says. "When you approach it that way it takes on a much different meaning and feeling."
3. Train your mind.
After several serious road accidents, Sanders does all his training indoors on a CompuTrainer and a treadmill. He calls the 10×10-foot room he trains in the "pain cave," and says the mental fortitude he's gained from spending hours a day there pays off in maintaining his focus while racing. That's especially true since his slower swimming means he often spends long stretches of the race alone — he might not catch up to anyone else until midway through the bike. (Oh, and just a couple side notes, in case you were insufficiently impressed so far: On his longest treadmill runs, he covers 45K or nearly 28 miles in two hours and 45 minutes. He's buying a new treadmill, since his current model only goes up to 12 mph or five-minute miles — too slow for his speedwork.)
4. Play to your strengths …
In shorter Olympic-distance triathlons, cyclists can draft off each other during the bike. This allows for the sort of strategy and teamwork you'll see during the Tour de France, but means anyone who isn't in the lead pack of bikers faces a serious disadvantage. "It's impossible for one man to bike against 20 men," Sanders says. "From my perspective, I have no chance in draft-legal racing." But the rules of Ironman — which specify a distance of 12 meters between bikes — allow Sanders to make his slow start and then bike and run at his own pace until he's ready to fly past his competitors late in the race.
5. But don't neglect your weaknesses.
Swimming might not come naturally to Sanders, but he's doing his best to build his skills. He logs hours in the pool too, including hard intervals and tempo swims. And he hasn't given up hope: citing another triathlete who eventually swum his way into the lead pack after 10 years, Sanders says he's improved enough over three years to believe he could get there, too.
6. Fuel properly.
As recently as last year, Sanders answered to the nickname "Colonel Sanders"—an obvious play on his last name, but also a nod to his fast-food habit. The better he got, the more he realized he could make significant performance gains by cleaning up his eating. Now he's known as the "The Green Flash"—both for the bright lime Freshii kit he wears and his balanced, veggie-heavy diet. Where he once posed for post-race photos with a greasy Whopper, he actually craved a grilled chicken salad after his Racine win.
7. Most importantly, love what you do.
Professional triathlon lacks the big money of sports like cycling. Sure, some people compete for the accolades, but it's tough to triumph with that as your sole motivation, Sanders says. When super-fit Ironmen do battle over more than seven and a half hours (the world record stands at 7:41), the winner has to really want the win. "It really comes down to who has the strategies in place that when the going gets tough, you're able to persevere through," he says. "If you want to make it to the top, you have to love pushing the limit. And I do."