#Sweatworking at SoulCycle for Mission Propelle
Each month, #Sweatworking gives us a case of the warm-fuzzies as we spend time doing two things that are good for the body and the mind: meeting new people and getting in a great sweat. This month, #Sweatworking at SoulCycle (sponsored by LUNA Bar) allowed us to add a third way that #Sweatworking piled on the good feelings: All ticket sales went to Mission Propelle (an organization that's growing so quickly, they rebranded from Smarty Pants Yoga while we were promoting the event).
Raising over $950, this #Sweatworking event was able to fund a full eight-week program by Mission Propelle at a school that wouldn't otherwise have the funds to implement the program. So after an hour on the bike, we helped to empower elementary-age girls to know who they are, what they believe and how to advocate for themselves through yoga, reading and mentorship. Not bad for a Tuesday night.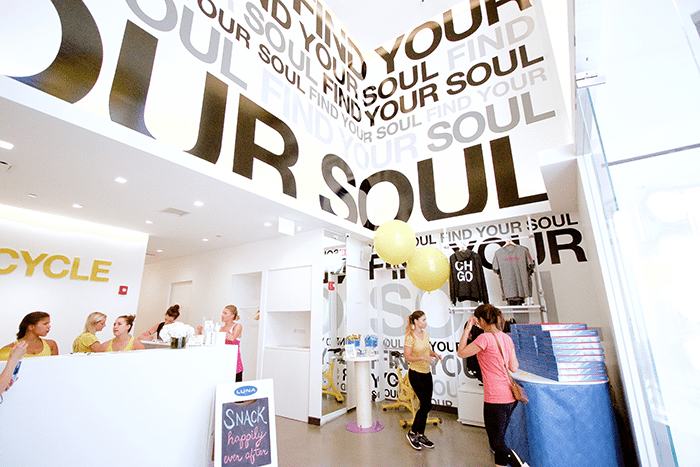 SoulCycle Chicago's newest location had space for 67 people, and we happily took all of those bikes. The brand new crisp, white studio has a spacious locker area and a front atrium with incredibly tall ceilings, which gave us a little elbow room in the otherwise jam-packed house.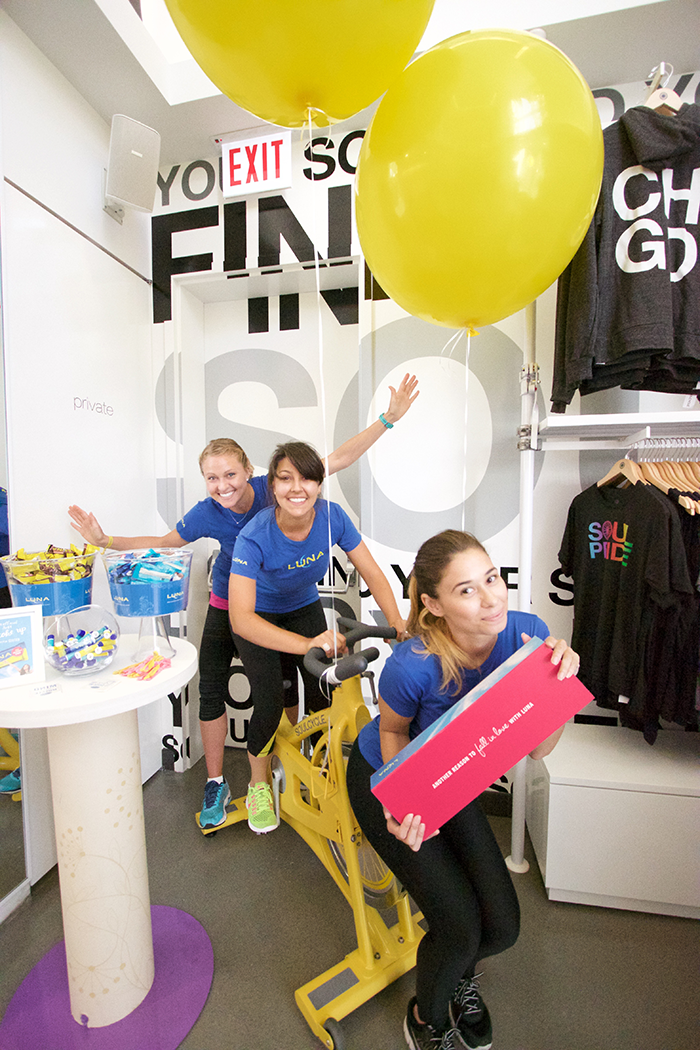 As aSweatLife and LUNA Bar did a full takeover of the studio, our instructor Devin prepared his stellar playlist for the packed house. SoulCycle is musically driven, so alongside great instruction, there's always a great playlist.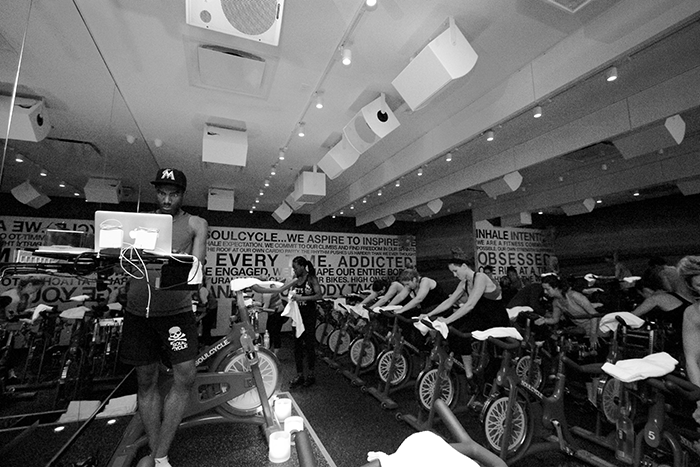 Sweatworkers got set up on their bikes and our first-timers were aided by SoulCycle's insanely helpful staff.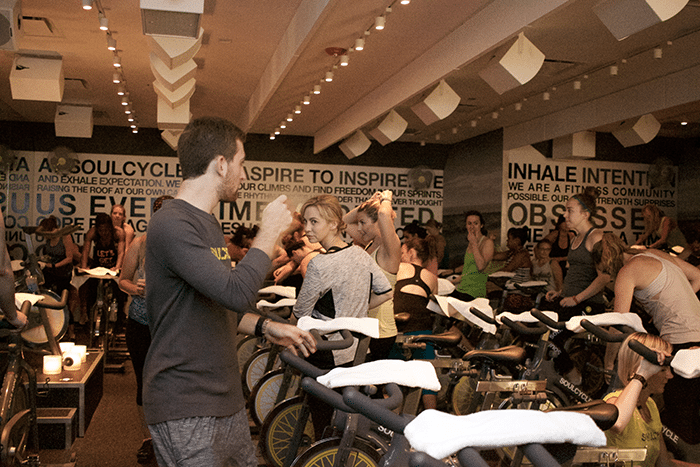 In 45 minutes, the class went through all of the SoulCycle bikes' positions, rocking everything from an on-bike push-up to a tap-back, all while pedaling to the beat of Devin's playlist.
After the lights came back on and the sweat was wiped away, we cleared the cycling room and started the mingling portion of the night, which made all of those feel-good brain chemicals that exercise releases that much sweeter.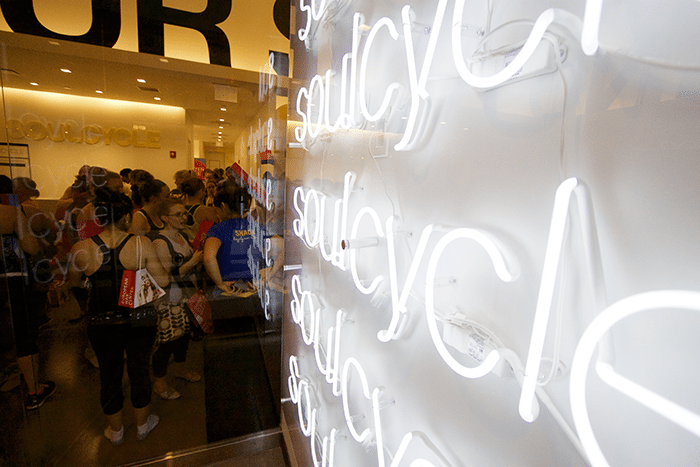 Before hitting the road to shower and get some high-quality sleep, we grabbed a goody bag unlike any other that has ever come before it. Everyone took home around 20 LUNA Bars in a fancy carrying case.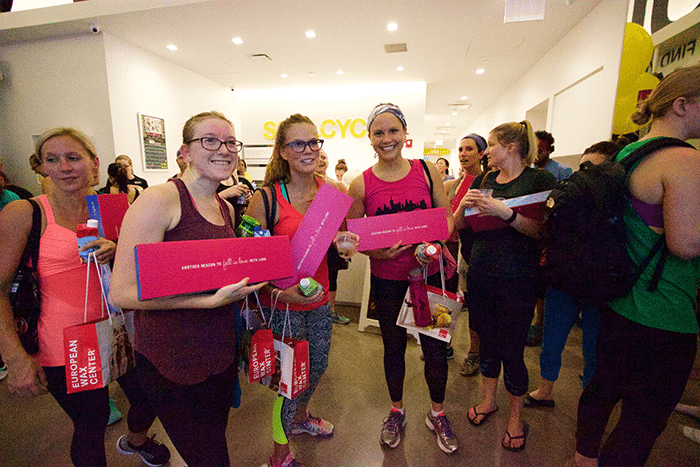 In addition to all of those LUNA Bars, we had bags full of goodies from Mamma Chia, MUD, Social Enjoyments, European Wax Center, One Mag Smile and Delos that Sweatworkers grabbed while sipping on drinks mixed up by TyKu and Vita Coco.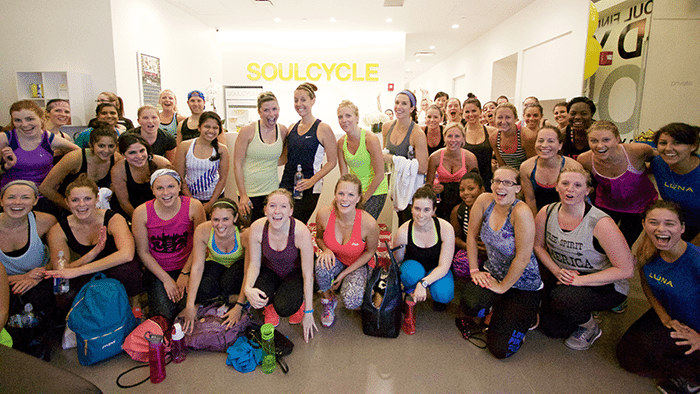 Want to make it to the next #Sweatworking event? We're making our way to The Bar Method next in The Loop and the Gold Coast neighborhood.