Fundraising Begins for BrightPink's FitFest September 20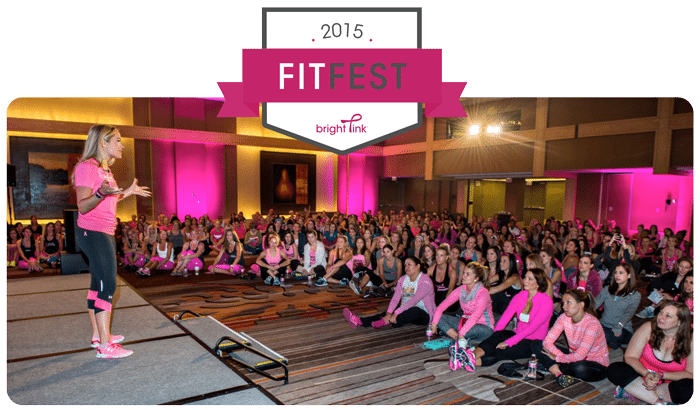 When it comes to women's cancers, we're all standing on common ground. It's a sad truth that everyone reading this knows someone who has been affected by breast or ovarian cancer. In fact, one in eight women will be diagnosed with breast cancer and one in 67 will be diagnosed with ovarian cancer (according to Bright Pink).
And one thing that we at aSweatLife are passionate about can help to reduce those staggering odds: exercise.
According to a study that followed women for two decades quoted by the New York Times' Well Blog, "women who walked at least seven hours per week, usually distributed as an hour a day, had 14 percent less risk of developing breast cancer than those who walked for fewer than three hours per week." And even more inspiring, "women who were the most active, sweating vigorously for up to 10 hours each week, realized an even greater benefit, with 25 percent less risk of developing breast cancer than those women who exercised the least."
If you don't already have enough reasons to exercise – better sleep, enhanced mood, healthier body composition – add this to your list.
These stats are the reason behind Bright Pink's FitFest. Bright Pink, Chicago's organization focused on prevention and early detection of breast and ovarian cancer in young women, hosts its annual fundraising event, FitFest helps to help with their efforts in two ways.
Fitness
This year, FitFest will be held at FFC Union Station, where the event will take over the space to offer 750 attendees six hours of classes. If you're wondering why you would put yourself through six hours of fitness classes, 1. Go back to the top of this post and start over. 2. You don't have to do all of the classes, you can pop in and out of the action, stopping for snacks or getting in some pampering.
At this year's event, classes will be a mix of offerings from FFC, WERQ, Shred415 and the Daily Method, so you'll be able to mix some HIIT, dance, barre and more.
Fundraising
Bright Pink has lofty goals for its large, annual fundraising event. Following the 2014 event, 600 participants raised more than $545K. This year's fundraising goal is more than half a million dollars again. Those funds will go directly to empowering women and their doctors through Bright Pink's prevention programs. Programs impact thousands, including the 23,000 women who will use the tool AssessYourRisk.org, which helps to examine personal risk concerning breast and ovarian cancers and more than 2,500 medical professionals who will care for 9 million women in the next year.
Want to get involved? You can register as an individual or a team here. Once you're registered, your charge is to raise the money that helps Bright Pink to do their work. Each individual is responsible for raising $500, which is easier than it sounds (hello, Facebook messages). If you register as a team, each team member will still be responsible for raising $500, but if you have some team rock stars, their total fundraising numbers will go into a group pool.
Every dollar raised goes to life-saving breast and ovarian cancer prevention programs for young women and the medical community who care for them. Will you be there?