Trying out Spindle Fitness in Lincoln Park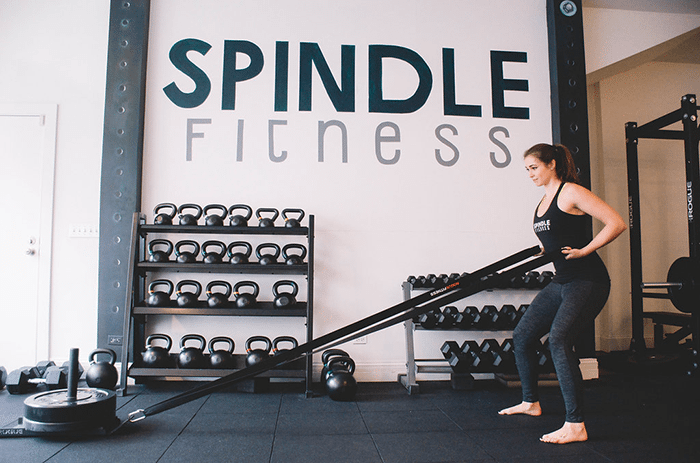 (Disclaimer: I received a month at Spindle Fitness to experience and review. As always, I only review products or workouts that I try and love.)
What do you get when you combine the experience and expertise of Chicagoland trainers with a new gym business model? You get Spindle Fitness, a new and unique approach to personalized training. Spindle Fitness is the new kid on the block in Lincoln Park, having been open for less than a year, but already home to happy clients who are seeing some serious results.
Jeff Shapiro and his partners created Spindle Fitness to address some key issues they were seeing with the personal training model:
From the client's perspective, cost and scheduling can be very prohibitive.
From the trainer's perspective, there is only so much time in a day to work with clients 1 on 1, leaving some of the most knowledgeable and experienced trainers only helping a handful of people each day.
Enter the idea of Spindle Fitness: personalized training with expert trainers at a much lower cost and extremely flexible scheduling. Or as Jeff puts it, "it's deconstructed training, including all the best things about training for a much more affordable price and on your own time."
During my first visit to Spindle Fitness, I had a 45-minute fitness assessment that included testing my flexibility, balance and athletic form. I also had my body fat percentage and body weight measured (and woah, apparently I'm all about those #gainz – I assured myself that it's all muscle, right?!). Afterwards, Jeff and I sat down to discuss my fitness goals so he could help develop a personalized program for me. As a runner, my main focuses included: injury prevention, strengthening my body and working on balance.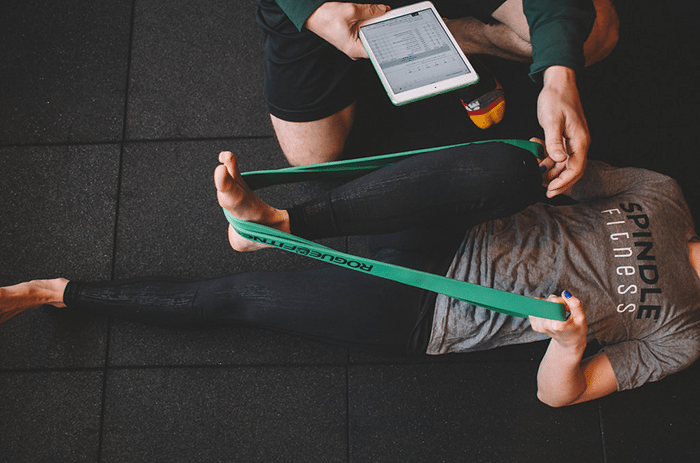 During my month of workouts at Spindle, I found it a little difficult to explain the gym and concept to my friends as I honestly had nothing to easily compare it to – no one else in the city is doing what Spindle is doing (yet, anyway).
After the initial assessment, someone at Spindle created a personal training program for my next three workouts and loaded them onto the Spindle app, giving me access to a personalized fitness plan at my fingertips. When I went to Spindle, I would use the app as a guide through my workouts. Trainers were on hand to help with my form, give me knowledgeable explanations of exercises and assist me with any questions I had.
When I opened the app, this is what a typical workout would look like: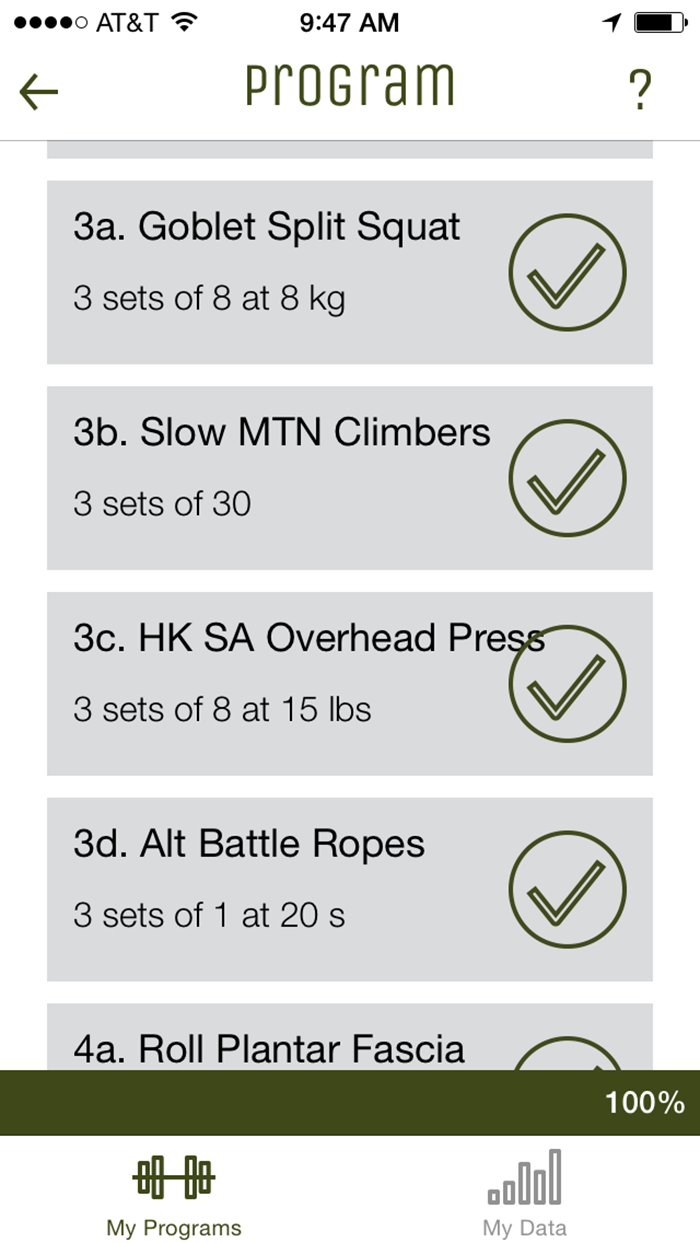 I usually had three to four warm up exercises to complete followed by the main bulk of the workout. The workout would usually be a mix of strength and metabolic exercises in small circuits, each unique to my fitness goals. I would finish off the workout with two cool down exercises (which usually included foam rolling for me, as I sheepishly admitted to Jeff that I am bad at making time to do that). The workouts typically took me about 45 minutes to an hour to complete, which is what I mentioned I was looking for. If you are a person who likes to spend more time in the gym (you strange bird, you) Spindle programmers can create a workout that suits your (weird) needs.
It took a few sessions to figure out where my fitness level was at and what I could handle, but by the 4th and 5th session, the workouts were perfectly challenging for me. Spindle programmers never create your unique workouts more than three at a time and so they can adjust according to your feedback and needs.
Here are the top 5 things I loved about my experience at Spindle:
1. Flexibility in timing.
The month that I tried out Spindle, I had some random late nights and last-minute travel for work. Since I wasn't locked to a scheduled time (you can get your workout in at Spindle whenever it is open), it was easy to rearrange my plans – with no canceled class fee and no feeling of guilt for messing up a trainer's schedule! For when I travelled and wanted to get my workout in, Jeff changed my program to give me workouts that I could easily complete in a typical hotel gym. If for some reason I wanted to complete one of the workouts at my own gym, I could do that too, though I preferred being around the guidance of trainers at the physical Spindle location whenever possible.
2. Access to great trainers.
No matter when I was able to make it, there were always great trainers on the floor, ready and willing to help out. Not only do the trainers help guide you through your program and ensure proper form, but they also are a huge source of fitness knowledge and offer a lot of great tips. Shout out to Ray for teaching me flexing and breathing techniques; I am now much more efficient at the few chin ups I am able to do (3! Finally! #humblebrag).
3. A sense of accountability.
Spindle encourages members to complete 12 programs each month or to come in three times per week. If you want to come in more often than three times per week, they offer basic work out of the day metabolic/HIIT workouts to fill in on the days you do not work on your tailored program. I felt accountable to get my workouts in and the app on my phone was a daily reminder to make time to get my sweat on. The app also has fun feature where you can check each exercise off as you complete it, which is really enjoyable if you're the type of person who likes checking things off lists (I do!).
Speaking of, the app itself is excellent – but there are many fitness apps that can give you workouts to do. I know, because I download them and then rarely ever look at them. This app is most helpful in the context of actually going to the space and getting hands-on instruction, which is the real value that Spindle brings to the fitness market.
4. Fitness unique to me.
Spindle is transparent in its programming. You know that what you are doing is tailored to your fitness goals and the programmers work with you to make your workouts as holistic and tailored to your needs as possible. Your program will focus on increasing weight and skill over time; you aren't getting the same run-of-the-mill routine as everyone else. Spindle is able to customize workouts for clients from iron man athletes to absolute beginners.
Spindle also encourages each of its members to set both a fitness goal and personal goal each month. Members write their goals on a huge chalkboard wall at the gym entrance to strengthen its sense of community and serve as a convenient reminder for members.
5. Affordability for the product you are getting.
A one-on-one session with the trainers at Spindle can run you a tab of $100 a pop. If you make all of your 12 sessions in a month, they come down to less than $17 each – which is less than most group fitness classes – and you get access to the same trainers' valuable knowledge and instruction with similar results to one-on-one training.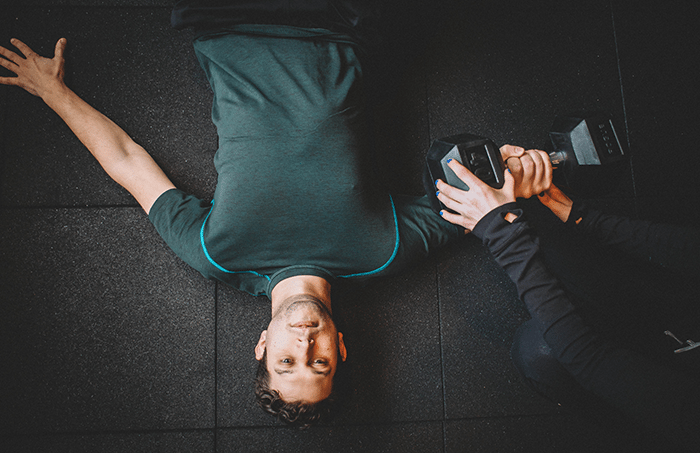 Spindle is new and continues to grow and incorporate new programming and experiences for its members. A recent favorite new addition is Summer Fridays, where the gym hosts a metabolic workout on Friday afternoon and takes everyone out for a drink afterwards (because working out and having a beer just go together – or at least that's what I keep telling myself).
Spindle also hosts internal workshops (such as education on kettle bells) and, on occasion, hires outside industry experts to come host workshops. The gym is currently rolling out a new nutrition program for members that are interested. The goal is to not only get members fit, but spreading knowledge around how and why as well.
Interested in stopping by? You can set up a free Spindle session here to try it out for yourself!