Trainer profile: Britt Voss of Real Strength Chicago
"If people aren't laughing at your goals, then your goals are too low," says Britt Voss, founder of Real Strength Chicago. Britt, a lifelong athlete and collegiate long distance runner, launched Real Strength in October 2014. A young fitness enterprise, Real Strength has already become a standout among other boutique Chicago fitness studios.
The philosophy behind the company — and one Britt emanates through his coaching style — is building strength. To achieve this, discipline, consistency and hard work are integral. Every physical attribute, including speed, agility, balance and power, are all improved by an increase in strength, and strength is an essential element of fitness, he said.
Prior to opening Real Strength, Britt worked at Northern Illinois University as an assistant strength and conditioning coach for the women's cross country and track and field teams. There, he also assisted with football, men's basketball and wrestling training. Before that, he was a strength and conditioning intern for the football team at The University of Alabama, where he also received his undergraduate degree. Later, he received a second degree in kinesiology and exercise science with an emphasis on rehabilitation at Northern Illinois.
Goal setting is very much at the heart of Real Strength, and Britt's customizable approach to training offers clients the unique chance to do exercises tailored to their specific abilities and objectives in a one-on-one environment.
"Whether you want to change your appearance, lose weight, be faster or stronger, strength is the foundation," says Britt. "I don't do gimmicks. There aren't any secrets and I don't promise clients miracles. But if you work hard, stay committed, and trust my system, you will see results. It's all about hard work and establishing a routine."
Britt created Raise Your Bar to help clients set and reach goals. Too often, people underestimate their capabilities and sell themselves short. When this is the case, there is a powerful trickle down effect: people don't feel as motivated to work toward their goals, they aren't as disciplined and, importantly, they are increasingly frustrated with themselves and their lack of progress. With Raise Your Bar, Britt guides his clients to reach beyond what they think they can do, but also provides them with the means to reach lofty goals.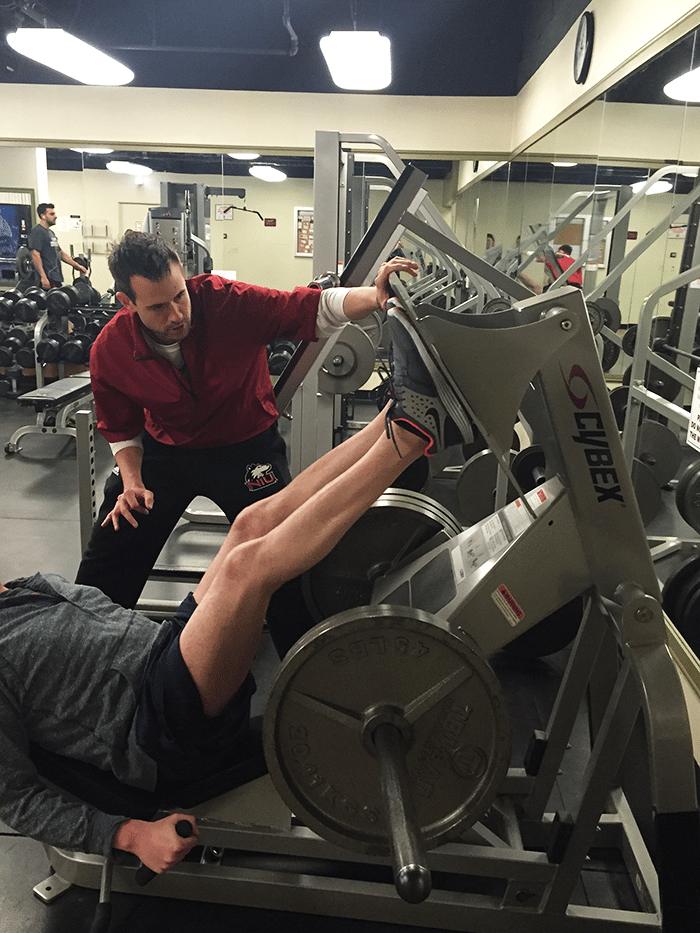 With an emphasis on safety and form, the individual strength-building regimens Britt designs for his clients lead to significant results. While he's excited to continue growing Real Strength, Britt says his biggest personal motivator is watching his clients see a difference in their bodies, and observing the positive effects these changes have on their attitudes and overall well being.
"If someone hits a new max or can finally fit into that dress they've been hanging on to — that makes me feel like we've done something right," says Britt. "I also just love teaching. I love taking someone who has never lifted weights before and showing them that they can do it."
Britt currently trains clients at HiFi at 820 N. Orleans in Chicago's River North neighborhood, but plans on opening his own studio in the near future. While he primarily works with clients one-on-one, he recently began offering partner sessions, and will eventually hold group sessions, such as kettle ball training classes.
By the nature of one-on-one meetings, Real Strength's culture doesn't necessarily align with conventional group fitness definitions, but Britt's customers are still united by a shared mission.
"The company's culture, as a reflection of its mission, is to reinforce the importance of never giving up and to always try to raise your bar," says Britt. "It's about always trying to reach beyond previously self-imposed limits, and to create a positive, affirming attitude."
Of course, not all clients show up to each training session with the same enthusiasm. That's why Britt maintains a no-negativity atmosphere in the gym, making sure he is always positive and encouraging.
Real Strength Chicago has big plans for the future. In addition to opening his own studio and expanding the class offerings, soon Britt's girlfriend Monica will lead Real Strength's nutrition arm. In this role, Monica will offer interested clients nutrition assessments and advice, including help with grocery shopping and reading nutrition labels.
The company is also growing its collaborations, and is now partnering with Doc B's in River North to host "Fun Runs." Every Thursday, anyone who is interested can participate in a short, fun run around the neighborhood, ending at Doc B's for a free appetizer, beer or dessert.
To learn more about Britt and Real Strength Chicago and sign up for a training session, click here. Follow Real Strength on Facebook and Instagram @raiseyourbar_rs.
Let us know!
Did this post help you get closer to achieving one of your goals?