Active City Guide: Toronto
As you may have noticed from the influx of Drake quotes on my Instagram last weekend, I went to Toronto for the Nike Women's 15K race. As you readers know, going on a run-cation is one of my very favorite things in the world. But instead of rehashing why run-cations are awesome (and spending way too much time talking about how incredibly delicious beers on patios in foreign countries are), ASweatLife is going to take a little different approach to this summary. We'll call it an Active City Guide, in case you ever decide to go to Toronto and want to get a few sweats in while you're there. Here's what we felt like were the must-do's while we were in the 6, plus what we'll do for sure next time.
As our girl gang walked the two miles four kilometers to pick up our race packets, we were instantly charmed by the Waterfront Trail we strolled down. Toronto is right on Lake Ontario, and similar to Chicago and Lake Michigan, walkers, runners, and bikers get to enjoy a scenic path while on the move.
Only, you know what's different? The Chicago lakefront trail is 18 miles- the Waterfront Trail is over 1400 KILOMETERS (math is hard. That's 870 miles). It connects 68 communities and over 400 parks and natural areas. Hop on for a quick stroll, run through the six with your woes or use the trail to run or bike from one community to the next as part of a multi-day adventure (don't forget snacks).
I'm a sucker for a good green space. Toronto's section of the Waterfront Trail did not disappoint.
My favorite thing about the Waterfront Trail? Unlike Chicago's lakefront, where restaurants right on the beach are few and far between, we saw plenty of places to grab a drink or a meal, and we absolutely loved spending a few hours at the Amsterdam BrewHouse patio. However, Chicago definitely had more actual beaches, so chalk up a win in that column.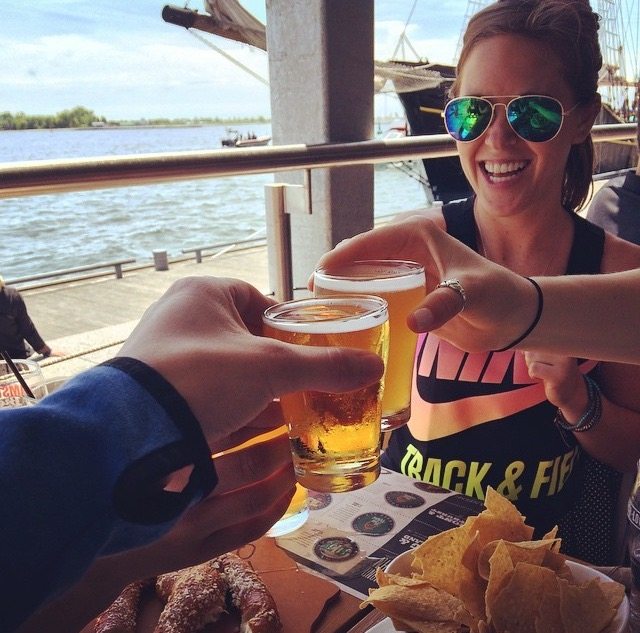 Kayaking on Lake Ontario
Singing the delayed flight blues? No excuse for missing a workout. Shoutout to Cass's flight getting delayed (and then cancelled) so she could explore Lake Ontario from a kayak. Although she may not have realized it at the time, she was really contributing to the greater good that is aSweatLife. Cass, thanks for volunteering as tribute. Even if I guess you technically didn't volunteer.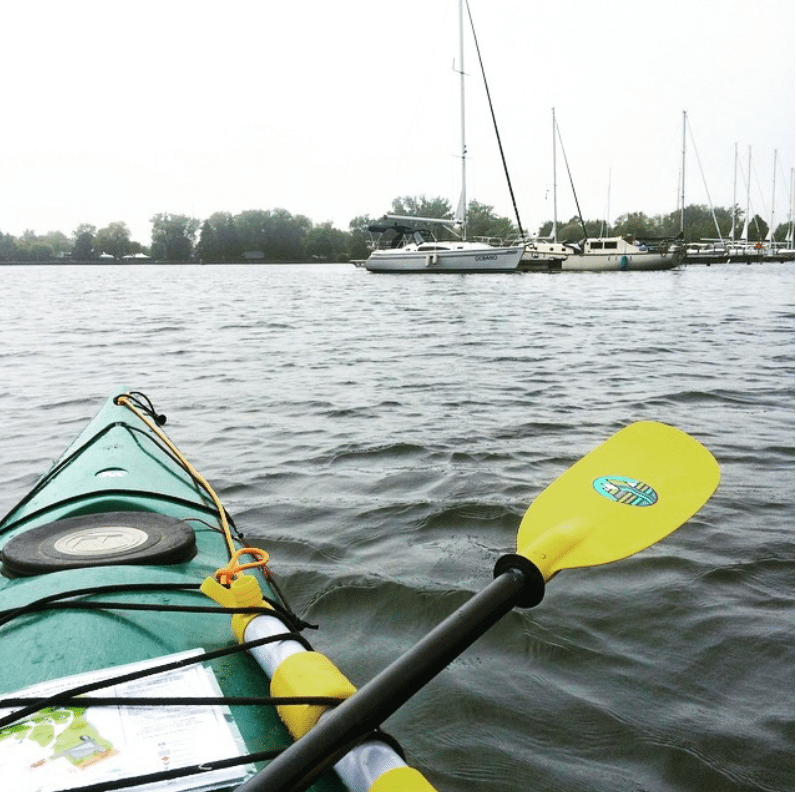 Cass was scheduled to fly out of the Billy Biship Airport on the Toronto Islands (more on those later), and in the midst of her flight delays, she made the wonderful decision to leave the airport and walk down the harbor. Ten minutes later, she found the Harbourfront Canoe and Kayak Centre, and she promptly handed over $25CAD  for an hour of kayaking (as opposed to $60CAD for the whole day).
Cass's newfound haven also had paddleboards and canoes to rent, if that's your thing, and if you were planning to go more than once or for a full day, you can buy a "Paddler's Card" to save money. They also do special tours of the Toronto Islands.
Straight from Cass's mouth: "I'm so glad I randomly walked down the harbor and found this place. It was a much better way to spend my afternoon than moping around about a delayed (and ultimately cancelled) flight. YOLO. Oh, and great arm workout (whew)."
Speaking of delayed flights …
A serendipitous Google.com search ("does the toronto airport have wifi") led me to learn that the Toronto Pearson International Airport has a fitness center – the GoodLife Fitness center, which travelers can access for $15CAD per person, per day (unless you're already a GoodLife gym member). Leave your sneakers in your checked luggage? You can rent Reebok clothing and shoe bundles for $10CAD; there are also showers and changing areas so that you don't have to get on a plane while you're still gross.
The GoodLife Fitness center has over 10,000 square feet and plenty of ways for you to kill time in a healthy way before your flight. On a time crunch? They offer a Fit Fix cruit training area, a set of 9 state-of-the-art work stations that work your major muscle groups in 20 minutes. As constant victims of "I have to squeeze in a workout"-itis, A Sweat Life supports this.
The Toronto Islands
The Toronto Islands, a small chain of islands just offshore from the city area and the only group of islands in the western part of Lake Ontario, are kind of like what I'd imagine Narnia to be like in the summer (that could also be due to the foggy, mystical weather we encountered while there, as well as the fact that I'm a nerd, but so be it). You'll have to hop a ferry at the Jack layton Ferry Terminal to get there- there's no bridge, and in fact, the islands are the largest urban car-free community in North America (with the exception of some service vehicles).
Once you're there, though, it's worth it. The charming islands are home to paved paths, tons of green space (and signs that say "Please walk on the grass!"), bike rentals, and several jogging trails for you to enjoy. I was especially intrigued by the Centreville Amusement Park (slogan: "It's always sunny at Centreville"); I'm sure it's normally a cute, not-at-all-scary place, but again, the creeping fog and the abandoned rides sure did a number on my imagination. (Edited note: after Google.com-ing the pictures, it is indeed a charming place. In daylight)
There are also occasionally pirate ships docked around the Toronto Islands. That was neat.
Are You a ClassPass Member?
Rejoice, ClassPass has a home in Toronto! With ClassPass, you can take classes outside of your "home city"- or the city in which you live and take the majority of your classes – by using ClassPass Flex. ClassPass Flex lets you temporarily switch your city to the city you're traveling too for the same membership price, giving you truly local options for working out. Some of the classes that caught my eye: Hard Hiiters, Surfset, and Rowfit RX.
Gourmet Bitches Food Truck
The highlight of waiting three hours on the Toronto Islands until the race started? The Gourmet Bitches food truck and their avocado toast. I'm a firm believer that it's impossible to be in a bad mood when you're holding a breakfast sandwich, especially when it's with this view.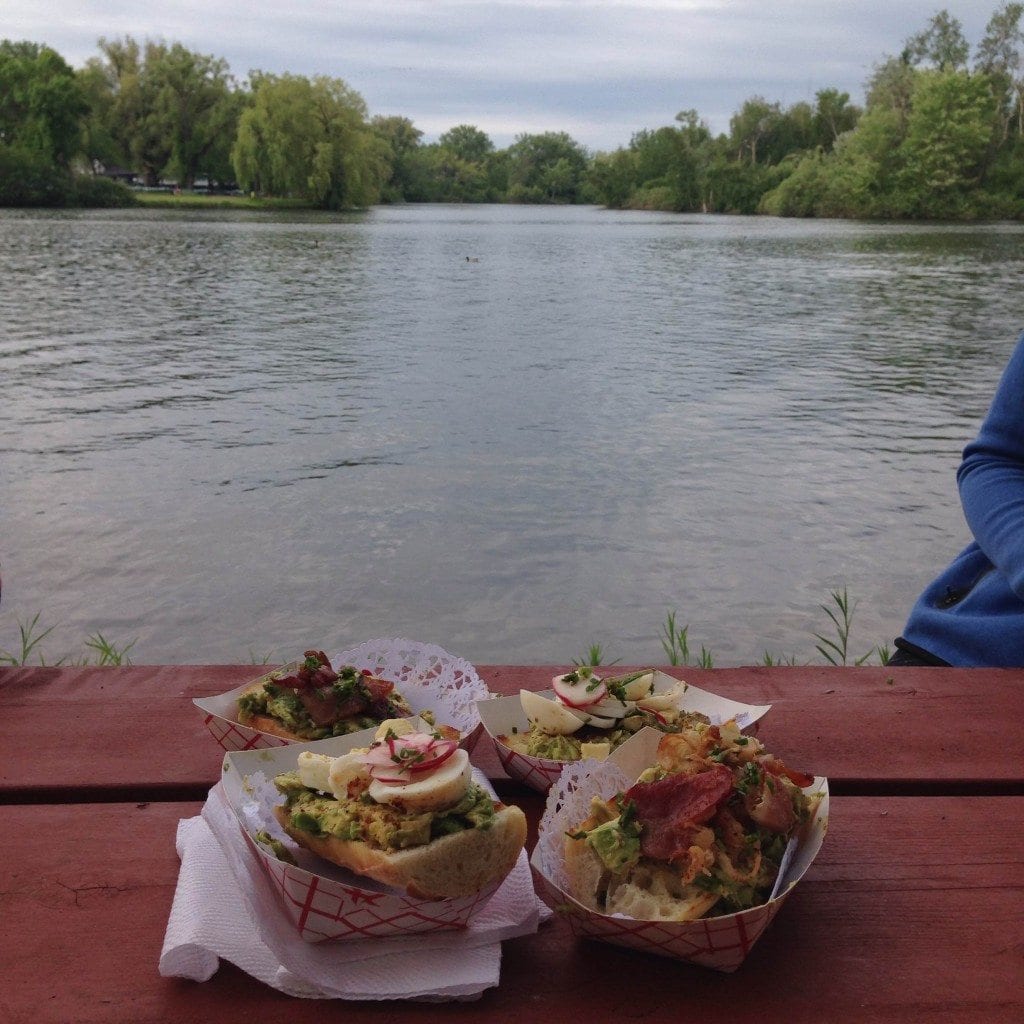 Stalk their food truck. You won't be disappointed.
What'd We Miss?
We were in Toronto for barely 24 hours – so, a lot, probably. We didn't get to make the trek up the iconic CN Tower (although it looked pretty great from the ground). We didn't make it to the Hockey Hall of Fame, but I'll just wait until they recognize the Blackhawks' dynasty and relocate it to Chicago (HEY-O!). Casa Loma looks pretty fantastic, and I heard from a reliable local that Kensington Market is the place to go for outdoor eating, especially the patio kind (although the Local Public Eatery's stellar combination of Bloody's, burgers, and jams will be hard to beat). Also, as someone who owns as many Nikes as years (yikes), the Bata Shoe Museum calls to me, and I'm pretty sad we didn't get to kick it there.
Bottom Line?
Comments and suggestions for how to make this series even better? Let us know below!