Then and Now: Post-grad Fitness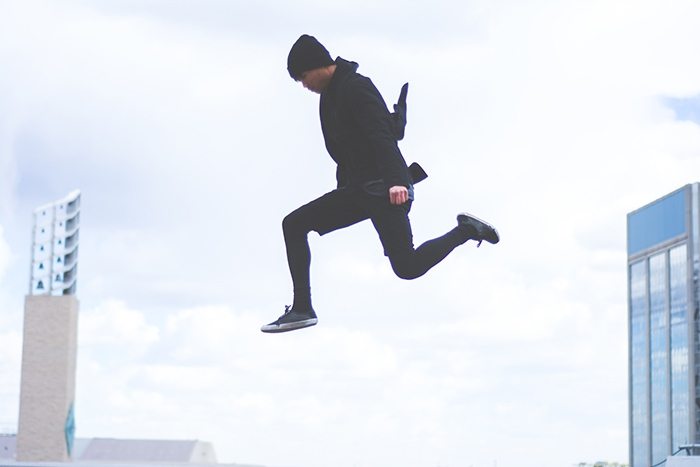 In the midst of graduation and commencement speech season, it is only natural to assess how far you've come since [enter your graduation year here]. Did you chase your dreams? Did you move mountains? Did you find your passion? Is the world your oyster?
There is no question that post-grad life is different. Going out on weekdays is a rarity as hangovers are a reality. Hopefully you've mastered the art of at least one or two more cuisines aside from mac & cheese and pizza (if not, no shame, but we can help). You begin to embrace the feeling of routine, even if it just is catching Game of Thrones at the same time every week.
Fitness changes, too: how we exercise, the time we make for it, and our motivations change in post-grad life.
With some help from fellow post-grad fitness enthusiasts and real-worldites, here are the top 5 ways fitness changes in post-grad life:
1. We have new goals
After college, I started taking running a little more seriously than just a means to balance out the amount of pizza I consume (though that is, admittedly, still part of my motivation). Over the past few years, I have increased my focus on strength training as a means of injury prevention. What started out as running injury prevention became something more for me – I've started to realize that feeling great overall requires a little more time in the weight room (especially for you, young ladies). I have new running goals of course (a half marathon PR would be nice), but I have started to accumulate new strength goals as well.
"After 10 years of training professionally, the protocols are very different. My focus now is on teaching proper movement and then adding heavy weight, making people as strong as possible while minimizing injury risk. General strength tends to make everything else function better, so I focus on that first with everyone. Shockingly, I also enjoy heavy lifting now more than ever! As a trainer, every individual you come across has unique goals and needs. Now, I look at training as following a very specific plan to achieve desired results. Training can be – and usually is – fun, but I don't believe it should only be sweaty entertainment. There needs to be purpose behind everything you do." – Jeff, owner of Spindle Fitness, 32
2. And new motivations
Most of the time in college, I ran solo or went to the gym for a quick workout by myself. These days, my fitness routine is much more community-based and social. I run at least once a week with a running crew and enjoy trying out new fitness classes with friends. When old friends visit from out of town, I find that we often opt for catching up and spending time together at barre instead of at the bar. Making fitness more social has made me more accountable and motivated by those around me.
"My motivations in college were pretty simple: avoid the freshman 15. And the sophomore 15, and the junior 15, and the senior 15. These days, my motivations are based on gaining something rather than losing something- gaining another chin-up, adding a new PR to my collections, feeling awesome for the rest of the day after a sweat-dripping workout, or being strong enough to hold up the baby 3 pounds weights during an entire arm section in barre class. I've found that focusing on a goal and having something to strive for is much healthier for me (mentally and physically) than putting a lot of fear and pressure on myself to lose something or avoid it." – Kristen, 25
2b. (And maybe some of the same motivations)
"I need to get jacked to get with the single ladies." – Chase, 28
"My main reason for working out still hasn't changed – Vanity! (That's right post-grad self, we're still primarily working out to impress girls!)" – Kevin, 31

3. We have a new value of lifetime health
"My fitness goals in college also revolved around being a great soccer player and trying to attract women with a badass six pack (sad, but true). Now, all I care about is training my body so I can live the best quality life full of activity and adventure for the longest possible time." – Jeff, 32
"Today I'm so much more conscious of the health benefits of working out both physically (say bye to fast food) and mentally (you're gonna loooveee this "work" thing) that are imperative to me functioning as an adult. Additionally, it didn't take long after getting my diploma to figure out I wasn't Wolverine. Injuries are a very real thing and when I realized I could be sore just from getting out of bed (Yes, real thing. No not just from hangovers although you seriously don't know what those are yet. No, trust me.), I knew I needed to start training a lot smarter and stretching a lot more. In an effort to be smarter about my workouts, I sought help (I know. Shockingly you didn't have all the answers, Kev) from experts to make better use of my time and money. To double-down on that investment, I also started eating better. Overall fitness is both easier in some ways and harder in others. Today I enjoy going more and have made it a far more social part of my life, but the results don't come flooding in like they used to when my metabolism was on fleek! Good Luck graduates! See you on the Lakefront Path. (Oh yea, I forgot to tell you we run now even though you used to say it was "stupid") – Kevin, 31
4. We're ditching the elliptical for variety
"In college, I think I can count on one hand the number of times I did something besides the elliptical (that even held true for my freshman year of life in Chicago. I'm so ashamed). Now, I'm much less likely to repeat a workout more than twice in one week (save for marathon training, where the whole point is to run all the time)." – Kristen, 25
With a plethora of options and different fitness experiences that are offered at boutique gyms across the city, it's easier than ever to get some more variety in your training and work out routine. 
5. We've come to the realization that time is a scarce commodity, but health is worth that time
"Empty statements like "I'm going to the gym in the morning" and "I am going to eat better from now on" are the extent of my fitness/lack thereof. Learning the balance is where I fell short, and with added responsibilities and commitments, it is especially hard to add fitness to the mix. I guess for me, fitness used to be easy as breathing. Now, it is a goal to aspire to, a chart that can be traced and analyzed over time. And although I typically do not follow through when it comes to fitness, I do recognize the importance, and realize I need to re-learn accountability if I do plan on getting back on the fitness horse." – Amanda, 24
What are some ways that fitness has changed for you in post-grad life?