Thanks Mom, For Teaching Us What Health Is
This Mother's Day, we're taking a moment to say, "Thanks Mom" to our moms who set an example of what health and strength truly are. If there's a woman in your life – mother or not – that truly inspires you, call her and tell her today.
Read what the aSweatLife team had to say about the strong women in their lives.
My mom inspired my love for food and nutrition. She is a goddess in the kitchen, and in my opinion, should have a few cookbooks and blog of her own by now! As a child, my mom could whip up a dinner (and second dinner) for my sisters and me in no time. From picking out our birthday dinner menu months in advance to themed holiday meals to simple Sunday dinners … healthy, homemade meals were the norm and center of our social hour. As an adult, I wonder how my mom made it look so easy!
She told me recently that any great chef can be made when you have a love for food … and lots and lots of practice. Most importantly, you have to enjoy cooking and never look at it as a chore. A self-taught chef, my mom runs a gluten-free kitchen for my family and makes noteworthy, healthy meals most nights of the weeks. The kitchen has always been (and always will be) the center of the party at our household! My mom has truly set the bar high for delicious and healthy eating. She has shaped who I am and who I strive to be.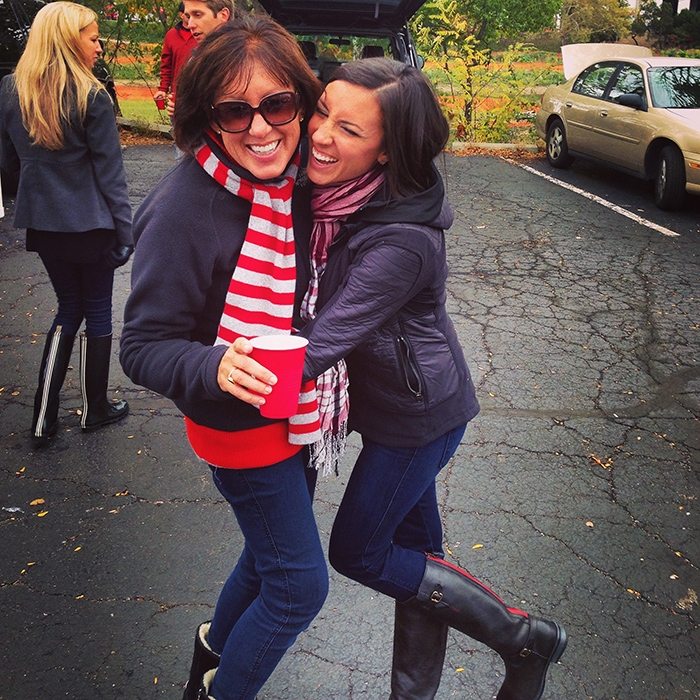 ---
Since my sisters and I were old enough to chew, my mom made our house a "picky-eater free" zone. While she would occasionally treat us with pizza and the dinosaur shaped chicken nuggets we relished — but would never consider eating now — my mom always made my two sisters and I eat whatever she cooked for dinner. That meant we were eating foods like salmon, broccoli, asparagus and squash from an early age. My parents' anti-picky eating mission was part of their goal to get my sisters and I to enjoy eating foods that are wholesome and good for us instead of junk. However, another important thing my mom has always stressed to me is that everything in moderation is OK. Unhealthy foods like pizza and bagels or deserts are all fine to eat once in a while, and in controlled portions. I've grown up seeing some of my friends impose strict diet rules upon themselves, ultimately leading to intense cravings and binge eating. Treating myself to the foods I want to eat on occasion helps me limit these cravings and avoid overeating.
The more important health-related lesson my mom has instilled in me is that your health is really all you have in life. When my mom was diagnosed with breast cancer seven years ago and underwent chemotherapy treatment, she lost all of her hair. It was emotionally very difficult for her, on top of the physical side effects the chemo had on her. She didn't feel beautiful. She wouldn't let my sisters or anyone see her without her wig on because she was not only worried about how she looked to us, but she was concerned she would scare us about her disease even more — after all, what makes knowing someone has cancer more real than seeing them bald, as you've never seen them before?
Unlike so many other daughters out there, I am so lucky to say my mom beat her cancer and is healthy today. After stopping her treatment, her hair slowly began to grow back. Now it is as long and thick as it's ever been! I wish I made a bigger effort during her cancer to tell her how beautiful she was, hair or no hair, and know how strong I think she was, not only for herself but for our family. But what my mom taught me is that vanity is nothing compared to the importance of your health. It is so important to be proactive about your health in every way possible. This means eating healthy, limiting alcohol, avoiding drugs and smoking, exercising regularly, getting regular check ups and following up on abnormalities.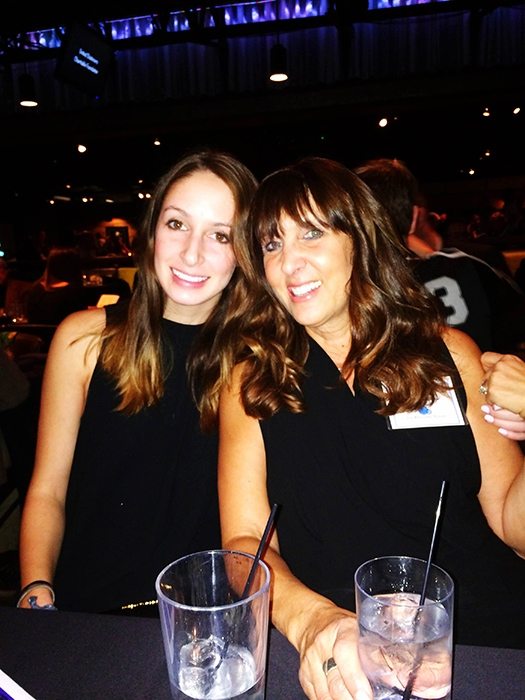 ---
Lesson number one from my mom: It's never too late to try something new
When my mom was 54, she watched as my brother and I crossed the line at the Chicago marathon. She, admittedly, had not run two consecutive miles since she was in high school. She was inspired by watching complete strangers giving such a full and exhaustive effort, and she asked me if I thought she could ever run a 5k. "Of course!" I said. A year and a half later, at 56, my mother completed a full marathon. I ran with her for the last 3 miles, tears streaming down my face as we crossed that finish line. People often limit themselves because they feel uncomfortable with change or challenges. But you should pursue those things that challenge you. If you've always wanted to try something, try it. Do it now.
Lesson number two from my mom: Strong people seek support and support others
My mom has always been the type of woman who goes to the gym to work out for an hour or two and then sits and chats with her workout girlfriends over coffee for (in my estimation) eternity. I had always been on team sports growing up, but it took me a while to reach out and make friends in the fitness community here in Chicago. When I looked at my mom and her friends, I noticed that they were a group of strong women who helped to encourage and lift each other up. They aren't petty. They don't tear each other down in jealousy. They tell each other things like, "of course you can run that race" or "you'd be great at a class like that!" The time they spend over coffee building their relationship and support system turns out to be more valuable than the workout.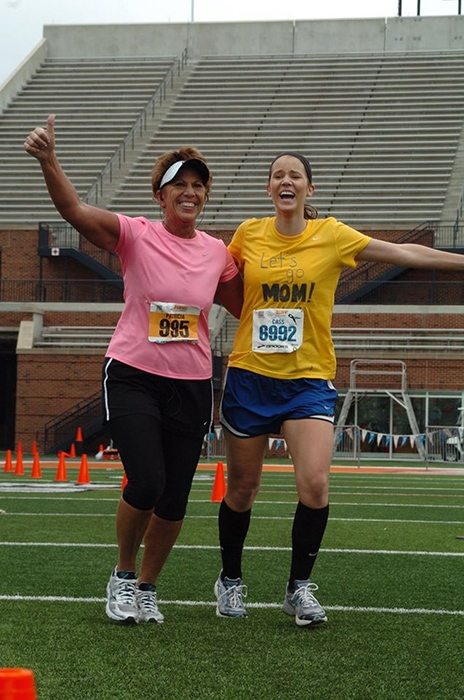 ---
My mom was a dietitian – yet anytime my friends came over, they marveled at the glory that was our snack cabinet. Oreos, Pringles, Chewy granola bars, Nutter Butters, and more – it's clear where I get my current love of snacks from. As we got a little older, my friends and I started to realize the cognitive dissonance between having a mother as a dietitian and having the most sugary snacks in all the land- and to that, my mom would simply reply, "Everything in moderation." Sure, we had our after school and bedtime snacks that, more often than not, consisted of six Oreos and a glass of milk- but we also ate well-balanced meals during the day. We learned to love broccoli and abhor soft drinks, and a family trip to the ice cream shop was never shot down.
My mom was also an early adopter of the "10,000 Steps Per Day" phenomenon, getting her and my dad both pedometers for Disney World trips and bragging about how many steps she got each day. She knew that walking was a great form of exercise if you didn't want to run, and that everything is better with friends – most mornings, you could find her in the UK Arboretum with a friend, gossiping as they made their way along the two mile loop.
Finally, my mom taught me what strength really is, and how (as one of her favorite UK basketball players Alex Poythress would say) "courage doesn't always roar." When she started getting sick, life went on as everyone knew it. The only indication we would get that she had even had a doctor's appointment was that she would post a picture of a Diet Snapple Tea on Facebook, her own personal treat for getting a clean bill of health and her secret signal to those of us that knew what it meant.
Throughout her relatively quick health decline, she remained as chipper, upbeat and graceful as ever, sending me emoji-filled texts and encouraging me to keep training for my upcoming marathon. Strength isn't about hip-pressing 300 pounds or being able to do a pull-up; it's about having the mental and emotional capability to lift up those around you even during dark times.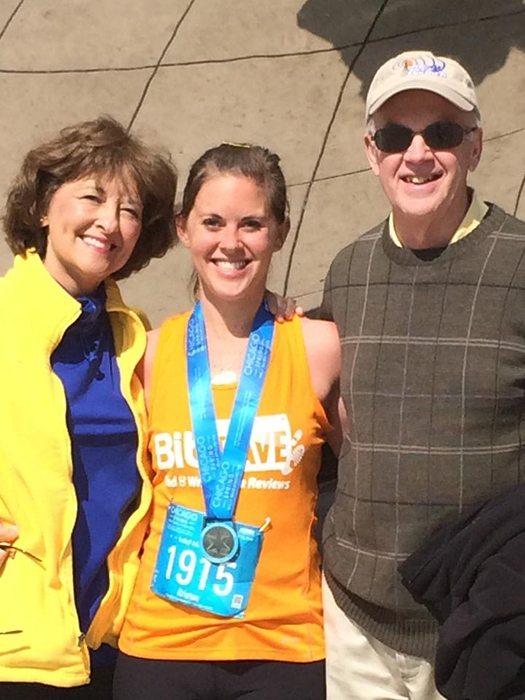 ---
When my mom was younger she used to take a lot of aerobics classes and even though I was too young to really remember going there, I saw pictures and knew that this was something she did. After life got busy there wasn't as much emphasis on fitness, but there were periods of time when my mom tried to make it a priority. Even with her busy schedule taking care of three children, she managed to get out and take regular walks around the track at my high school. We would also spend a lot of time outside as a family doing things like hiking or going to the beach.  Ultimately, although a lot of attention wasn't paid to fitness specifically, I think I got good cues on how to incorporate it into my life. Today I am able to exercise for a myriad of reasons, but I am also able to enjoy down time and the foods I love to eat.
---
I have vivid memories of early childhood – the pre-school years. Many of these memories are punctuated by my mom telling me – usually over her flashcards as she put herself through school – that "if you work really hard, you can truly be whatever you want in life." She put all of her effort into setting that example.
That lesson stuck, but a few others came along too, like "if you don't floss your teeth, I will," "don't eat with your eyes" (a saying that should be inscribed on the Anderson family crest) and "if you can read, you can cook," my mom's philosophy for adventure-cooking.
My mom put a lot of effort into my future, getting a second job before and during my college years to ensure that it was she and my dad that took on my college debt so that I could start my adult life debt-free. But during those years, I saw something more important than a mom that was willing to sacrifice her nights and weekends so that her know-it-all-20-something kid could have an education and study abroad, I saw someone who never, ever complained. She took pride in the extra work she did. She did whatever she needed to do to achieve my parents' goal of putting me through school.
During those years, the earlier lesson that my parents imprinted on me, "work hard" was made complete by my mom's example of setting goals and doing whatever it takes to achieve those.
Now, I know whenever I set an outlandish goal like, "I want to build a team of fitness writers," I can count on my mom to not only support me, but to show up to take part in my world, like the time she helped me pull off #Sweatworking when I scheduled it a week before my wedding and the time she hopped on a paddle board (even though she was definitely a little more than nervous) just because I asked her to.
Thanks, mom, for your unrelenting support.