Learn While You Run with a Chicago Running Tour
When I first moved to Chicago I didn't know anyone and I definitely didn't know anything about the city.  One of the things on my list was to take a tour of the city by either a bus or boat (still on my list once it gets warm), but in doing some research I discovered an even better way to learn about Chicago: a running tour.
I reached out to Marlin Keesler, the owner of Chicago Running Tours & More, and instantly knew that I had made a great decision. He was extremely personable (as all tour guides should be) and explained all of the running tour options to me. I decided on the "Tragic Events" tour, which is a 3.8 mile tour of Chicago's Loop and a fascinating experience of several tragic events in Chicago's history.
Chicago Running Tours & More has several different tour themes and lengths, but rest assured that you don't have to be an experienced runner to take one.  There are options for private tours which can be more challenging, but the more popular group runs are accessible for every activity level. Marlin even makes sure to emphasize their tag line: "the slower we go, the more we show."
Even though I enjoyed the run and the information, there were several other perks that I wasn't expecting. During the tour, either Marlin or whoever was our guide (I have done more than one of these tours because they are awesome) took the time to take several different photos. Once the tour was over, each participant received a link to their photos as well as a comprehensive email detailing everything that was discussed on the tour in case you have trouble taking notes and running like I do.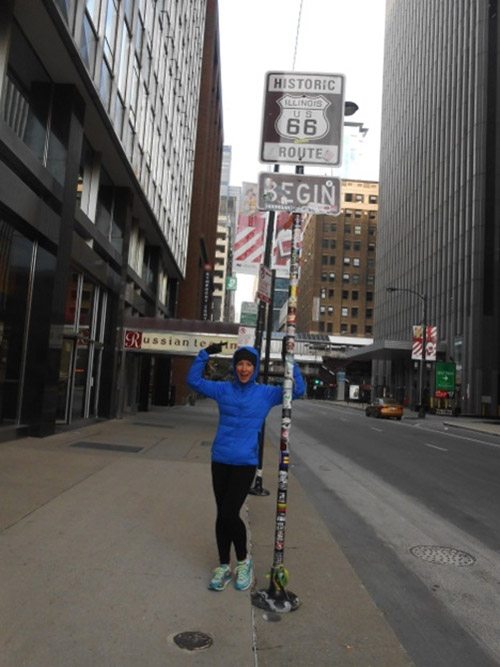 Here I am at the beginning of Route 66, which I learned during the tour ends one street over after stretching all the way to Santa Monica, CA.
I took some time to talk to Marlin himself after I found out that he has run a sub-4 hour marathon in all 50 states, but terms himself "the reluctant runner."
"I'm not a fan of running for the sake of running. My body protests quite frequently. I consistently dwell on the thought of: "I know I should, but I don't feel like it." Then I remind myself that in life we all have to do things we don't like because we will benefit from the end result.  So my philosophy is to have a strategy to achieve that desired end result. Of course the end result is to simply feel and be a healthy individual."  
Marlin started giving running tours after some friends signed him up as a tour guide as a joke. "They heard me say that I wouldn't run anymore unless I got paid for it. They figured it would be funny to sign me up to be a "running tour guide" for a small start up running company. When I learned what they did I decided to play along with their ruse. After my very first tour, I realized this was something I would enjoy doing. After a couple years I started my own running tour company."
The tours are offered all year round, although understandably business gets a little slow during the winter.  I loved my experience and learned a lot about the city. I plan to look for running tours in other places when I am out of town since they are such a great way to explore, learn, and stay active!
I asked Marlin why people should do a running tour and I definitely agree with his top 10 list:
Check off your fitness activity for the day.
Hands down, it is better than doing a tour on a bus, boat, bike or segway.
Brush up on your Chicago history.
Get a bunch of pics to add to your Facebook page to make your friends jealous.
Get a goody bag with treats and discount coupons to use at other local businesses.
Support developmentally challenged adults. Chicago Running Tours uses developmentally challenged adults to fill their goody bags and screenprint their shirts.
Earn a finisher shirt. Either by completing all three 5k routes or the full 26.2 package.
Meet and socialize with other cool people who are runners.
See places in Chicago you never knew existed.
Rub shoulders with a couple of the nicest tour guides in the midwest.

Are you looking for a new way to explore Chicago? You can read more about Chicago Running Tours & More and sign up on their website.