Challenge Your Friends to Fitness with Wearable Technology and Matchup
Wearable technology made great strides over the past few years. Your UP! Bands, FitBits and Nike Fuel bands aren't just counting steps these days, they're also integrating with some of your favorite apps to provide the picture of your whole health. While the technological end of wearbles has come a long way, the price also continued to drop, making this a more accessible technology for anyone with a smartphone.
But each wearable device is a separate entity with different back-end technology and often comes with an entirely separate community. So if you prefer one device and your friend prefers another, you can't engage with each other. One Chicago company is seeking to change that.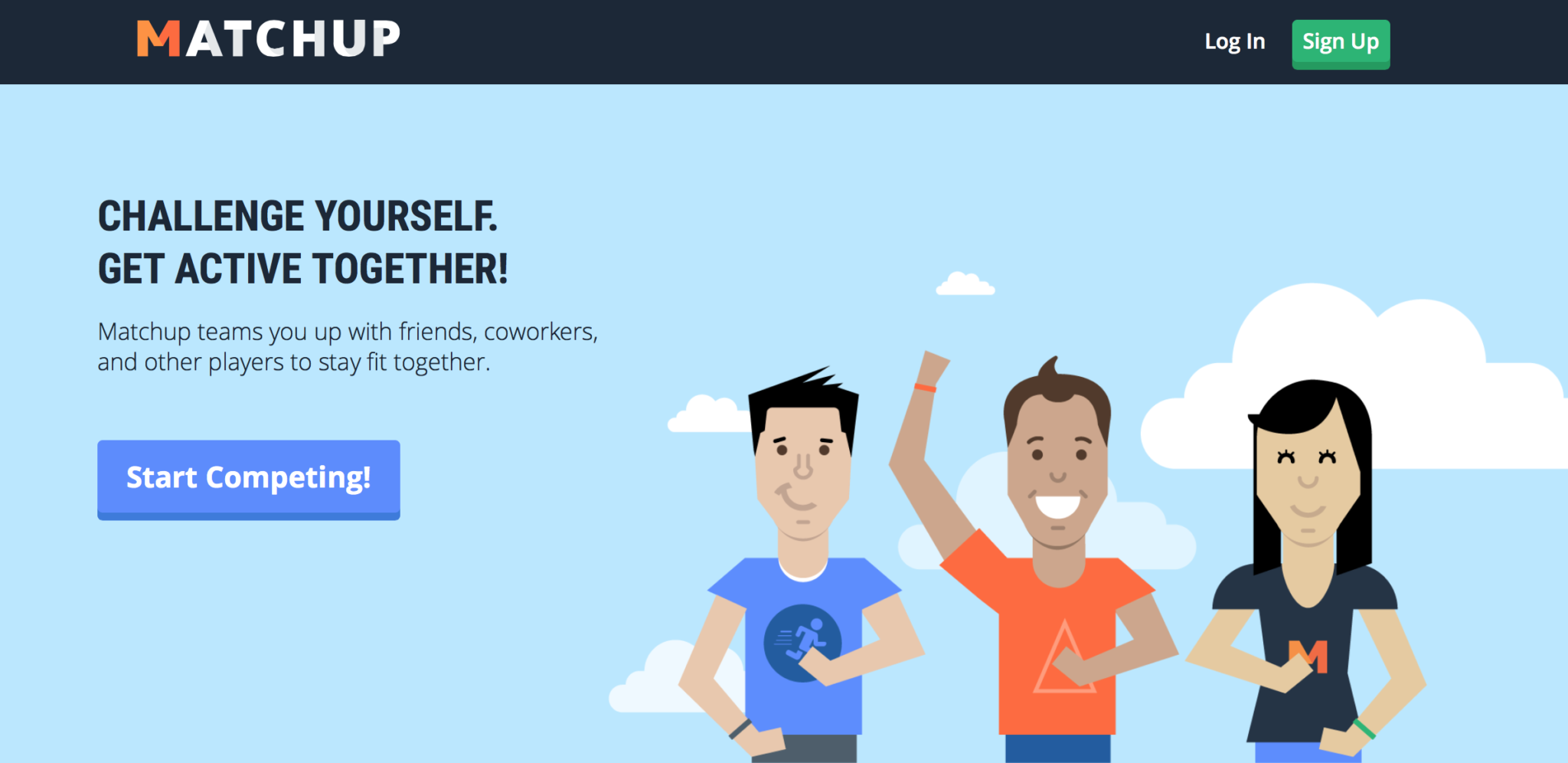 Matchup allows users of a variety of fitness trackers to share their activity data with friends via a single interface that combines data from devices like the Fitbit or Jawbone.
At its inception, Matchup was a solution that Anthony Knierim, co-founder and COO, discovered while trying to solve a different problem: how does a company make its employees take advantage of the benefits available to them?
Knierim spent his professional life working with data including data around how employees engaged with wellness programs. Companies with which Knierim worked were interested in determining if their wellness programs were impacting their insurance premiums.
As he dug into the data, Knierim said that he discovered that most wellness programs are participation-based and the younger demographic was declining in participation over time.
So Knierim and his team set out to make a program that would encourage participation, even if you couldn't stay after work for that in-office yoga.
When there was no API available to get the data from the major wearable technology devices, the Matchup team did what any logical developer group would do: they hacked the devices.
"When FitBit and Jawbone started to really take off about two years ago, they hadn't really opened up their API, there were rumors of it. I started working with some development teams here in Chicago. I kind of hacked the devices and standardized the data. Then when they opened up the API, we were one of the first to access the data," Knierim said.
Today, Matchup offers groups – whether those are corporate groups or groups of friends – a chance to compete or participate together in challenges using standardized activity data from wearable technology.
Users can challenge each other with head-to-head challenges, which are for the competitive at heart and pit one person directly against another. They also can cheer each other on with challenges like the "streak" challenge, which encourage users to hit their daily step goal for the most consecutive days. There's also a "team mode," which is the most collaborative and pits one group of people against another.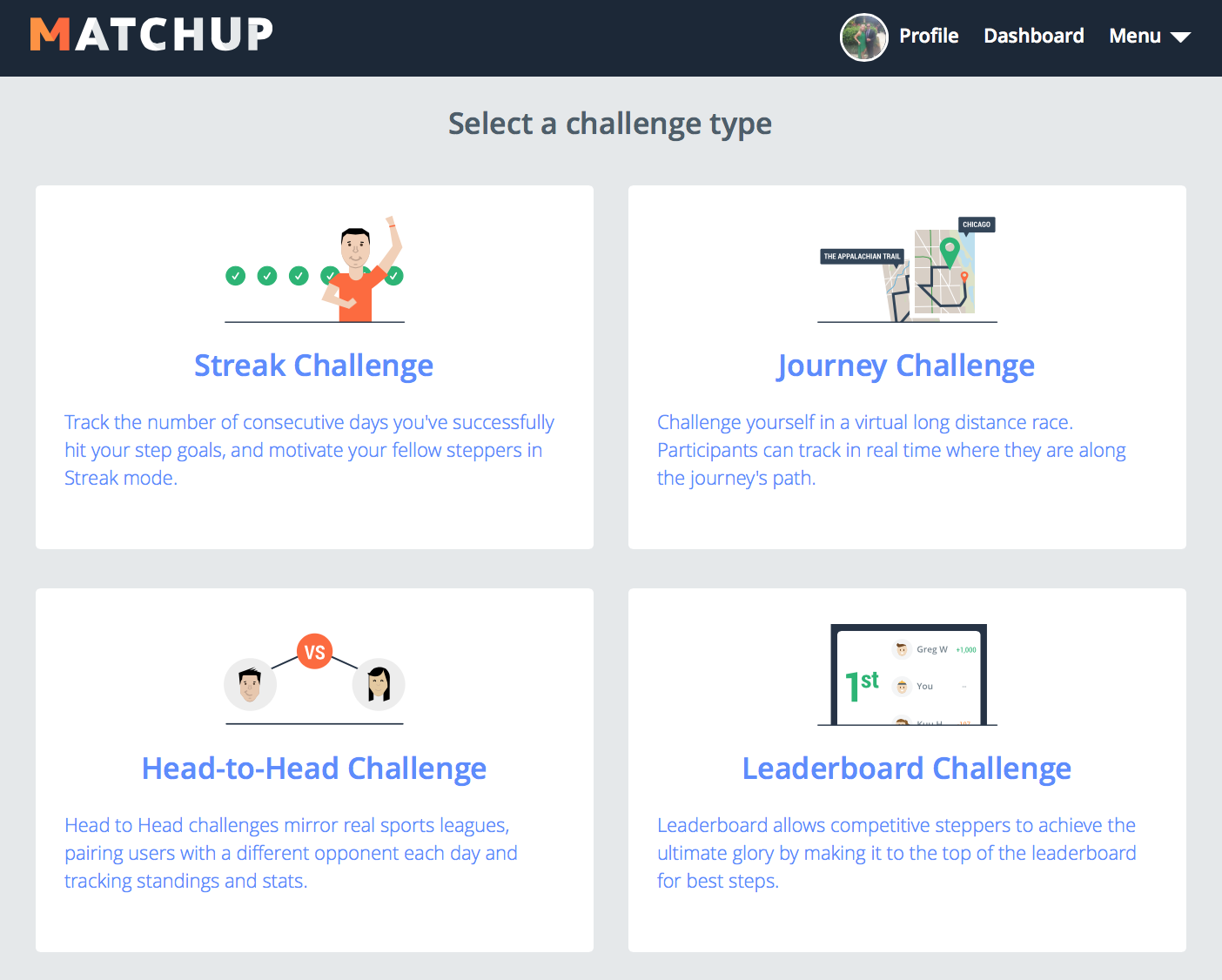 "The [game] modes we started out with were very competitive. It was attracting more of an active, heavy competitor, which was an area we didn't really want to get into," Knierim said, "We wanted to try to focus on this kind of larger portion of the population … that may or may not have a gym membership, most of our members don't have a gym membership."
Corporate users are still the main focus of Matchup. Knierim said, "Today, most of our clients are somewhere between 50 employees to 1,000 or more. They're really looking at us for an engagement and cultural play rather than for a cost savings on insurance."
But it's not all employers coming to Matchup. "What we're learning is that we're getting questions that are well outside the workplace and to be honest … we're changing some of the language to be more focused on groups rather than employers," he said.
Knierim said that the use cases for the service fall outside the original business plan. The company is getting inquiries from people ranging from trainers who want to track their clients to NCAA running coaches who want to check in on their athletes in the off season.
What's next for Matchup and wearables in general? Knierim has high hopes for the technology behind the Apple iWatch, which has "a device-level API instead of a broad-based API," which means "overall the data we're going to have access to is going to be much more rich." This means that users can expect more health data to be available in a split second rather than having to wait to sync.