A Saturday with Girls in the Game
This past Saturday, Nike Training Club teamed up with the run club The Crew Runs to host Girls in the Game for a fun morning of working out and conversation. To start things off with a little sweat, Nike trainer Trista Greco led the group through a HIIT workout.
Before getting into it, Trista had us warm up with some dynamic stretching.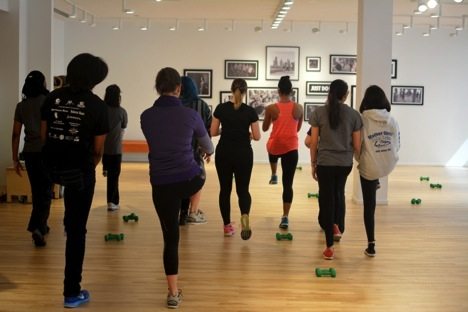 …And then proceeded to kick our butts.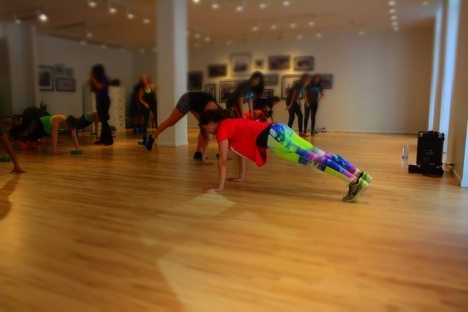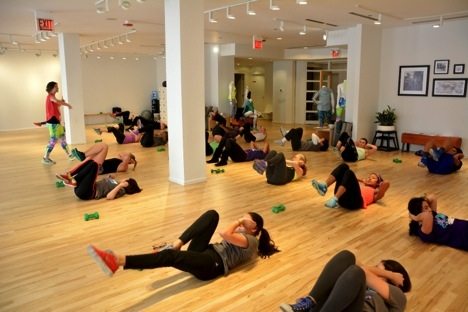 But we forgave her for the pain she put us through at some point during our cool down and stretching.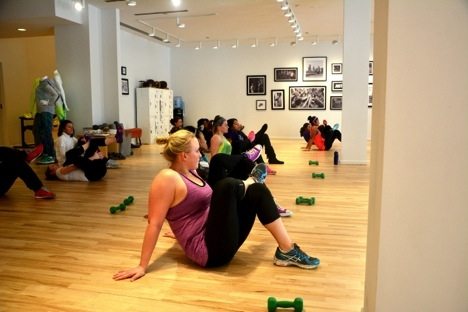 After the workout, we took the time to get to know each other a little better. After all, there's only so much you can get to know about someone in between push-ups and panting. To start it all off, we sat in a huge circle – it reminded me of kindergarten, of waiting to play with a big parachute or start a game of duck-duck-goose. Everyone in the room must have felt a similar nostalgia, as people sat in quiet excitement and anticipation.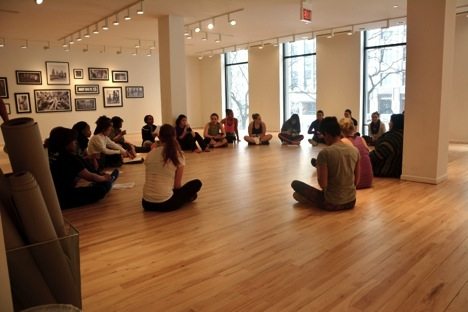 One of the Girls in the Game members explained how to do introductions. It was quick and simple; we tossed around a ball and introduced ourselves, mentioned our favorite sport and expressed what we hoped to get out of the discussion.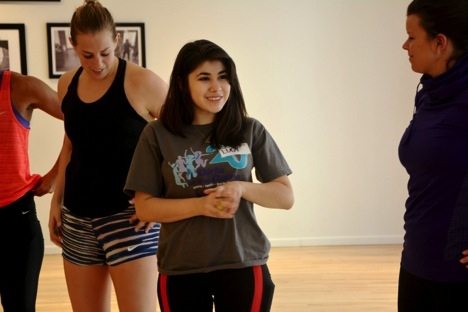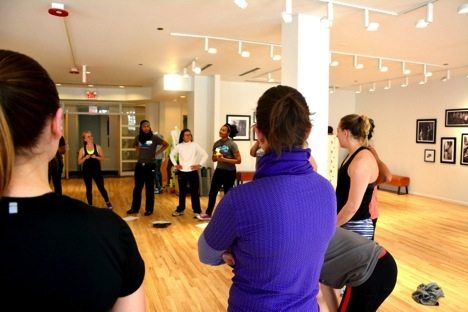 Responses varied on our backgrounds and our favorite sports (basketball for the win!), but for the most part, everyone agreed on one thing: we wanted to get to know each other a little bit better and understand what motivates us all as young, athletic women.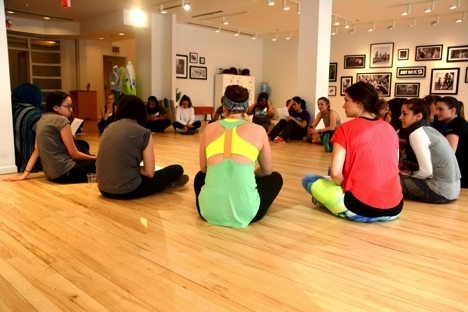 After introductions, we dove into some Q&A. The girls came with some insightful questions for The Crew Runs members, Nike trainer Trista Greco and Nike Digital Specialist Eve Horbol. As to be expected from girls in high school, they were particularly curious about things like, "What the heck do we do with the rest of our lives?" and "How do we get from here to there?" (Which happen to be the same questions that I find myself still asking now). There are no concrete answers to questions like these. However, we did our best to put our experiences into words in hopes that it might help.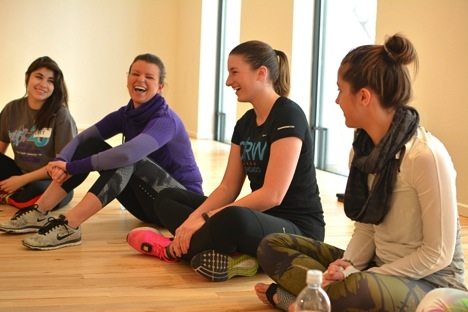 Though all of our experiences are certainly different and have led us down various career paths, many of our means and motivations were surprisingly similar and repeatedly intertwined with fitness, activities and sports.
As we got to know each other, we started to discuss more substantial ideas and experiences. We talked about how we have dealt with transition periods in our lives and how we have learned to face obstacles. It made me grasp the importance of who we surround ourselves with; the strong women I have met through run clubs and fitness in this city have helped motivate me to become a stronger and more confident young woman as well.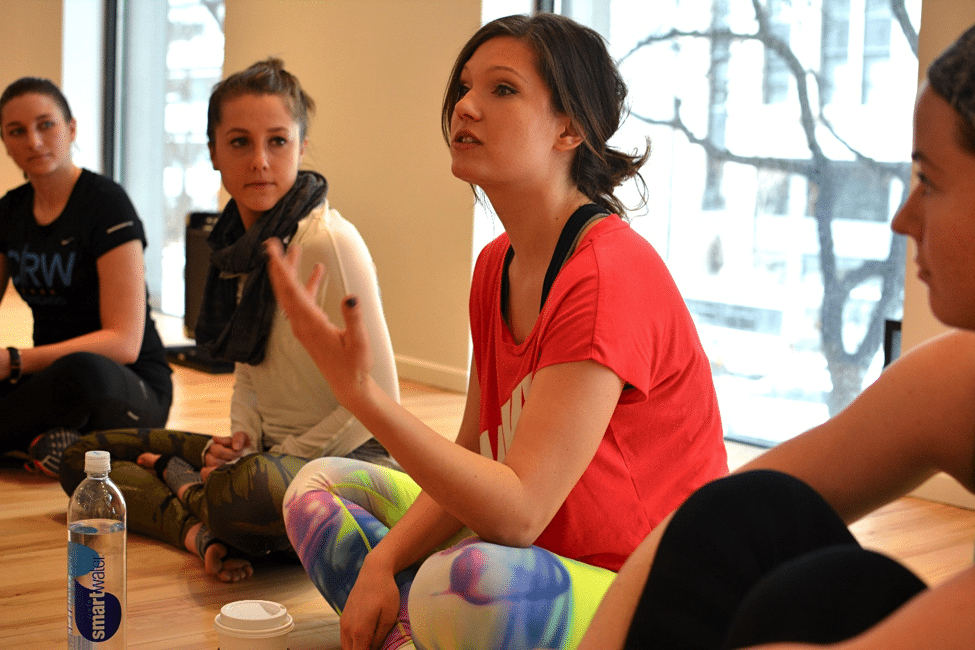 Feeling support and confidence from fitness translates to success outside of the gym – from finding the fearlessness to ask for a dream job at Nike (like Eve) to feeling supported while making a tough decision like taking time off of school to figure out what you are truly passionate about (like Trista). The Crew Runs member Lauren discussed how being involved in sports keeps her time management in check. Another member, Melissa, added how she has found family and a sense of belonging in others through the fitness community. Liz talked about her passion for finish lines and how that has started to apply to her life outside of running.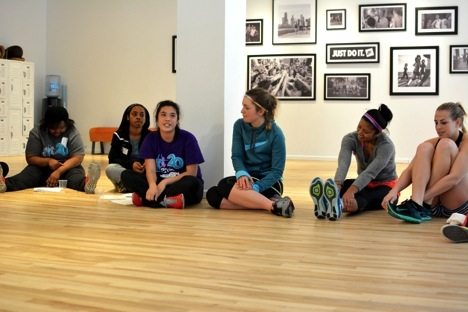 We told each other assorted stories about what drives us to keep doing what we do every day. We talked about motivation (and lack thereof – because at the end of the day, nobody's perfect and senioritis happens to the best of us in high school). We talked about confidence and determination and how to find these things in others when we can't find it in ourselves just yet.
We learned a lot about Girls in the Game, too. In Chicago, Girls in the Game serves over 3,000 young girls every year. Girls in the Game participants exercise more, make healthier food choices and have a healthier body image along with the belief that they have control over their lives – research has confirmed these findings after just one year. Research also shows that girls from urban areas have less chances to play sports than girls in suburbs and from middle class homes. Girls in the Game hopes to keep these young women engaged and involved despite the lack of programming available to them through schools in the urban Chicagoland area.
The whole experience made me nostalgic for the time when I was back in high school. A self-proclaimed tomboy with no real understanding of makeup (or boys), I held onto sports as a way to connect with others and find the confidence in myself. Sports taught me to push harder for my goals and gave me the untold understanding that I am capable of more and the desire to find out what exactly that "more" was. 10 years later, not much has changed.
I'm lucky; I've found some incredible people within the fitness community in Chicago who support me and tell me "it's okay" after I accidentally (read: purposely) eat a box of Girl Scout cookies. I've found ways to pound out my stress on pavement and seek work-life balance through fitness. I have met trainers who I admire and a community of strong women (and men, for that matter) who strive to lift each other up instead of tear each other down. It's a beautiful thing. If you haven't found it yet, I encourage you to join us at the next Sweatworking event and introduce yourself. There's a better you and a better us depending on it.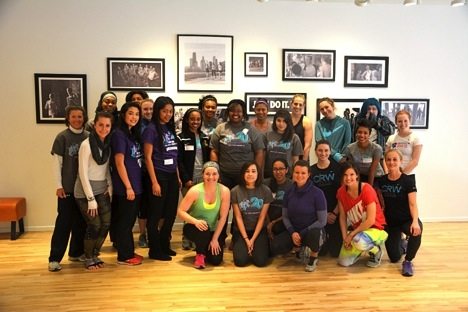 Thanks again to Girls in the Game and Nike Training Club for such an amazing event. You can find out more about how to get involved with Girls in the Game here and check out other events happening with Nike in Chicago on their website.