Bodyweight Workout With Legs and HIIT
If you're anything like me, you feel a temperature above 32 degrees and a smile creeps across your face. "Is that you, spring?" You ask to no one as you walk down the street. It's almost here, people. Almost here.
This week, I'm still inspired by the workout we got in at PowerSculpt Fitness at #Sweatworking and this routine includes some exercises from that workout. If you're trapped indoors or away from your gym for any reason – kids, travel, refusal to acknowledge ice – you can do this workout wherever you are.
Need a playlist? You can use this playlist I made for a week of themed playlists for ENRGi Fitness, which is mostly made up of Nelly songs. You're welcome.
Here's your workout: You'll go through each set two total times and once you go through the second set twice, you'll go back to the top to do every exercise once more time.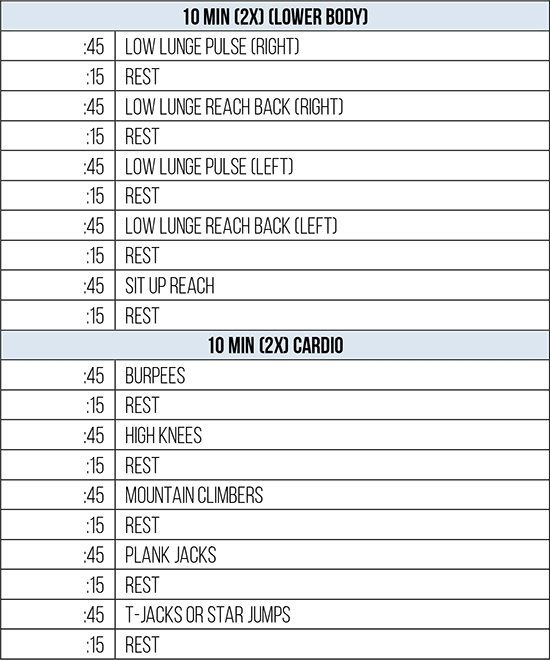 Low lunge pulse: In a low lunge position, pulse your back knee one inch from the floor then four inches from the floor.
Lunge reach: Touch your hands down in front of your front foot. Reach back to a lunge and forward again.
Sit-up and reach: Reach your arms above your head and preform a full sit-up.
Burpees: starting in standing, jump or step your feet back to a plank. You can add a push-up in that plank position if you choose, then jump or step your feet forward, stand up and you can jump at the top.
High knees: Alternating your arm and your leg, run quickly in place with high knees.
Mountain climber: Starting in a plank position, with your hands under your shoulders, climb your knees in towards your chest one at a time staying light on your feet.
Plank jacks: In a plank position, jumo or step your feet out and in.
T-Jacks or star jacks: You can either just do a t-jack – or the version of a jumping jack in which you bring your hands in front of your chest or you can star jack. Starting in a low squat, jump up into the air, with your arms and legs out in a star. Land softly in your starting position.
You guys like that tank? Us too! You can buy that aSweatLife tank for $20! Just let us know you're interested here:
(Disclaimer: This workout is not intended for the treatment or prevention of disease, nor is it a replacement for seeking medical treatment or professional nutrition advice. Do not start any nutrition or physical activity program without first consulting your physician.)