A Hotel Workout to Keep You Fit on the Road
As I wrap up a trip, rested and ready to go back to my routine, I know that I've gotten in some of the better solo workouts I've put myself through in a while. But like everything, that's because I had a plan.
Staying healthy on the road takes commitment, planning and creativity. We've talked about what it takes to eat healthy while traveling – planning and strict observance of the 80/20 rule. Working out on the road requires that same planning. Working out without a plan can feel boring, lonely or uninspired, especially if you're used to working out with a trainer or with the inspiration of a teacher in a group fitness setting.
If you know what kind of equipment you're working with and how long you have to workout, you can create a plan to give you the feeling that you've got your favorite trainer or teacher by your side. This way, you can push yourself a lot further than if you were to aimlessly glide on the elliptical.
On this trip we stayed at the Westin, which had a respectable gym. I love Westin's commitment to wellness – covering everything from healthy in-room dining options to $5 rental workout clothes in case you forgot to pack something to sweat in.
This gym had some fun props to work with that I built my workout around. If you're traveling and at your own gym, you can use these same props to do this same hotel workout. I used a treadmill, a step, weights and a medicine ball.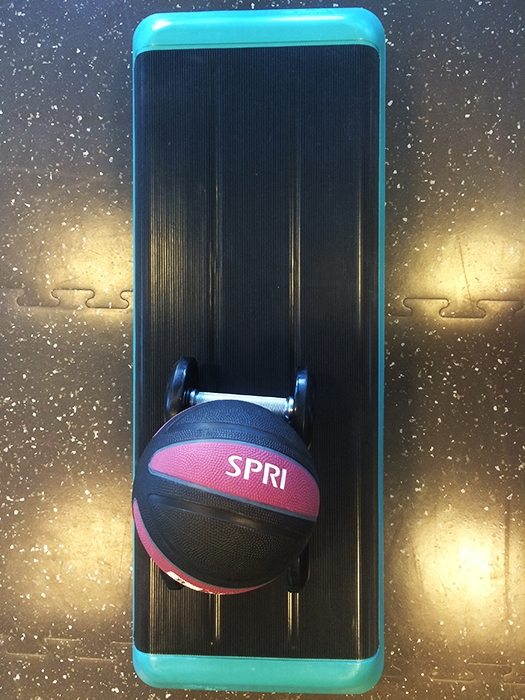 I did two cardio ladders on a treadmill, one working through a moderate speed and one going up and down in incline. The numbers in the workout are the numbers I used, but you can change these to fit your own fitness level. I also created two circuits to go between those cardio intervals, one working lower body and one focused on upper body.
For this workout, I used a timer that you can get on iPhone or Android, called Seconds. This allows you to set the timing for how long you'll be working and resting and hear a countdown when you only have three seconds left that will play right along with your music.. During the lower body and upper body circuit, I worked for 50 seconds and rested for 10 seconds. I did the lower body set three times and the upper body set twice.
Here's the workout: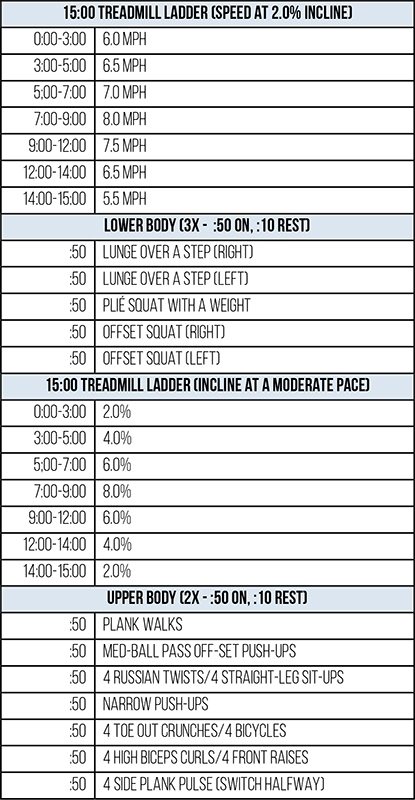 I listened to the Furious 7 soundtrack on Spotify while I worked out. Don't judge me until you try it.
Lunge over a step: Staying low in a lunge with your front foot planted, step your back foot up and over the step landing softly on the other side. Step back over.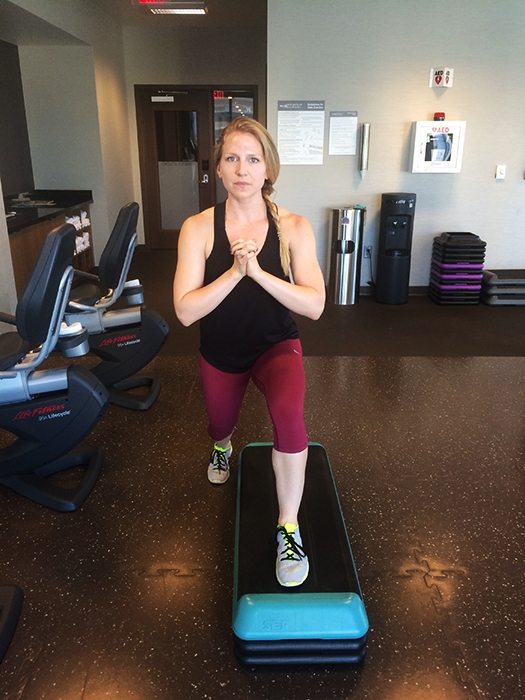 Plie squat with a weight: holding a weight at your chest with your feet in a wide squat and toes turned out slightly, squat down keeping your knees from tracking beyond your toes.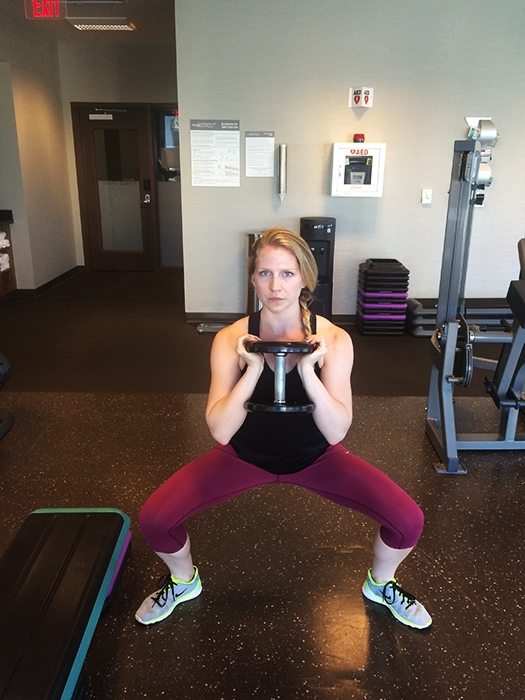 Offset squat: Step one foot up onto the step and sit back into a squat. Don't let your weight shift to either side.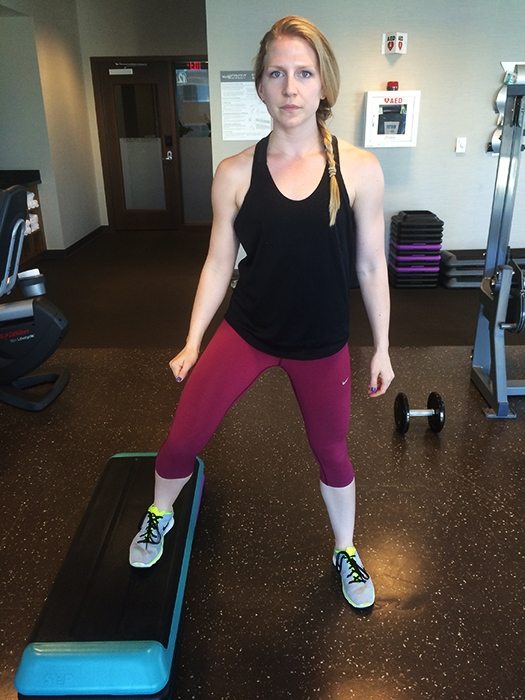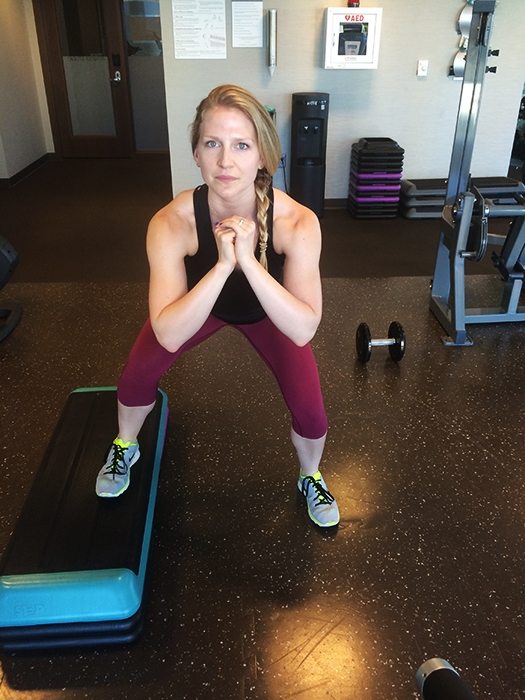 Plank walks: Starting in a full push-up position, plant one forearm down at a time, ending up in a forearm plank. Try to keep your hips steady throughout. Then go back up one arm at a time to a full push-up plank.
Med ball pass off-set push-ups: On your knees or toes, do a push-up with the med ball under one hand. Roll the med ball to the other hand and do a push-up. Repeat.
4 Russian twists/ 4 straight-legged crunches with a med ball: This is my new favorite ab combo. Do four Russian twists, then four straight legged crunches on repeat. As your shift between movements, use your abs to control yourself.
Narrow push-ups: On your knees or your toes, do push-ups with your elbows going back towards your ribs as your chest goes down towards the floor. Push back up.
4 toe out crunches/4 bicycles: In a crunch position, move your feet out and in four times, then do four bicycles, bringing your opposite elbow to your opposite knee.
4 high biceps curls/4 front raises: Using a lighter set of weights, keep your palms up as you do a high biceps curl. Don't let your elbows drop below your shoulders. Then flip your palms and do four full range-of-motion front raises, bringing the weight from your leg up to shoulder-height.
Side-plank pulses (switch halfway): In a side plank position, lining up shoulders, hips and heels between two imaginary pieces of glass, pulse your top hips up and with :25 through. You can place your knee down as well as stagger or stack your feet.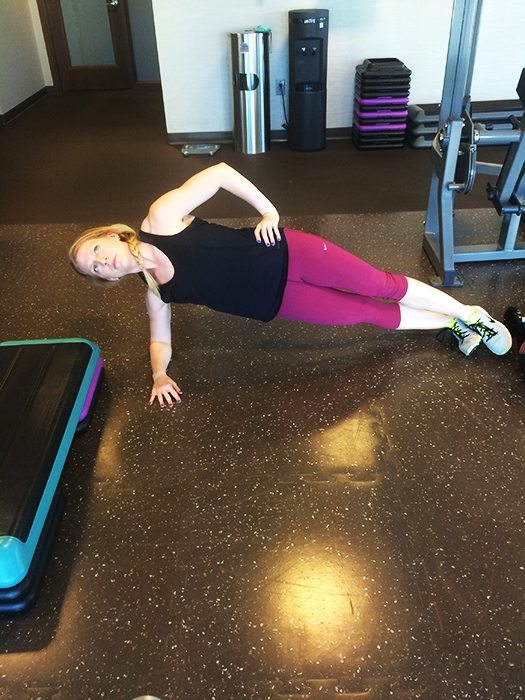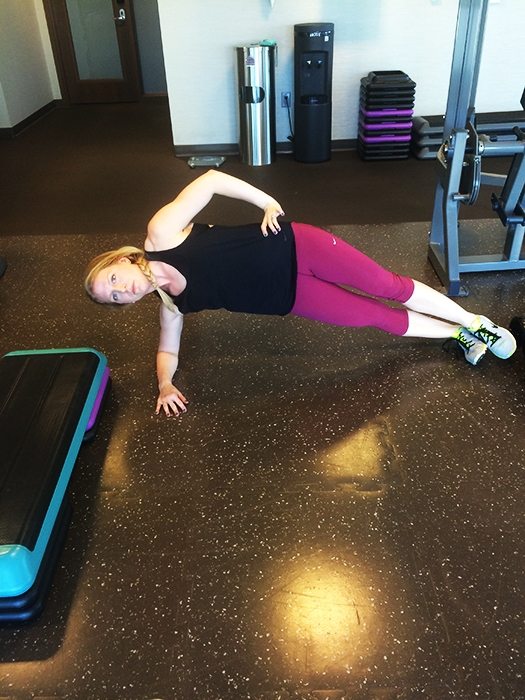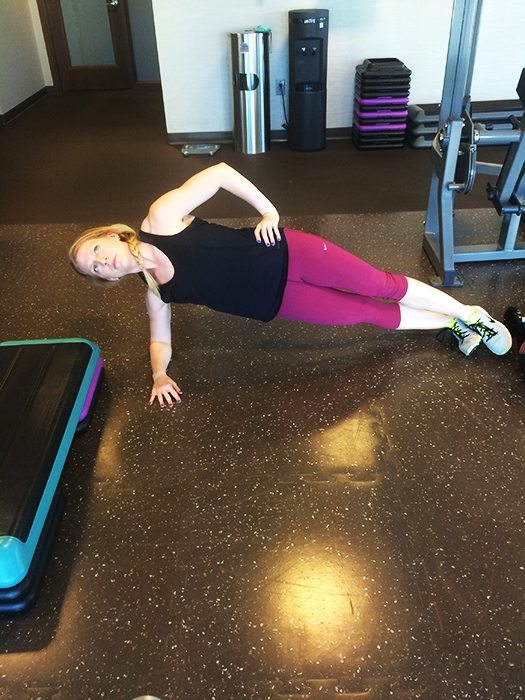 (Disclaimer: This workout is not intended for the treatment or prevention of disease, nor is it a replacement for seeking medical treatment or professional nutrition advice. Do not start any nutrition or physical activity program without first consulting your physician.)