Winter Running for Back on My Feet
Recently, someone was complaining to me about those crazy Chicago winter runners. "I mean", he began, "I look outside sometimes and I see people running in this weather and I just think, wow, I already feel bad for not working out enough, but people are running in THIS? That's just absurd." I laughed back, knowingly, and I think that tipped him off. "Oh man. You're totally one of those crazies, aren't you?" Yes, I guess I am.
I don't know how it happened. I'm guessing the cute (and very tempting) Nike Hyperwarm line had something to do with my foray into winter running. But somehow, slowly and unknowingly, I became a crazy Chicago winter runner. It begins innocently enough – the desire to get off of the atrocious treadmill and back into the crisp air. Before you know it, you're contemplating venturing out in weather that includes words such as "negative" and "windchill".
I usually run outside in the winter as a means of maintenance and mental escape; rarely do I find a reason to take my pace very seriously between November and March, especially when there's snow on the ground. Running in snow is kind of like running in sand on a beach – except way, way less glamorous.
This past weekend I ran the Mardi Gras Chaser 10k, a fundraising race for Back on my Feet Chicago. It was the first time I attempted to race in a Chicago February and there was (obviously) snow still on the ground. I usually prefer to take my chances with sunburn rather than frostbite on race day, but it was hard to turn down a race for a good cause*. (By the way, you can check out a more detailed race recap on Bibrave).
*It's also a lot easier to sucker your friends and colleagues into joining you in the freezing cold for a 10k if it is for a good cause. Keep this in mind and use it wisely.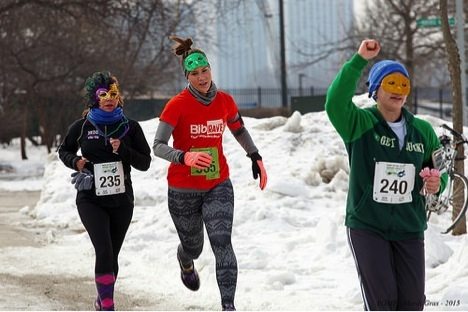 My friend and colleague Dan Wywrot made me run at a 7:29 pace. This picture was taken in the last .3 mile stretch when I was trying to catch up to him and sprint past him (note: I almost succeeded). I am in a LOT of pain here. And yes, those running tights are Nike Hyperwarm. Image courtesy of Back on my Feet.
I was vaguely familiar with the organization Back on my Feet (BomF). According to its website, Back on My Feet (BoMF) is a national organization that uses running to help those experiencing homelessness change the way they see themselves so they can make real change in their lives that results in employment and independent living.
One of my college friends, Collette Williams, has been supporting and running with BomF for a few years now. Collette is currently in her third year of medical school, and a fellow student introduced her to BomF.
"I first got involved in BoMF through an upperclassmen in my medical school." Collette continued, "She had been involved in Philadelphia before coming to medical school and wanted to come up with a way to help the program from a medical perspective. She started an interest group for BoMF where a team of students is sent once a week to record health screenings for the members – blood pressure, heart rate, blood glucose and BMI. This program is now in its third year and over 30 students have been involved with tracking the members' health data and running with program. Although the early mornings can be rough knowing we still have a full day of lectures ahead of us, the majority of us were immediately hooked into the program."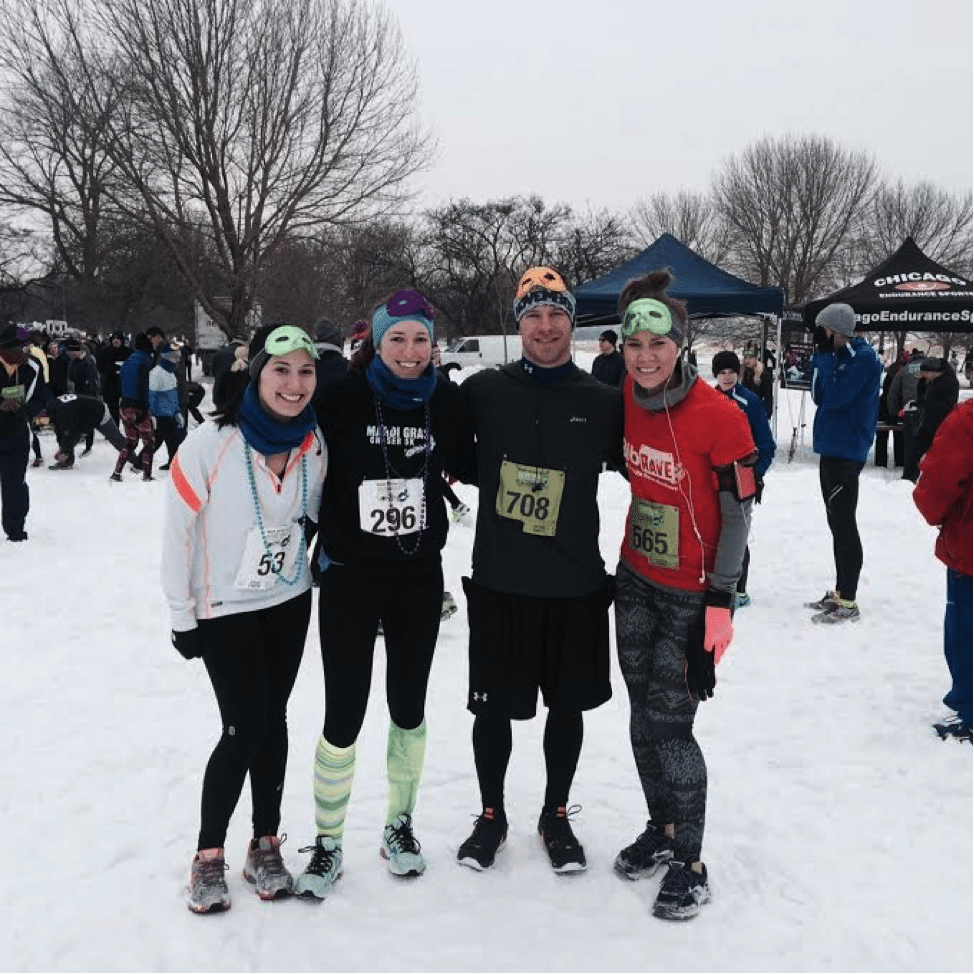 From left to right: Karrah Castillo, Collette Williams, Dan Wywrot and I at the Back on my Feet Mardi Gras Chaser.
Collette also raved about her experience training for the Chicago marathon with BomF. "The early morning runs are truly one of the best ways to start your day. All of the members of BoMF exhibit this extremely contagious positive energy that I didn't even know could exist at 5:45am." [Note: as someone who has started running with a crew over the past year, I can definitely relate to this feeling. Before I did this, I had no idea it was possible to think or feel before 7 am.] "From Day 1, you are greeted with a hug (a BoMF rule – no handshakes) and you become part of a family. Everyone needs to run with a buddy, so you always have a strong support system encouraging you on your work out!"
When I asked Collette about what makes Back on my Feet special, she summed it up simply, "BoMF brings together people from all different walks of life and creates a judgment free zone. No matter what brought you to BoMF – homelessness, a medical school interest group, prior incarceration, volunteering through your work – you are given a blank slate, a support system and a family. Everyone is helping each other to become a healthier and better person."
If you are interested in Back on my Feet Chicago, Collette assured me that there are many ways to get involved. There are several weekday run options and often runs on Saturdays. They host a number of breakfast and holiday-themed parties (and who doesn't like breakfast? An excuse to eat sugary carbs! – looking at you, donuts). BomF also offers a fundraising team for the Chicago Marathon that pairs with CARA (the Chicago Area Runners Association). To learn more about how Back on my Feet is making a difference in Chicago and to see their upcoming events, you can visit the organization's website here.
If you're thinking about running a race in this weather, my vote is yes. And if you can tie in a cause you believe in (oh, and free bagels)? Even better. In the meantime, feel free to join me and the rest of the crazy Chicago winter runner population. If you need any motivation to do this (wait, you don't want to run around in the freezing cold?), just Google "Nike Hyperwarm" and get your credit card ready.