Voting Now Open for The Healthiest Workplace in Chicago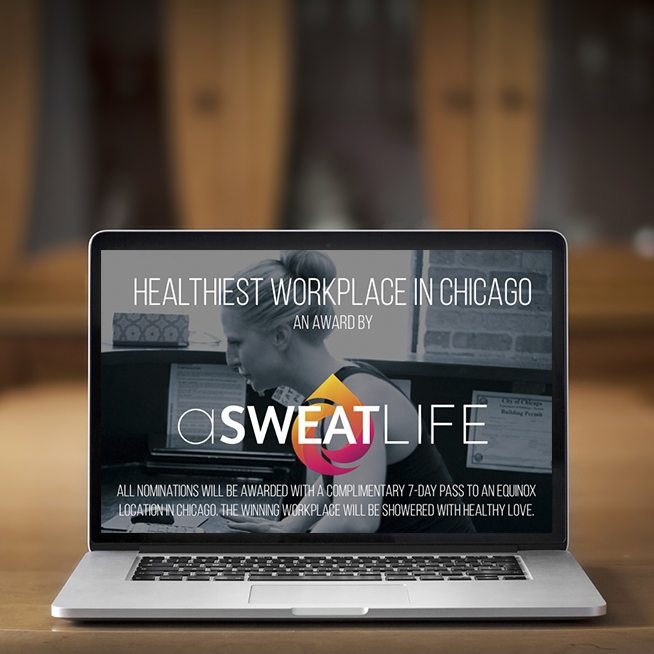 When deciding where to spend the hours of nine-ish to five-ish, there are more and more perks and options to consider. We're working to recognize the Healthiest Workplace in Chicago and so we've tabulated the top 10 nominations. these are your frontrunners, Chicago. Vote for the one that stands out to you at the bottom of this post
Address: 980 N. Michigan Ave
AFLA International – or  the premier network of independent law firms – offers perks to employees to keep them fit and healthy. Based on your submissions, "ALFA International offers a gym inside the building in addition to a $100 monthly gym membership stipend."
AvantCredit (Full disclosure – I work here, but this list is based on community nominations alone)
Address: 640 North Lasalle, Suite 535
AvantCredit, a Chicago startup in the financial tech space offers a litany of healthy perks for employees. Based on submissions employees enjoy vegan and Vegetarian options for all meals, #AvantFitClub group fitness training class weekly at HiFi and healthy living challenges, a weekly indoor basketball game, subsidized gym memberships and a fridge packed with healthy snack options including carrots, hummus, greek yogurt and more.

Address: 1620 North Wells Street
You may already know Fleet Feet as the place to pick out the perfect pair of shoes, but they also have their employees health in mind. Based on your submissions, the company has a shower for employees to clean themselves up after running or biking to work. They also offer free marathon training programs and race entries for their employees. To top that off, all team meetings start with a run or workout.
Address: 500 W. Monroe
Based on your submissions, General Electric has its employees wellness in mind and the company shows it by inviting employees to take part in a variety of programs. Onsite, there's a full-service fitness center with professional fitness staff offering more than 30 different group exercise classes every week. The company also challenges employees to be their healthiest self through numerous health challenges as well as acompany-paid Weight Watchers membership with onsite meetings. To top it off, there's an on-site cafeteria that posts its nutrition information and rewards employees for selecting healthy options. 
Address: 200 E Randolph, 41st Floor
Based on your submissions, Integer Chicago (commonly called TIG CHI) supports a work/life balance through a variety of programs. The company hired a holistic health coach to help employees kick off the year. Each employee received one private session with the coach and the entire office received two group sessions with the coach. At the coach's recommendation, Integer Group purchased healthy snacks for all to enjoy. Employees are also encouraged to work out during after-work yoga sessions or during lunchtime partner workouts.
Address: 200 W. Jackson
Your submissions let us know that Nielsen has a wellness program through which they reward employees for a healthy lifestyles and behaviors a number of ways. The company partnered with Fitbit to provide all employees a free tracker. To push employees to use their FitBit more, the company has competitions to motivate them. Employees also receive discounts on their healthcare for participating in heath and wellness programs. 
Address: 500 West Madison
Based on submissions, we learned that Orbitz employees are offered a variety of whole health options including fitness options like free yoga classes, incentives to bike to work and incentives to participate in the Chase Corporate Challenge. Healthy snack options are also abundant. The company boasts daily fruit and oatmeal for all as well as a sparkling water machines. You also told us that employees use table tennis and Foos ball for stress relief.
Address: 312 W Ohio Street
Your submissions highlighted Red Frog Events' playground-themed office, unlimited vacation days and family lunches. The office stocks fresh fruit every day, but each Monday, Red Frog Events gathers its employees for a family lunch to kick off the week and brings everyone together after the weekend with meals that include vegetarian and vegan options. You also told us that Red Frog's "playground-themed office" – a phrase we saw more than once – includes a gym in the basement, a rock climbing wall, and a treehouse complete with a slide.
University of Chicago Comer Children's Hospital
Address: 5841 S Maryland Ave. 
Your submissions told us that the University of Chicago Comer Children's Hospital focuses on health – like one would expect from a place where kids go to get better. The hospital also has a Wellness Department that hosts frequent "health challenges" to encourage team member to work out together or get fit as a team. Departments within the hospital also host "brown bag lunch and learns," to foster a sense of family and develop the group dynamic for emotional support. 
Weber Shandwick (Full disclosure, I used to work here, but this list is based on community nominations alone)
Address: 875 North Michigan Avenue #2400
You told us that Weber Shandwick has implemented a healthy living program for employees covering everything from in-office fitness to nutrition. Through the wellness program, the company either hosts a fitness instructor, or travels to city gyms to ensure employees have a chance to fit in a workout as a team. Through its network of Registered Dietitians, the company also has access to experts who host education programs on nutrition and wellness. 
Cast your vote!
Let us know!
Did this post help you get closer to achieving one of your goals?