I've been taking barre for a few years and teaching the format for a while too. Because it focuses so much on small movements and light weights, it lends itself nicely to a workout at home.
The thing that I love about barre workouts – for men and for women – is that they work your muscles in a different way than your typical weightlifting workout. The movements are meant to lengthen and strengthen your muscles and variety is the spice of life, people.
Weights are completely optional for this workout, but you will need a chair. The good news about using a chair as a prop is that you've probably got one lying around whether you're at home or in a hotel room.
Here's your playlist:
Get your workout!  You'll do each round twice.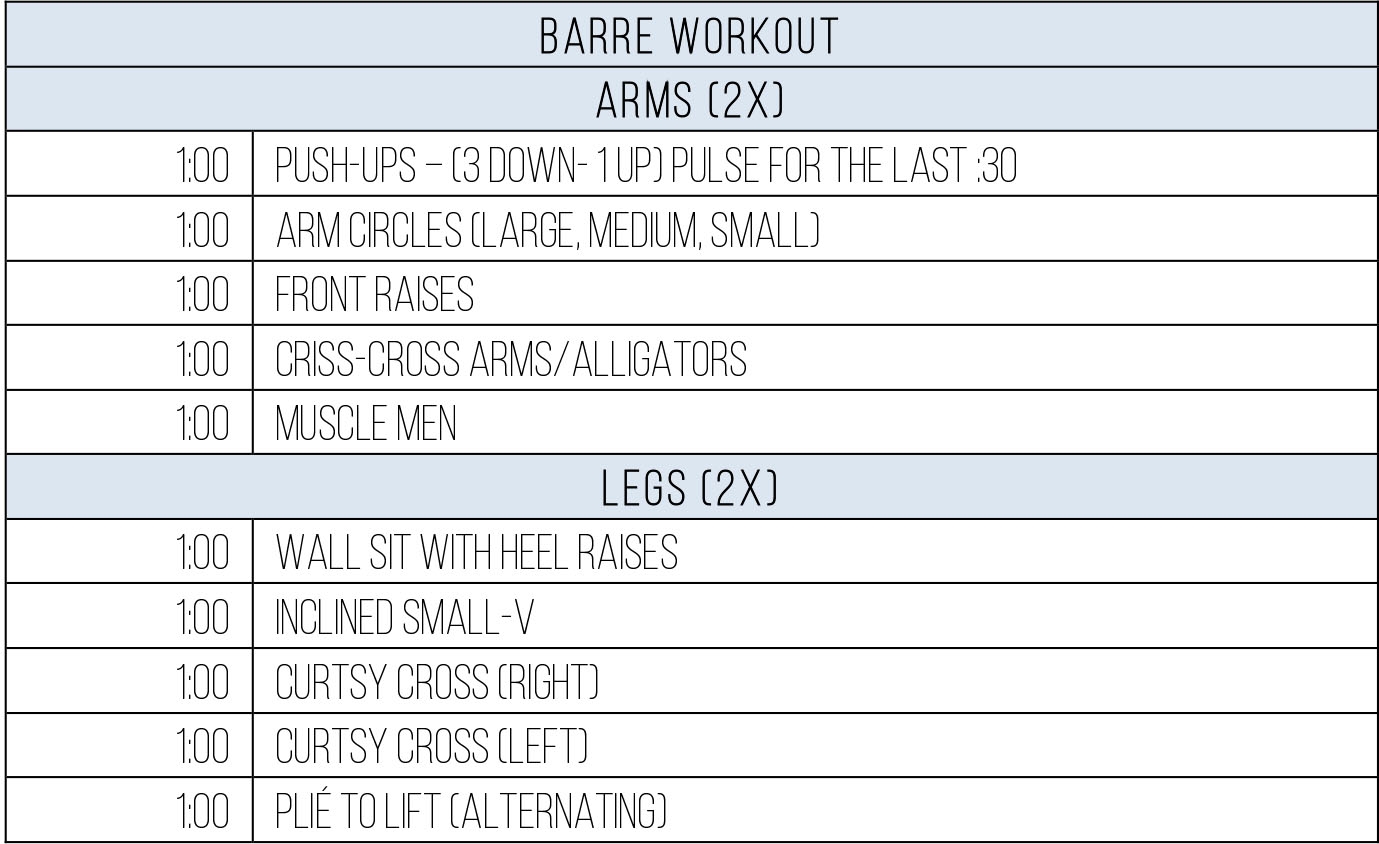 Push-ups: Start your push-ups going from a high plank hold to a halfway hold to a hold one inch from the floor, holding each for 10 seconds. Then finish by holding halfway and pulsing. You can do these on your knees or toes.
Then hold low and pulse.
Arm circles: You're going to go through each arm circle variation for 20 seconds. Start with the biggest circles – larger than a volleyball. Palms will face down at the top of the circle and up at the top of the circle. Then reduce to a volleyball-sized circle. Finally take the size to a softball-sized circle.
Front raises: You can use weights for this or avoid the weights. But you'll lift your hands (with or without weights) from hip height to shoulder height.
Criss-cross arms/alligator arms: For the first :30, holding your arms at shoulder height criss cross right over left and left over right. For the final :30, finish with alligator arms. Holding your  weights crossed in front of your chest, lift the top arm only. On your second time through, you'll stack the other hand on top and lift.
Alligators arms:
Muscle men: Keeping your elbows bent at 90 degrees, rotate from your shoulders, moving your elbows from in front of your shoulders to outside of your shoulders.
Wall sit with heel raises: Sitting low on a wall, keep your butt at the height of your knees. Lift one heel, then the other.
Inclined-V: Bring your heels together and toes apart and position your feet far enough away from a chair to allow your back to be flat when you lower your butt down and let your knees separate. When you look at your legs once you've lowered, they should be in a diamond shape. Now move down an inch and up an inch.
Curtsy cross: Holding onto the back of a chair, stay low in a curtsy lunge and shift your leg from stepping back and behind your front leg to the other side of your leg. So you'll be lifting your back leg and moving from right to left as you stay low in this position.
Plie to lift: Holding onto the back of a chair (gently), start in a low plie. You're going to use the chair, for a small amount of support, but don't put all of your weight on it. Gentle support here. As you lift up to the top of your range of motion, bring your left leg up, then go back down into a plie, then lift your right leg.
(Disclaimer: This workout is not intended for the treatment or prevention of disease, nor is it a replacement for seeking medical treatment or professional nutrition advice. Do not start any nutrition or physical activity program without first consulting your physician.)