Getting in Your Gym Time Together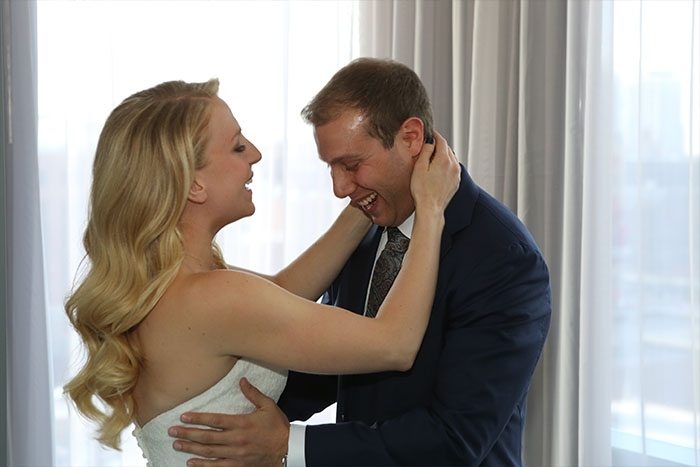 (This is our first look – he's probably staring at my super-long train, get your mind out of the gutter)
As Valentine's Day approaches, you may be thinking about the ways that you can show your significant other that you care. Alternatively, you may hate Valentine's Day because "Hallmark made it up," "restaurants jack the prices up," or "everyone on Tinder is super aggressive on holidays." In either case, two things are true: 1. there are people in your life you care about. 2. You have limited time with which you can show those people that you care.
We're talking about "we-time," people. A term suitable for couples or gal-entines (that's gal-friends that celebrate Valentine's Day together). You're busy. I get it. I mean, get in line, laundry. Get in the really long line that ends with laundry.
I've got work to do, a dog to take care of, classes to teach, this website to run, my own workouts to get in, oh yeah, and my relationship. This whole 'til death do us part thing? I meant it, so it's important to actually build in relationship time considering that I did vow specifically to spend time with my husband. Love you, Hubs.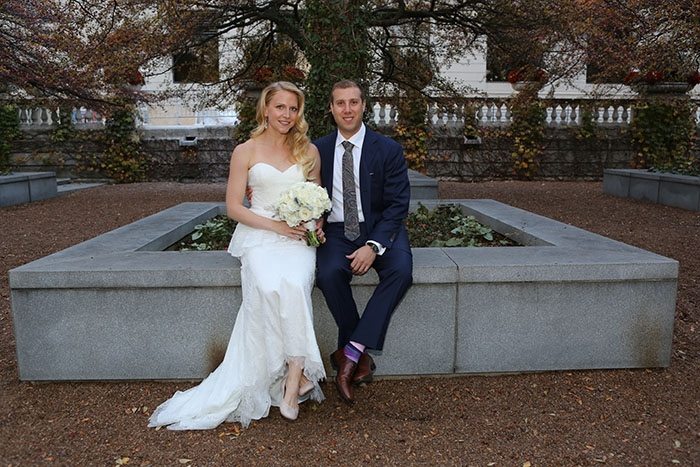 But this whole relationship-time thing is hard because if you're not careful, the person you come home to at night or your best friend can easily be shuffled around in your calendar because "he's not going anywhere." I consider myself to be constantly #Sweatworking and Hubs gets the #Sweatworking treatment too. A couple of box jumps and push-ups can do the relationship good right along with the body.
Follow these five tips and your gym time can go from solitary time to solidarity time .
1. Start slowly
So you've decided to become workout buddies with your bestie or your significant other. Great. But like your father probably told you in a convoluted way through some weird pumpkin patch analogy – you've got to take things slowly. Is my dad the only one who reminded me to "take your time picking a pumpkin" and that "you've got to thump a lot of pumpkins in the patch before you find the right one?" You can see how that second pumpkin patch metaphor would be confusing for a lady of virtue.
Annnnnnyway. What I'm saying is that if you didn't meet your best friend or your husband at the gym, your style may be different. He or she may never listen to the instructor and drive you crazy or he or she may be a dream. Don't commit to five days a week of gym time together before you're ready.
2. Agree to a time 
Pick a day and a time each week for consistency, then you'll be able to take over that one space on each others' calendars just like ladies night or date night. This time is your multi-task time. You're going to spend some time together and get a workout in. So it's doubly important.
Then each week as you look at times to fit in that potential vendor breakfast meeting or happy hour, you'll be reminded by that recurring time in your calendar that you've committed to sweat together.
3. Cheer each other on
This is the important part about workouts together. Hi-fives. I'm not kidding. The easiest way to reinforce to the person that you're working out with that you know that they're working hard and you're proud of them is to exchange a little palm slap.
If you're not into hi-fives (or warm hearts, laughter, crisp apples in the fall, etc.) another great option for you is verbal reinforcement. A "great work," goes a long way.
4. Change it up
Decide on how you're going to choose your workout adventures. Maybe you have an every-other-workout thing going on. Or maybe one of you is totally new to classes and the other, a more novice group fitness person, will act as the guide. Whatever you're doing. Don't fall into a rut.
It's also good to establish guidelines for choosing your workouts, for example, maybe one of you refuses to do pole dance fitness, because one of you believes that the war between the sexes may or may not hinge on that very thing as noted in the movie Crazy Stupid Love. Or maybe one of you is deathly afraid of swimming. Establish your absolute will-not-dos and go from there.
5. Grab a snack and get on with your day
The reason why multi-tasking a workout with a hangout works is because you're packing in two things you want to do anyway – workout and spend quality time with someone. To get the most bang for your buck and not set your day severely back, aim for 90 minutes all-in. That's enough time for a great workout followed by a quick snack and some time together on a walk or car-ride home. After that, shower and get on with your day because you can do it all. You just did TWO THINGS AT ONCE.
What's a workout that's better together?