Chicago Trainer Profile: Paul Rahn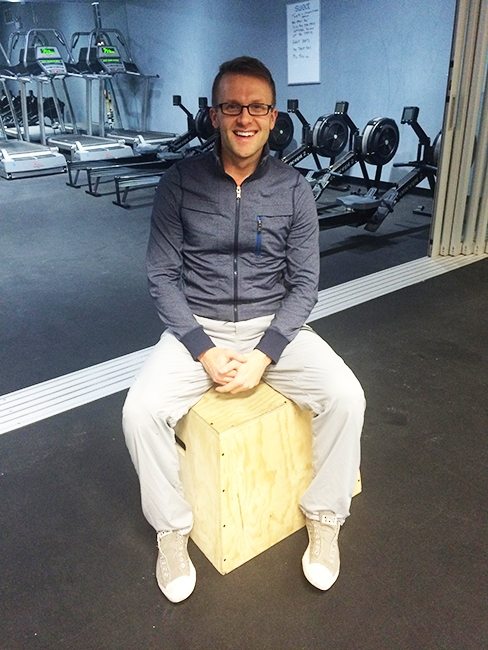 Chicago trainer and the owner of SWEAT Chicago, Paul Rahn is extremely personable and driven. He puts as much effort into running his business as he does coaching each class and has developed a large, yet still expanding, following of loyal members.  He works to make health and wellness a priority not only in his own life, but the lives of others–a concept that is embodied in SWEAT's motto: "be inspired."
Coming from a small town of about 6,000 people, Paul has made a big transition in becoming the owner of SWEAT Chicago. Growing up on a farm, it was there that he says he was taught personal responsibility from his mother Donna, whom he credits for his business sense, and his father Kevin who, according to Paul, is the "hardest working person I know."
Paul was always physically active through sports, daily gym routines, and personal training. After graduating with his MBA, he began working in the corporate structure. After 5 years, he left corporate America and opened his first gym, Maple Leaf CrossFit, in 2011.
While initially focusing on numbers, Paul learned early that the key to expanding his business was to develop a rapport and sense of family and belonging with his members. Once he did that, the business began to take off.  Paul was able to develop a community and sense of family within the gym. He incorporated his own family into operations with his mother as part owner of MLCF. Today, both his mother and brother Jacob manage MLCF and inspire those communities in fitness.
SWEAT opened in August of 2013 under the name Sweat on State. Since opening its door, the studio has made a series of transitions, with Paul's introduction as part owner and manager in November of 2013. After Paul took over business operations, the studio gym saw its largest growth in membership, development of new trainers and programming that provided quality training for everyone that entered.
In the fall of 2014, Paul and his family bought Sweat on State from his previous partners, taking full ownership, and changed the name to SWEAT Chicago to support long term growth both in and outside Chicago. "My family is the sole reason I've got the life I live today, why Maple Leaf CrossFit is thriving, and why I have a great opportunity to expand SWEAT," he emphasizes.
Being the sole owner means that he has been able to take the time to develop a consistent plan of programming for each workout of the day, something that he said had been lacking.
"We now have the knowledge and program to not only offer people the best workout for them, but know full well that we can get you in shape though our daily classes. It's the best feeling in the world to know you're giving people the chance to do that."
"SWEAT offers an all-inclusive program that combines the best fitness options in Chicago and elsewhere," Paul said. Each day of the week has a specific focus and the the workouts change daily to reflect that day's focus. This means that you know what body parts you are working on a certain day and workouts are posted the day prior on the studio's webpage.
Classes are an hour long and combine elements of HIIT, circuit and boot camp training.  Members can expect to see any or all of these props to increase the challenge in their workouts: treadmills, rowing machines, kettlebells, body bars, boxes, dumbbells and any other fun toys help to get in a great workout.  They don't call it SWEAT for nothing!
"Everything is safe and can be scaled up or down according to fitness abilities," Paul emphasizes. "I don't want people not coming because they think they can't do the workout."
One thing that really comes through when talking to Paul is how invested he is in each person who walks through the door. He stresses the importance of community and strives to make every member feel like part of the family.
"My business should be about others before myself," Paul says. He knows everyone's name and if you are new, he makes sure to learn it.  By focusing on individual people in each of his classes, Paul is able to make them feel supported and at ease.
"The sense of community allows people who don't think that they can do something to be able to," Paul emphasizes, and "it only takes one person to open their minds and be able to do their best."
Paul's classes are always fun (it's suprising if you don't hear at least one Britney song), but don't think that you won't be getting a great workout.  He will push you past what you thought you could accomplish and leave you feeling tired, but invigorated.
In terms of the future, Paul wants to expand and see a SWEAT in every city. While chasing his dreams, he is planning on giving Chicago the opportunity to experience SWEAT, the programming and the amazing trainers. One thing Paul lives by is the understanding that "you're not great at everything" because he says that thinking otherwise will only inhibit your ability to grow and become better.
"I haven't seen anything like SWEAT. I've done CrossFit, I've run a lot, I've done strength training, but I haven't done a workout like what we do at SWEAT. It keeps me going, and I watch others gain real results from taking these classes. It's inspiring!"