Chicago Trainer Profile: Holly Keskey-Koester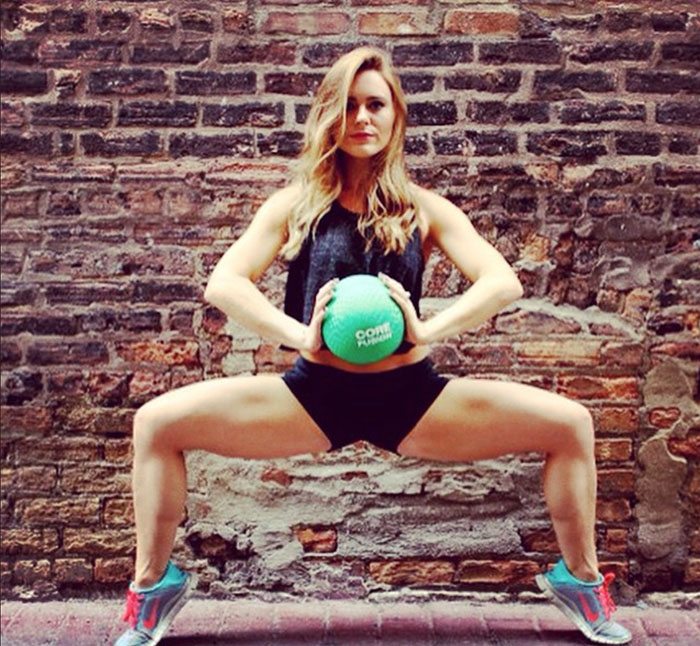 A lifelong dancer, athlete and runner, Chicago trainer Holly Keskey-Koester knows the moves to whip anyone into shape. Currently, Holly teaches several classes at Exhale, including Core Fusion Barre, Core Fusion Cardio, and Core Fusion Extreme among others. While Exhale is currently her main gig, she routinely conquers personal fitness challenges, such as running in half marathons.
Holly started dancing as a young child. By age eight, she was in a competitive children's program that met every day. In middle school and through high school, she played soccer, ran track and was on the pom poms team, but in college at UW-Milwaukee, it was dance Holly committed to. After graduating with a BFA in dance and choreography, she danced with various companies in Wisconsin and Illinois, taught dance in Milwaukee public schools, as well as "dance fitness" classes. She even had a few stints touring with recording artists, such as Kanye West, before heading to Chicago.
With her diverse fitness background, it was barre Holly landed on. "Aside from [barre's] similarities to my dance training, I love how strong I feel afterward," Holly said. "It is one of the most humbling types of fitness out there. Someone who's never done it thinks it's going to be easy … Until they try it."
Holly first sampled Exhale as a guest in 2012 and was immediately hooked. She was only a few classes in before enrolling in its teacher-training program, but says even she is still challenged by the workout.
"You get stronger and see changes in your body, but can never quite conquer it, which keeps you coming back for more."
It's hard, sweaty work, but the results are well worth it. Regular barre-goers will see longer, leaner muscles, a lifted butt, sculpted arms and thighs, a lean core and a strong back.
"It's strength from the inside out. That is what makes a strong body — it's not just spot training the stuff that shows. You will learn more body awareness, connection to your breath and a overall coordination," Holly said of her classes. "Plus, it's fun!"
Exhale is a unique studio. In addition to its clothing and accessory shop, chic interior and spa, the instructors at Exhale are highly qualified. Each must have a degree or solid background in dance, physical therapy, physical education or kinesiology, in addition to fitness certifications. Apart from credentials, the instructors at Exhale cultivate a strong sense of culture, community and motivation for their guests.
"As a teacher who loves being a student, I am aware that the reasons our students come to class vary. Some are preparing for a big event, some are trying to lose weight, some use class as a mind-clearer, they do it with their friends as a social gathering or they really just LOVE it."
To ensure her classes are both fun and intensely challenging, Holly helps motivate her students in various ways. Her playlists are always current and upbeat, her voice is loud and energetic and she makes sure to continuously move around the room, always making eye contact and giving personal praise and suggestions to students by name.
For Holly, the greatest success comes in the form of seeing her students push themselves harder and farther than they thought possible.
"When I teach a class where people break through barriers, are having fun and the energy is flowing, it gives me the same high I get when I'm on stage. Seeing someone conquer something — physical or mental — brings joy to my soul," she said.
Holly is a high-energy, hands-on teacher and motivator, and can push all students — men and women — to their maxes. While many men assume barre class is easy and just for women, the first five minutes of a class with Holly will undoubtedly disprove this theory.
Holly especially recommends barre to men who are regular runners and heavy lifters to help add length and flexibility to their muscles.
"When most men come to a class for the first time, I see the 'HOLY SH*T' look in their eyes once their legs start shaking. But then they slowly realize they are in the same boat as the person next to them and their ego goes out the door."
While many of her male students began as guests of their girlfriends, friends or wives, most stick around when they realize barre is a real challenge to conquer.
Most popular for men is Exhale's new Core Fusion Extreme class, a HIIT class that is circuit and interval based. Plyo boxes, gliders, TRX and heavy core balls are staples of this class, and sneakers are required.
Follow Holly on Instagram at @fit_fiercechicago!