Find your Community at Gyms Across Chicago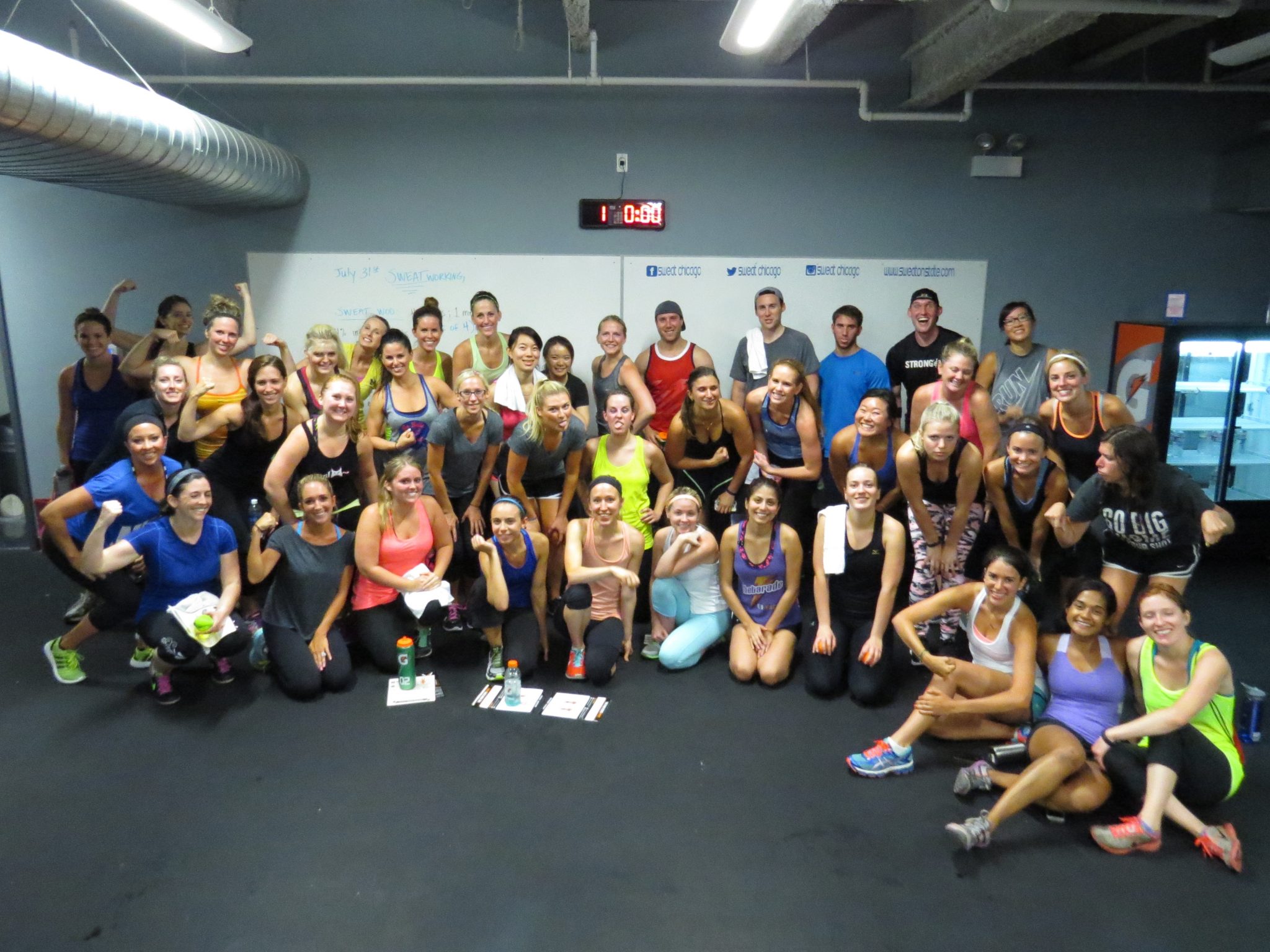 If you've looked into boutique fitness in the past few years, you may have noticed that smaller gyms are embracing the concept of "the third place," which is a phrase Starbucks CEO Howard Schultz uses frequently and you'll see in the book Onward
 (I love business books). Most people have two key places that they visit during their day, their home and their work, but on top of that, many people have a "third place" a place where they hang out, meet with friends and build community.
Gyms want to be that place for you. They want to make it easy for you to make friends, spend time with those friends and create a community of like-minded people.
Some gyms across the city are giving you ways to sweat together and hang out afterwards. You'll notice a lot of options involve wine  It's all about balance when it comes to community at gyms.
This gym loves it's high-intensity workouts. But coming to one Thursday night each month, SWEAT will be hosting its SWEAT Wine Night which will combine a SWEAT workout with a little bit of yoga from Yoga Six.
January 29 at 7:30 pm, you can check out a 30-minute SWEAT class followed by a 30-minute Yoga Six session. Save a little strength to pop a cork, because you'll close out your night with some vino. Sign up on the schedule here.
CrossTown has partnerships crossing the West Loop to keep the balance in your life. They've partnered with Brooklyn Boulders and Bare Feet Power Yoga to get CrossTown Fitness members access to partner gyms at a discounted rate. Both partner gyms bring something to the table that's entirely different. CrossTown Fitness offers high intensity circuit training classes, Brooklyn boulders gives city dwellers a place to rock climb and Bare Feet Power Yoga allows yogis to lengthen and strengthen muscles. CrossTown and Brooklyn Boulders also offer a monthly community climb at Brooklyn boulders when CrossTown Fitness members can climb for free.
My favorite community building activity is the monthly Litmus Test that CrossTown Fitness hosts. Crosstown invites trainers from across the city to take over the space once monthly on a Saturday morning at 6 am to offer an advanced workout. The best part? This workout is free for anyone.
If you've ever been to ENRGi Fitness (where – full disclosure – you can find me teaching Thursdays, Saturdays and Sundays) you'll notice that students and teachers are eager to get to know each other. They've created some workout/events to embrace that feeling.
Ninja Warrior and Wine follows the intense obstacle course format you've seen on TV shows of the same name followed by – of course – wine. You'll get your heart rate way up with everything from weights to ropes to med balls to monkey bar insanity and follow that up with a nice little mid-day glass of wine. Sign up on the schedule. The next one is January 24 at 1:30 pm.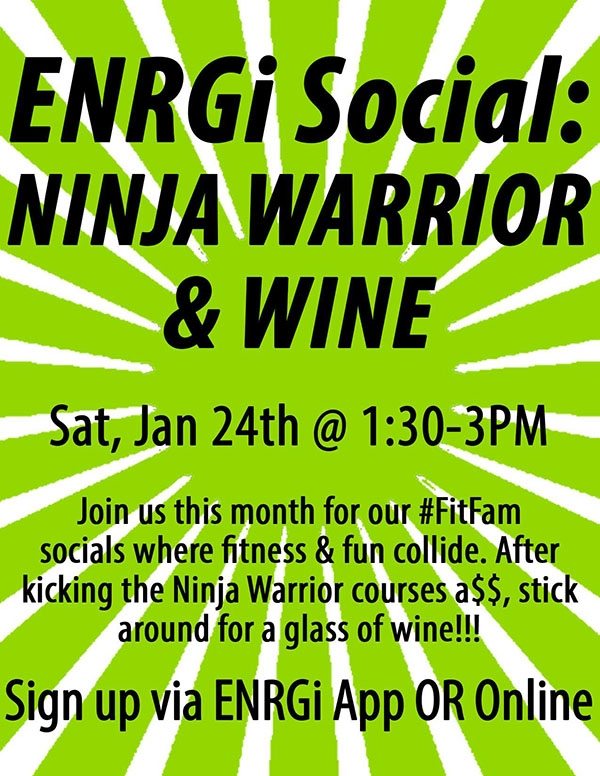 ENRGi also features workshops to help members perfect a skill. They've covered everything from kettle bells to rowers. Check back on the schedule to see what's next.
The gym has also recently partnered with Revolution Physical Therapy & Weight Loss to bring members discounts on a variety of services including treatment at Revolution, complimentary Injury Screens by Revolution in ENRGi's Lobby twice each month and tips from Revolution in ENRGi's Sunday Stretch post on social media.
In Wicker Park, If you haven't tried yoga in the only yoga studio I've been to that used to be a garage, you're missing out. Zen Yoga Garage is constantly pushing to build community behind its garage door.
The studio features workshops that are free to members, helping to work through Meditation and other elements that will advance your practice.
It also created an insane three-day workshop called Weekend Warrior, which will kick off in February. For three days, you'll work out for two hours each day as a group, mixing it up with running, tabata intervals, barre, yoga and more. The workshop is $89 for non members and $55 for members.
Vin Yin Vino was my first encounter with Zen Yoga Garage. In just an hour and 15 minutes, you'll work through a heated vinyasa flow and cool down into your yin practice, which incorporates vigorous flow with static stretching postures. You'll follow that up with – of course – a glass of wine with your classmates and teacher.
Also coming up, Sunday, January 25 will mark the studio's second annual "We Love Our Students Party" at Jane's. There will be one complimentary drink per person and appetizers provided. Dancing is strongly encouraged.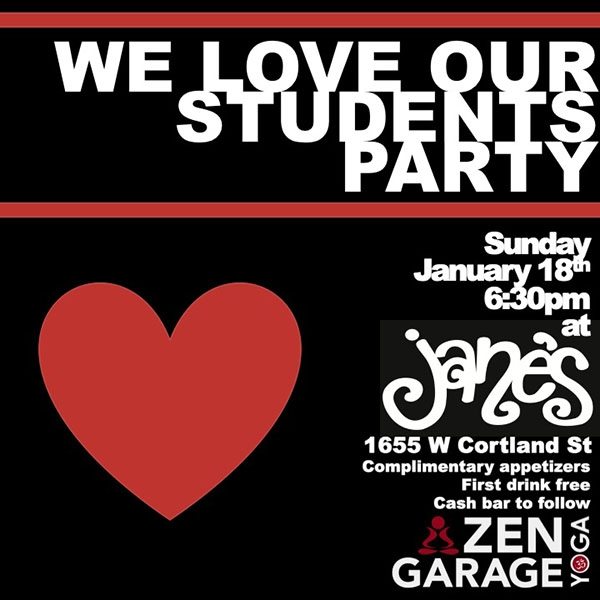 CrossTown Fitness – ENRGi Fitness – On Your Mark 
Three gyms I love are combining forces to take their members on a ski trip, which brings me way back to my middle school skiing field trip when – maybe – if you were lucky, you'd ride with that boy or girl you liked on the chair lift. Memories.
This ski trip will take members from CrossTown Fitness, ENRGi Fitness and On Your Mark to Wisconsin's Cascade Mountain to Ski February 7. Hurry – sign up ends January 24.
You can sign up on any of the gyms'  websites: CrossTown (click on events), ENRGi (click online store and navigate to social events) or On Your Mark (click online store and select events).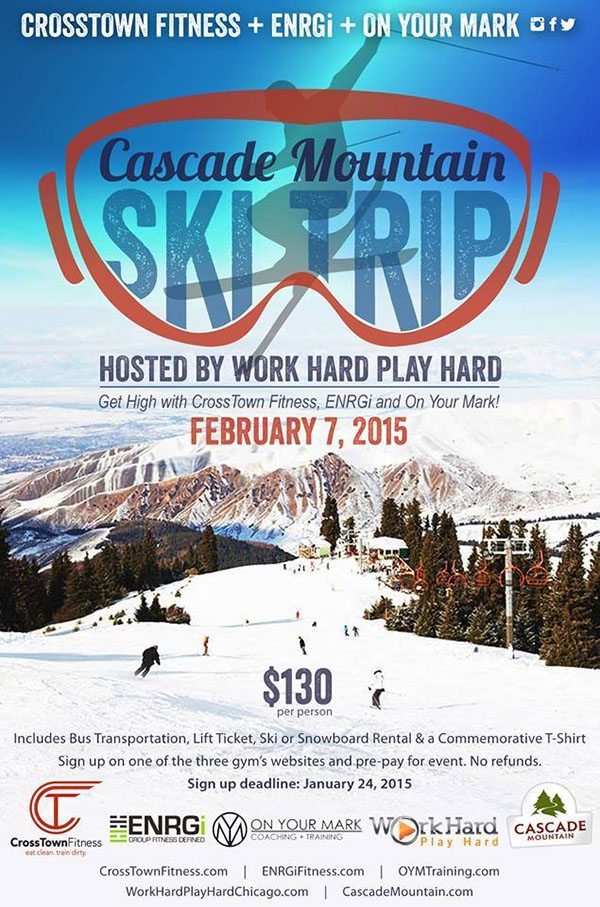 Let us know!
Did this post help you get closer to achieving one of your goals?