Chicago Trainer Profile: Kiki Turley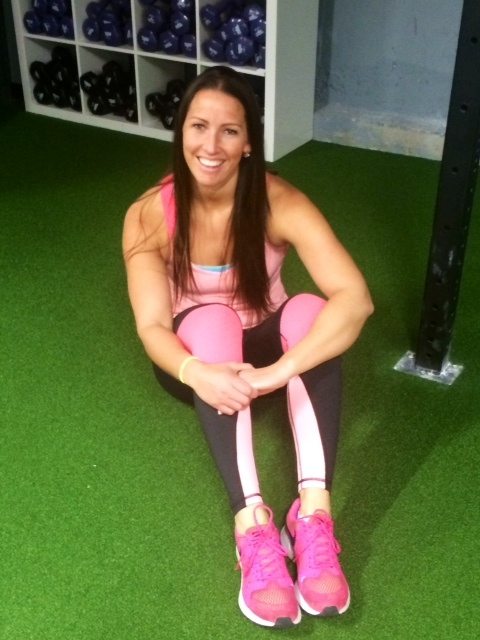 Kiki Turley is a life-long athlete. After playing sports competitively in high school and college, she sought to find her fitness niche in Chicago, bouncing from one studio to the next. After sampling a variety of workouts, Kiki finally landed on Sweat, and has been a coach there ever since.
"I found Sweat a little over a year ago and instantly fell in love the first day. The next day, I was the perfect amount of sore and already wanted more — I [already knew] this place was going to be home for a long time," Kiki said.
Very soon, Sweat became more than just somewhere to log in workouts. The studio not only provides people with the opportunity to achieve a broad range of fitness goals, she explained, but for her, it became an extended family. Sweat offers a sense of community that can be the key to not only keep people motivated during a class, but also inspire them to show up.
"The best thing about Sweat is our community, hands down. We have such great camaraderie and energy in every class. Everyone comes to Sweat with one main goal: to sweat."
As an instructor, Kiki recognizes the time, money and commitment each person offers when they sign up for her classes, and she is fully dedicated to making each class a unique, fun and effective experience.
The studio's signature "Sweat" classes are her favorite to teach because of their numerous components. Each workout includes a warm up, skill work, the main work out of the day and an abdomen workout called "Sweat out." Despite the workout's regimented structure, coaches have the ability to insert their own creativity and a personal element into the session.
"I bring the fun and competition to the studio," Kiki said. "I'm always looking for ways to provide friendly competition, while pushing our members to their fullest capacity and helping them reach their personal goals."
As competition heats up, so does intensity. Kiki's workouts show results because she motivates participants to push harder than they're used to. The studio, as a whole, cultivates an energy and a drive that is shared by both participants and the coaches, and this is something that can't be found working out solo at your usual gym.
"In a sea of boutique gyms, here in Chicago, we offer our members a chance to come in every day and push themselves to their limit. Our workouts are ever-changing," she said. "It eliminates the dreaded monotony of other workout classes."
And if that's not enough, Kiki is prepared. With a strong emphasis on keeping a positive attitude and providing continual reinforcement, she understands that motivating the mind and spirit is often equally as critical to a successful workout as pushing the body physically.
Every day, Kiki takes the time to select an inspirational or thoughtful quote that can serve as a source of motivation before and throughout her classes.
"I give that quote special attention at the beginning of classes as well as simple reminders of it throughout the class. I try to remind people what they are working for — sometimes it's easy to forget when your body is being pushed to its limits," she explained.
While promoting competition and offering motivation is effective during classes, Kiki recognizes that for many people interested in making fitness a bigger part of their lives, the biggest struggle to overcome is simply getting to a class. In this case, her advice is to just start.
As she and all of those who have ever tried Sweat on State can testify, once you commit to prioritizing fitness, you'll love the way your body feels and you will want to make more time for it.
"It's OK to start slow and set goals for yourself, but keep moving forward. As with anything in life, you need to work on it. If you put in the time, [your workouts] will give you the reward you are looking for."