5 Unconventional Ways to Get Your Running PR in 2015
I was recently able to sit down with Ryan Stapinski, a boys cross country and girls track coach at Lincoln-Way North in the southwest suburbs, to talk about how he prepares his teams for the journey to compete at state. This past season, the Lincoln-Way North boys cross country team qualified for the state finals for the first time in school history.
A runner himself, Ryan hit his three-mile PR last November with a total time of 16:31 (that's sub-5:30 per mile!). Ryan mentioned that a lot of his coaching ideas come from Jeff Purdom, a fellow runner and coach that he admires. You can check out Jeff Purdom's personal running blog here.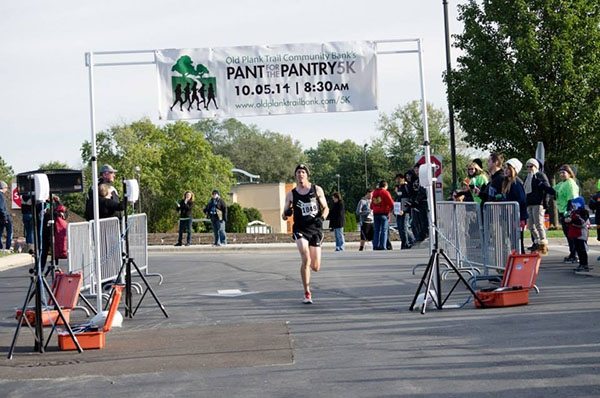 (Coach and runner Ryan Stapinski finishing strong at the Pant for the Pantry 5k in 2014.)
There are plenty of conventional drills that running coaches use on a weekly basis. I asked Ryan for some of the more unique approaches he takes to get his runners to hit their maximum potential on race day.
Play
One of my favorite ideas that came out of our discussion was the idea of bringing a little childhood fun back into running. On occasion, Ryan will have his teams play tag. There are a few modified rules, though: (1) all players have to be constantly moving and (2) all players are confined to a set space. Via an old-fashioned game of tag, Ryan has his runners performing speed drills and fartleks – all while laughing and having a good time.
How you can incorporate playing? Get a running group together and play! You can play tag in a confined space or mix it up and play capture the flag. We might be growing older, but we don't necessarily have to grow up, right? Perhaps more realistically, get a group together to play a team sport. Basketball*, soccer and ultimate frisbee are great games for runners and help fire up different muscle groups that are often neglected in training.
*Note: do NOT play a game of basketball 2 days before running your first marathon. Results may end in a sprained ankle and regret. Sources claim this may or may not have happened to Ryan in 2009.
Keep it competitive
Ryan is no stranger to making his athletes compete against each other. On occasion, his athletes compete in "Eliminator 400s", which can be a mind game as much as it is a physical game. Players who finish last during the 400 meter dash are eliminated from the competition, however, they still have to keep running the 400s in a separate group; there is no real incentive to lose. Players can choose to conserve energy in the beginning but may end up "out" if they fall short of their competition. Players that begin the competition too fast may run out of gas by the final rounds. He also pairs his athletes up based on skill/speed and has equal teams compete against each other in races around the track.
How you can keep it competitive: create a challenge with your friends on a running app such as Nike+ Running. See who can hit a certain amount of miles first or if the entire group can reach a certain goal by a set date. Pool together some money and create a prize for top performers. The prizes can be small; it's almost sad to admit how motivated I would be to win a new pair of running socks. Consider signing up for a 5k with a worthy opponent and race each other. If you often run alone, you can challenge yourself by creating some rules with a running playlist. For example, while running to the song "Thunderstruck," go up to tempo pace every time the title word is sung (or rather, screamed).
Switch it up
Ryan often takes his runners to different locations on long run days to try to keep the location fresh and get runners used to different terrain.
How you can switch it up: as much as I love the Chicago lakefront path, I start to hate it by the tail end of marathon training (please forgive me, lakefront path – It's not you, it's me). It can be exhilarating and motivating to run somewhere new, and thankfully there are a variety of running trails accessible from the city and in nearby suburbs. If you find you are restricted from running somewhere new due to time or access, try running WITH someone new. It will keep the run a little more exciting, it's always nice to catch up with friends AND it will keep you accountable to make the run actually happen. Win, win, win.
Really recover
Ryan mixes up his workouts to incorporate plenty of rest days (and yoga! Boys do yoga!) for his athletes. Before a race or competition on Saturday, Ryan will have two "hard day" workouts in between a lot of R&R and "easy" days. He also suggests trying out a PVC pipe instead of a foam roller. You can buy PVC pipe at any home improvement store on the cheap, and a pipe often proves to work muscles better than some traditional foam rollers that have a little too much give. While you're at the home improvement store, Ryan suggests buying some rope cut at different lengths (duct tape the ends to keep them from fraying). His athletes use the ropes after workouts to get in some deep stretching. Fellow coach Jeff Purdom has been known to create obstacle courses that runners have to crawl, wiggle and slide through that help them stretch out and loosen up.
How you can really recover: give yourself a break. In the midst of all the "go hard or go home" attitudes with New Year's resolutions, realize that your body needs some easier work outs and runs to recover from your hard ones. Try rolling out your muscles with a PVC pipe (or addaday) or stretching with some rope (or a resistance band) post-workout.
Get in the mental mindset
I'll admit, this advice may be more conventional, but it is also one of the most difficult aspects of getting PR-ready. One of the final things Ryan and I discussed was attitude and mindset. You can't run further or faster if you don't believe you can, period. Whenever I am on a long run with Ryan, he asks me how I'm feeling in the last mile or two of the run. If I'm feeling alright, the last minute he starts running at an all-out sprint. I hate him for it, but it also makes me chase after him as fast as possible (to smack him in the face for making me sprint). Once I finally catch my breath, I usually (read: sometimes) forgive him for making me finish strong.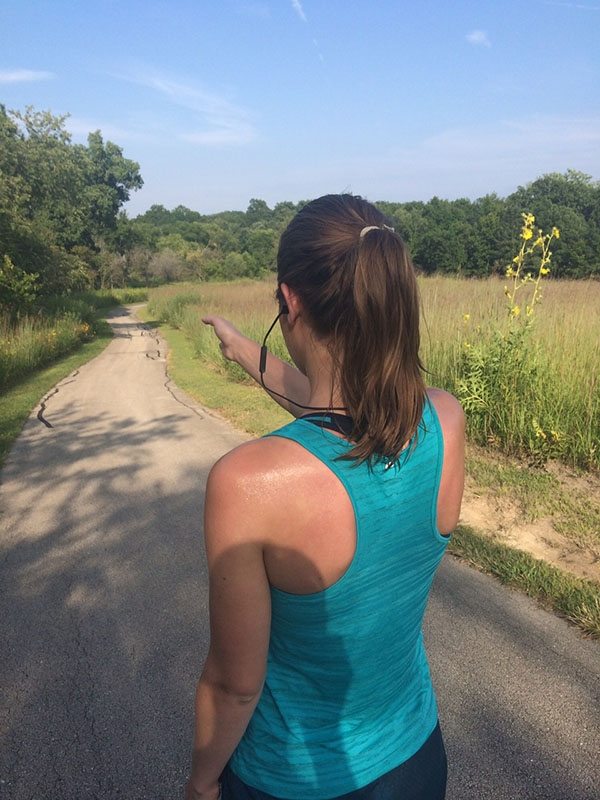 Whatever you're bringing that day, leave it all on the table. There's a lot to be said about getting in the mindset of knowing that you CAN go a little bit faster and work a little harder and last a little longer. Once you think you've hit your limit, believe you can set the bar higher. Mentality is a huge part of the battle. So sprint it out and get ready to PR this year.
What are some unconventional methods you use to motivate yourself and run faster? Feel free to share in the comments below!