Lunch Bunch: Southwest Style Quinoa Recipe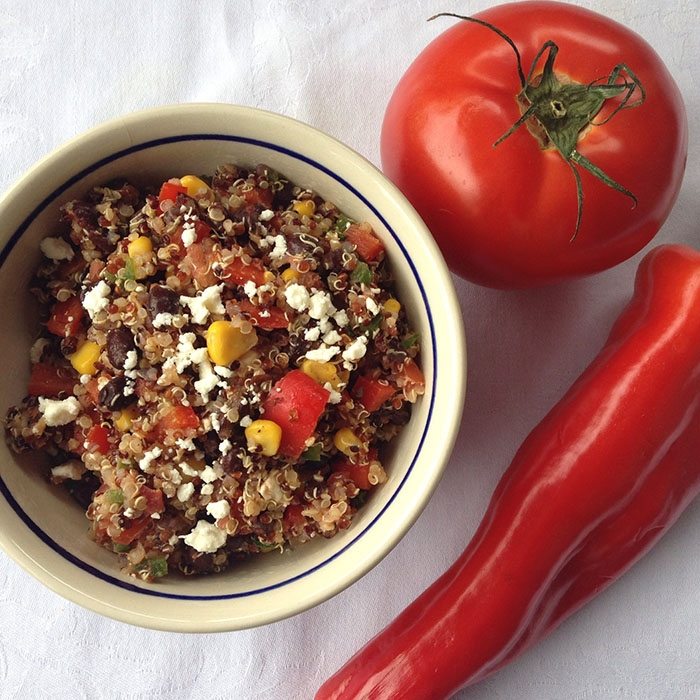 We are officially one month into The Lunch Bunch! I hope you all are keeping up with your packed lunches and haven't been stressing over the prep too much in the meantime.
Lunch Bunch is all about spending a bit of time to save time. Having a master meal plan, shopping on Sunday and prepping those ingredients will save you LOADS of time for everything else going on in your life from Monday-Friday. Meal planning leaves fewer excuses for us to skip those much needed sweat sessions during the week.
My hopes are for Lunch Bunch to become easier for you as the months go on by building a "smarter pantry" week to week. What do I mean by this? A smarter pantry means having those essentials on hand, so that you're shopping more efficiently and you will always have a back up plan waiting in the fridge for a frantic day.
As a foodie, I love to see the foundations of what other people eat. I mean, if you're like me – you can talk about food pretty much all day long. Normal, right?!  It sparks fresh ideas and is also extremely motivating to clean up one's own fridge. The following is a glimpse into my kitchen. Here are a few things that I ALWAYS keep on hand in my fridge and pantry:
Greek yogurt (Faye 0% plain)
Spinach or any leafy greens
Organic peppers and tomatoes
Unsweetened almond milk
Almond butter
Hummus
Fresh fruit (and tons of frozen fruit for smoothies)
Frozen veggies – I try to freeze farmers market veggies for the winter months. Saves money and time.
Medjool dates – these are great straight up or in energy bars and smoothies
Black beans
Quinoa
Ezekiel bread
Spices
This southwest quinoa recipe was inspired by simply one of those, "what do I have in my pantry right now" busy kind of days. Quinoa is the ONLY plant-based food that is a COMPLETE protein – meaning it contains all 9 essential amino acids that cannot be produced by the body and thus have to come from food. Quinoa is also gluten-free and a healthy source of fiber. Enjoy this week's lunch bunch vegetarian style without losing any of the nutritional benefits of a meat-based diet!
Grab the Lunch Bunch PDF to take with you the the grocery store.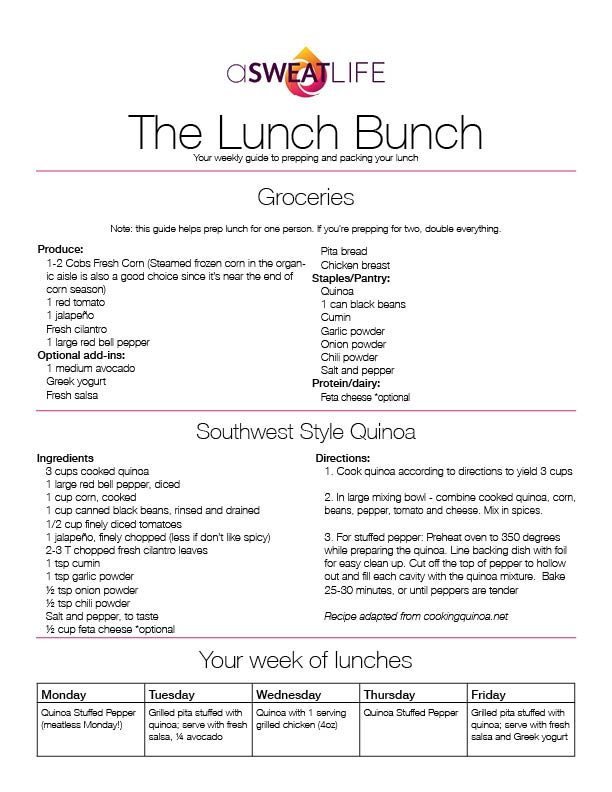 Grocery List:
Produce:
1-2 Cobs Fresh Corn (Steamed frozen corn in the organic aisle is also a good choice since it's near the end of corn season)
1 red tomato
1 jalapeno
Fresh cilantro
1 large red bell pepper
Protein/Dairy:
Pantry:
Quinoa
1 can black beans
Cumin, garlic powder, onion powder, chili powder, salt, pepper
Optional add-ins:
1 medium avocado
Greek yogurt
Fresh salsa
Pita bread
Chicken breast
Recipe:
Ingredients:

3 cups cooked quinoa
1 large red bell pepper, diced
1 cup corn, cooked
1 cup canned black beans, rinsed and drained
1/2 cup finely diced tomatoes
1 jalapeno, finely chopped (less if don't like spicy)
2-3 T chopped fresh cilantro leaves
1 tsp cumin
1 tsp garlic powder
½ tsp onion powder
½ tsp chili powder
Salt and pepper, to taste
½ cup feta cheese *optional
Directions:
Cook quinoa according to directions to yield 3 cups
In large mixing bowl – combine cooked quinoa, corn, beans, pepper, tomato and cheese. Mix in spices.
For stuffed pepper: Preheat oven to 350 degrees while preparing the quinoa. Line backing dish with foil for easy clean up. Cut off the top of pepper to hollow out and fill each cavity with the quinoa mixture. Bake 25-30 minutes, or until peppers are tender
Recipe adapted from cookingquinoa.net
Week of Lunches:
Monday –Quinoa Stuffed Pepper (meatless Monday!)
Tuesday – Grilled pita stuffed with quinoa; serve with fresh salsa, ¼ avocado
Wednesday –quinoa with 1 serving grilled chicken (4oz)
Thursday –Quinoa Stuffed Pepper
Friday – Grilled pita stuffed with quinoa; serve with fresh salsa and Greek yogurt