Welcome to The Lunch Bunch, Your Lunch Packing Resource
At aSweatLife, we work to serve as a resource to you. All of that started by introducing you to gyms we loved across Chicago, but it's evolved into much more than that. We spend each month counting down to the next #Sweatworking event . I pay Fiance in healthy pre-prepped meals to shoot photos that help explain how you can workout anywhere with only your bodyweight. We scour the Internet to find experts in fitness, health and nutrition to help us help you live your life with some sweat on the side.
I've spent a lot of time meeting with people who can help us with that goal. One of those people is the Registered Dietitian and Licensed Dietitian/Nutritionist, Patty Duffey. Patty is passionate helping people change their lives for the better with food, from one small eating habit to reversing a diagnosis of diabetes.
Patty helped us create the latest tool in our healthy life kit: The Lunch Bunch. What's the Lunch Bunch? It's your guide to prepping and packing your lunch each week.
The reason that we created the Lunch Bunch is because of this simple fact: the easiest way to eat a diet that is healthy and balanced is to cook your meals at home. For those who pull up a chair at their open-concept desk at 9 am, lunch is the trickiest meal of the day.
What the Lunch Bunch does, quite simply, is create an easy tool for you to print or download to take with you to the grocery store. Is it your entire grocery list? Nope! This is just lunch and we like it that way. Each list will have a grocery list that can augment what you're already buying, an easy recipe or two and a plan to mix up your lunch each day so you don't get sick of eating the same thing each week.
We'll publish these mid-week so you can have them handy whenever you go grocery shopping. If you love something, hate something or want to see different options, we're as open to feedback as we've always been. Shoot me an email at [email protected] and I'll put in a request with Patty, the resident RD/LDN.
This week we're eating an easy Asian slaw 5 ways. Download here.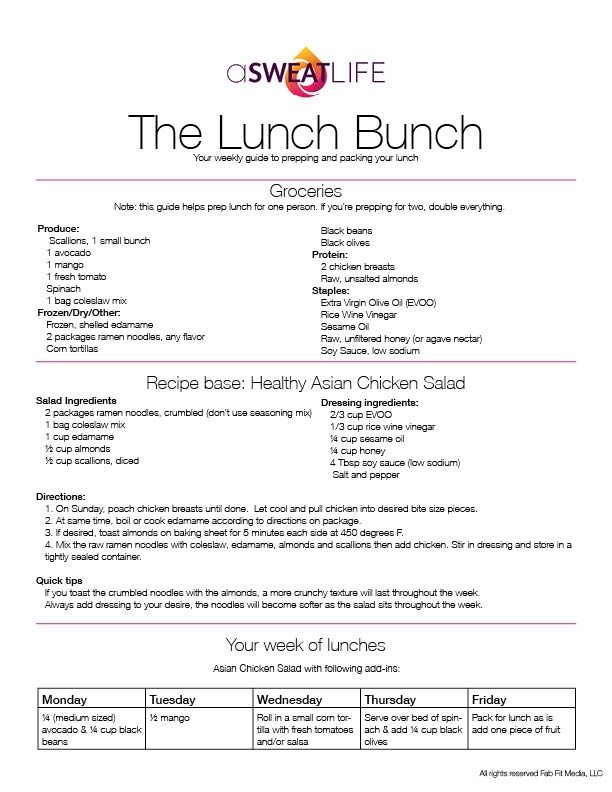 If you do the prep on Sunday, which will take you around an hour, your entire week will feel like a breeze. One of the steps required in the meal prep is poaching chicken breasts. Poaching chicken can be really flavorful, you just have to do it right. Try this guide for beginners. And for this week's recipes, our vegetarian friends can leave out the chicken entirely and add on another source of protein to lunch, like a serving of almonds.
I'm excited about all of the variations, but the one I had to try right away was the Asian slaw rolled in corn tortillas. Survey says: delicious.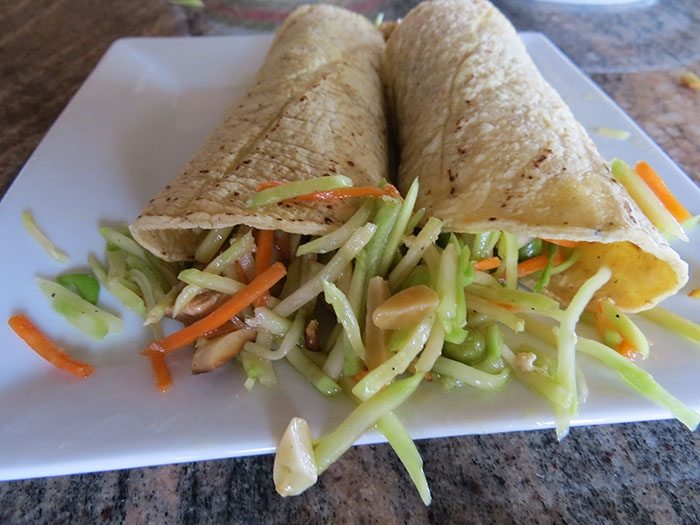 Tell us what you think in the comments!