Peach and Blackberry Crumble Pie Dessert Recipe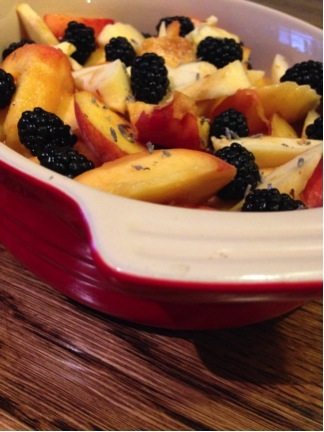 (A note from Jeana: We're welcoming Mananya to the aSweatLife team! Not only is she a master of having everything in moderation, she offers a global perspective to what's happing in the kitchen at aSweatLife's HQ)
When you're an avid cook like me, you either love to bake or HATE to bake. Well, I'm the latter. Having grown up in Thailand, ovens just weren't popular – and still aren't. We don't bake chickens, we grill them over charcoal. We don't bake cakes, we steam our sweet delights. For this recipe, I emptied out my oven, which serves as a storage space for my pots and pans.
It was a monumental day in our household. HOLD ALL PLANS, Mananya is baking … and it was more than edible – it was delicious and easy. I even added chia seeds to give this dessert recipe a boost of Omega 3!
Ingredients:
Filling:
4 partially-soft peaches
1 small pint of berries (black or blue)
Pinch of dry lavender flowers (can be found at spice stores or Whole Foods)
Crust:
2 cups gluten-free flour
½ cup coconut sugar (or brown sugar)
¼ cup chia seeds
½ cup butter
2 tbs of coconut oil (to coat the oven dish)
Cooking:
Oil your baking dish and add all of your peaches (skin on) and berries.
Sprinkle dry lavender flowers – thin layer!
In a mixing bowl, combine flour, coconut sugar, chia seeds, sugar and butter. Roughly crumble with your fingers. DO NOT mix. DO NOT make it into a dough consistency.
Add the crust crumbles onto the filling
Bake at 375 for 50 mins
That's it. It's THAT easy. I honestly don't think anyone could mess this up. Experiment with other fruit fillings. Head to the farmer's market or store and see what's in season or on sale.