Finding Balance with Katie of Live Half Full
The following is a guest post by Katie of Live Half Full. Katie and I swapped blogs for the day, so you can see what I wrote over there too. Now, here's Katie:
Good Morning!
My name is Katie Adams and I blog over at Live Half Full. I started my blog in 2011 as a way to hold myself accountable as I trained for my first full Chicago marathon in honor of my Mom. I wanted a way for my donors to follow me, but since then my blog has become a way for me to hold myself accountable while trying to find balance in my every day life.
When Jeana and I were discussing post topics, she suggested that I write a post on tips for finding balance. Awhile back, I wrote a post on defending my bare essentials aka the things that keep me sane when life gets busy. This post immediately came to mind so I went back and read it and thought about all the things I've learned about balance since then.
Here are my tips for finding a balance in a busy life.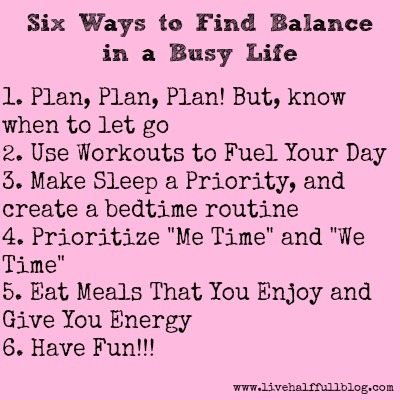 1. Plan, Plan, Plan! But, know when to let go: One thing that's really changed my life has been my Sunday prep work. This sets me up for the week and allows me to feel sane going into the week. However, some days my plans go out the window and it's just about saying sane. This is when I go easy on myself, back off and not beat myself up that I did not follow my meal plan or fit in the workout I had intended on. It's really ok!
2. Use Workouts to Fuel Your Day: For years and years, my sole purpose for going to the gym was to lose weight and keep it off. And, for years and years I struggled with getting motivated to get to the gym. Eventually, I became easier on myself and had some realizations on how I should treat working out. Now, I view workouts as the thing that keeps me sane. Working out is my me time, gives me energy and helps me sleep well at night. If that's not enough motivation on a busy day I'm not sure what is!
3. Make Sleep a Priority, and create a bedtime routine: When I get adequate sleep, I can take on the day with energy and a positive attitude. One thing that's really changed how well I sleep has been sticking to a bedtime routine. I try to go to bed within the same hour and wake up within the same hour each day. I also shut down completely before bed- my phone goes on my bedside table and I read. This helps my brain shut down and my mind stop racing to what I have to do the next day. Give it a try, you'll love it!
4. Prioritize "Me Time" and "We Time": First and foremost, having some "Me Time" is something that I need every day. Whether this is a workout, a 15 minute bath, some time to read the blogs I love or simply make myself a nice snack to have at work, I need this time to function. I never used to prioritize myself, but once I did my balance improved immensely. Also, "We Time" is important – plan those date nights, time with friends and foster the relationships that are meaningful to you! It's what keeps you connected to the world and reminds you that there's more to life than your daily routine. Your loved ones are there for a reason!
5. Eat Meals That You Enjoy and Give You Energy: Intuitive Eating changed the way I eat and the way I live. I used to be very regimented with what I ate, but struggling to stick to a regime when my life was constantly changing was just not working for me. Taking that pressure off myself made me love food again and it's something I look forward to every day. Which is awesome, because I get to eat several times a day.
6. Have Fun!!!: A balanced life to me is one that I enjoy. Weeks, or seasons, happen where you fall "off the wagon." It's important to remember at those times that you're never fully off the wagon – just taking a bit of a jaunt off the road that's called life. Keep at it, remember your bare essentials that keep you sane and refocus. You've got this!