Gatorade Sports Performance Football Training Camp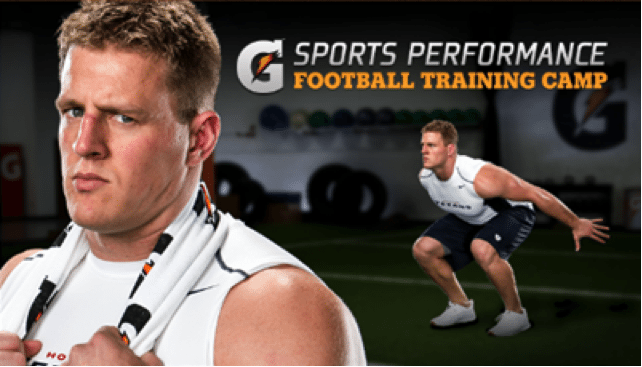 Launching today to Xbox One is Gatorade Sports Performance, which features athlete and trainer-led workouts to give Xbox One users the chance to workout with a pro. These workouts pair what's great about gatorade – its knowledge of what makes athletes' bodies work and how to fuel them for peak performance – with the powerful technology of Xbox One with Kinect.
Before my encounter with this system, my video game knowledge was not exactly functional. Here's what I held to be true about video games until meeting the Xbox One: Every time a new sports video game is released, I see less of Fiance for 5-10 days.
That aside, Xbox One with Kinect enables people like me (the video-game un-savvy) to access fitness content on the gaming system without having to figure out which buttons lead to jumping and which buttons are for running. You simply run and jump and the Xbox Kinect senses how your body is moving and whether you're doing the exercise correctly.
And there's an entire portal full of fitness content that you can access with your Xbox One – Xbox Fitness. That portal features full workouts with celebrity trainers and enables you to track your progress over time and challenge your friends to try to beat your performance.
Video games just got so much more interesting.
On that portal today is the first athlete-led workout on Gatorade Sports Performance, Football Training Camp, which features Houston Texans DE JJ Watt.
Four different types of workouts were developed by JJ's trainer, Brad Arnett to help round out  Football Training Camp program. Each focuses on a different element that's important to football players: agility, speed, stamina and recovery. I previewed an agility workout and in 20 minutes, I got in an intense, athletic workout, that left me sweaty, close to gassed-out and reaching for my newest obsession – Mango flavored Gatorade.
The workout focused on vertical movements, quick direction changes and lateral movements.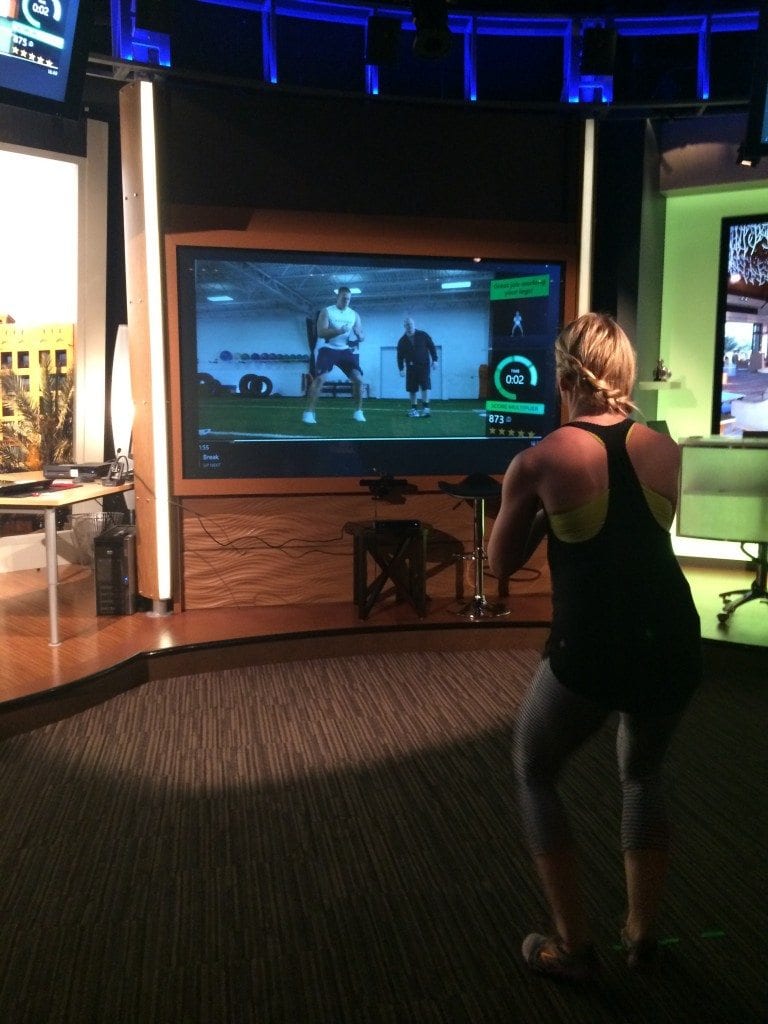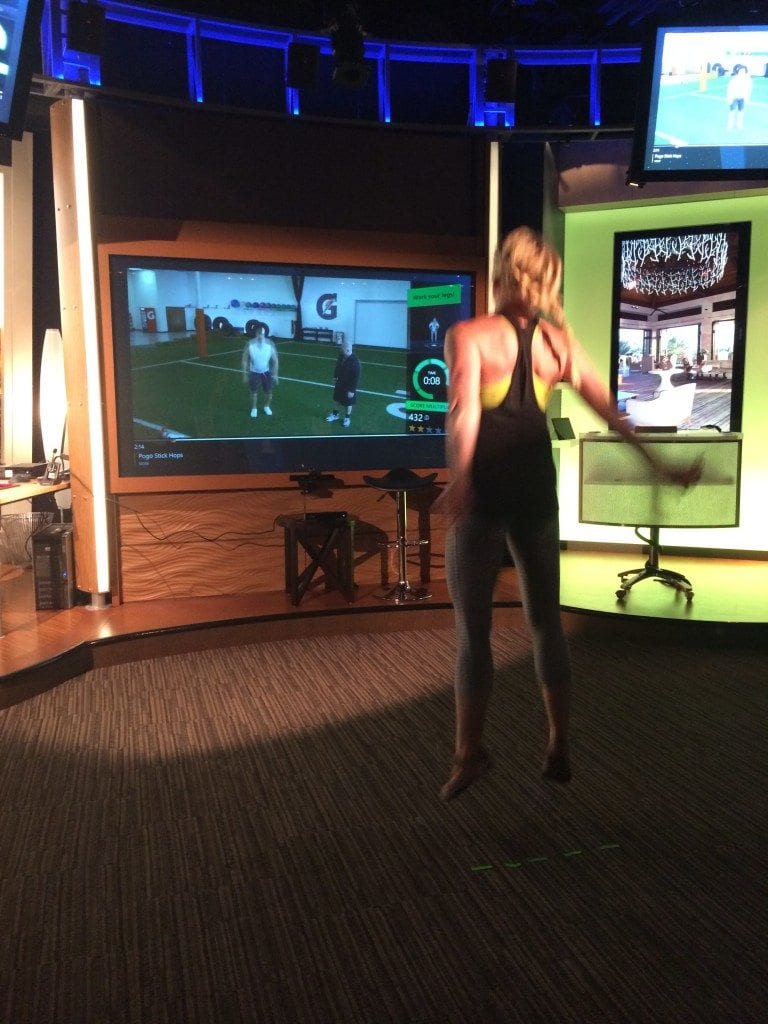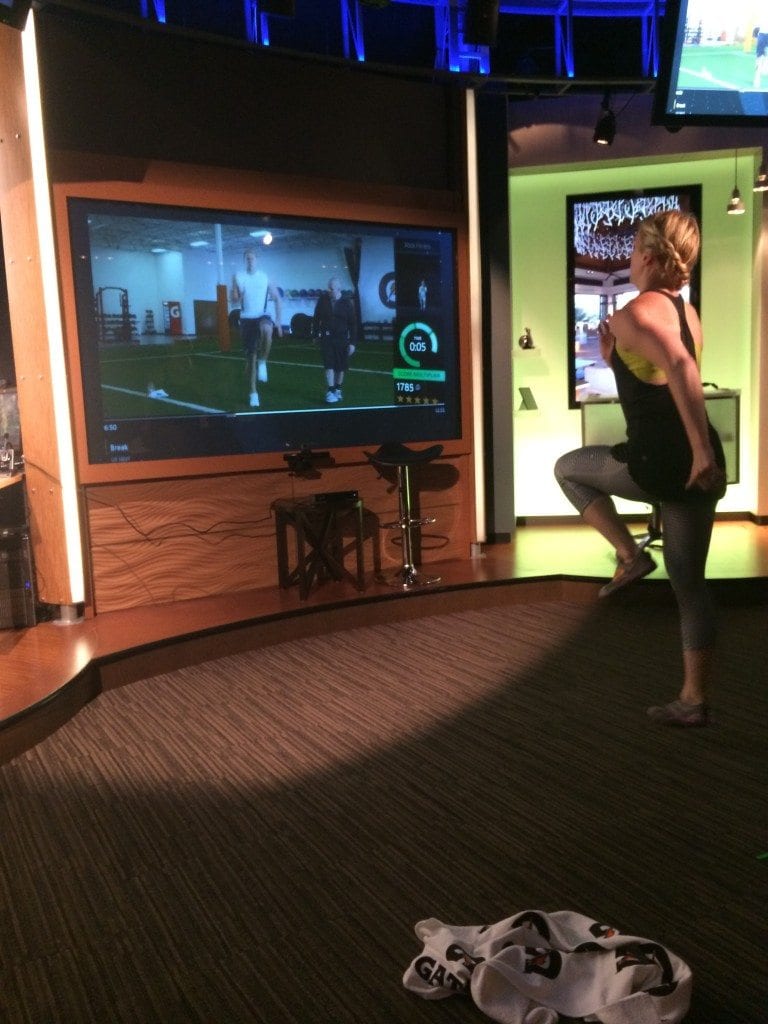 If you're competitive, you'll love that Xbox Fitness with Kinect allows you to compete against both pros and peers in each workout module. I was laser-focused on beating JJ Watt's score. However, he is a professional athlete and I am not. I'll let you guess how that turned out.
Want to see if you can beat JJ? Download Xbox Fitness onto your Xbox One directly from the console, from the web at Gatorade.com or by searching "Gatorade Sports Performance" on your Xbox One with Kinect.
Here's a look at what you're in for:
You can look forward to more workouts with more pro athletes. This fall, Gatorade Sports Performance will expand to include Basketball Training Camp, which will feature NBA star Paul George.