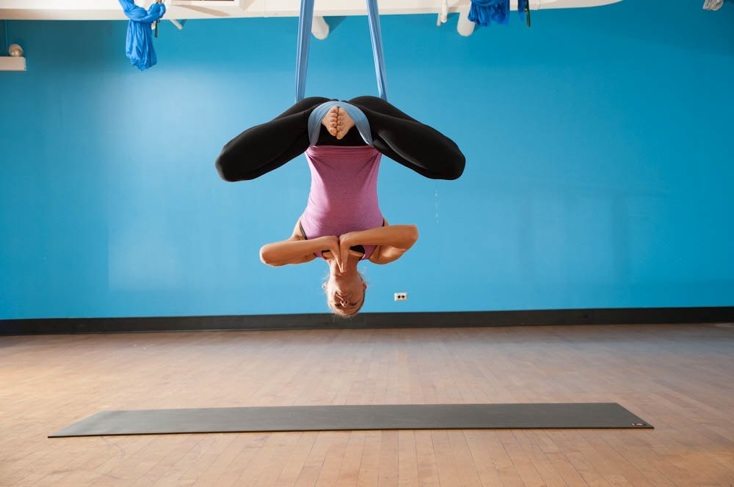 (Image Courtesy of ID Gym)

Studio: I.D. Gym, 2727 North Lincoln Avenue
Class Focus: Vinyasa flow yoga with the use of a fabric hammock to both aid and enhance poses
Cost per class: $24 for a day-long pass to I.D. Gym (which gets you into the class)

Money saving offers: 
The Fab Fit take:
I could not wipe the smile off of my face for the entirety of the I.D. Gym Fly Yoga class. Don't take that to mean it was easy. It wasn't. It was tough and required the same balance, strength and focus that yoga always takes, but it also makes you feel like an acrobat. If you've ever dreamed of starring in Cirque du Soleil, this will fulfill some of your acrobatic fantasies.
The use of the silk hammocks elevates this class to something unlike anything I've ever experienced in a yoga class. Suspension is used to get deeper into poses and to lengthen the spine with new (new to me, at least) inversions. Standing splits, warrior 1 and warrior 2 are all done with the front foot in the hammock as well as each of the pose's balancing variations.
Here's the fun part: we sat on, flipped over and hung up-side-down from the hammocks. It was all a little bit scary for a few of the newbies, including me, but once you let go of the fear of letting go of and just let gravity do the work it was like being a kid on a jungle gym. There were a few times when we were hanging using the sheer strength of our feet, no big deal.
At the end of the class, traditional Savasana was done in laying in the hammock. We learned a graceful way (once perfected) to get into the hammock, which required a backwards flip. I was not alone when I screamed just a little bit, although I am slightly embarrassed to admit it. After my fourth attempt at it, I flipped backwards into my resting place.
I highly recommend this class to elevate your yoga practice, balance out your workout regimen and to have a great time.
Date taken: 1/19/2013